Danish duo, Infernal have already taken the Australian charts by storm, going top 20 with their catchy as hell debut single "From Paris to Berlin. Australian radio have embraced the track with the Austereo radio network even using From Paris To Berlin in their latest national TV advertising campaign.
Fresh from massive chart success in France, the UK and the rest of Europe, Infernal have found space in their hectic touring schedule to tour Australia in April 2006 to launch their brand new single A to the B.
From Paris to Berlin, Copenhagen to Melbourne Infernal are taking over radio airwaves and stages everywhere.
TRACKLISTING:
1. A to the B Radio Edit
2. A to the B Extended Version
3. A to the B Cato Azul Remix
4. A to the B Asle's Full Blown Vocal Mix
5. From Paris To Berlin United Nations Remix
6. From Paris To Berlin Hoxton Whores Remix
TITLE: FROM PARIS TO BERLIN - AUSTRALIAN TOUR EDITION
FEATURES THE TOP 20 RADIO SMASH FROM PARIS TO BERLIN (NOW DELETED)

PARIS TO BERLIN USED AS SOUND BED TO NATIONAL TV ADVERTISING CAMPAIGN FOR AUSTEREO RADIO NETWORK

BRAND NEW LOOK PACKAGING

INFERNAL SET TO TOUR AUSTRALIA IN APRIL

CD SINGLE FOR A TO THE B SERVICED TO DANCE & MAJOR RADIO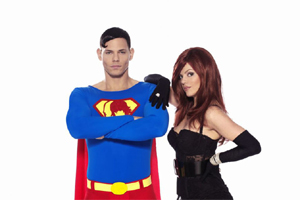 BIO:
Fresh from topping the Italian, German, Norwegian, Polish & Finnish dance charts with the single Paris to Berlin, Danish duo Infernal are here to take the Australian charts by storm.

Infernal, and the story behind their third and latest album, From Paris to Berlin, is a tour de force of musical genres, a roller coaster ride through creativity and artistic inspiration, endurance - and hard work. Infernal has since the very beginning in 1997 been capable of producing hits that nearly all made it as number ones on the single sales chart - this including two platinum singles, two gold singles, almost double platinum on the first album, gold on the second album and several club and dance awards plus a Danish Grammy and a Danish Music Award. Infernal has performed in a vast majority of night clubs in their native country, Denmark - most of them again and again, and at present they have a major tour ahead of them in wake of the album release in October 2004.

With the launch of From Paris to Berlin Lina Rafn and Paw Lagermann who are Infernal by nature, have proven to master the making of an album from A to Z. It has taken them three years to present this absolutely outstanding and professional piece of musical work, but there is indeed a story to it. Already established as a club and dance duo, they dealt with essential identity questions for this album. The musical direction didn't seem obvious at first strike, so they spent a lot of time brainstorming, trying to find a platform in different genres of the modern electronic music. Thismeant going from one extreme to another - from soft chill-out over hardcore underground club-vibes to oldschool pop....And so it went on. Right up until the day, they decided to break the rules and do everything at the same time - the ultimate artistic freedom, as well as a fundamental musical challenge.

The tracks on From Paris to Berlin all tell a story of their own, and the risks when breaking the boundaries of musical expression proved well worth taking. The whole creative process meant adding a classic tromphetist on "Sunday Morning March" - a track which was in fact just meant as a minor intermezzo. "Dressed in Blue" was originally composed directly to a third party-artist, in fact to let someone new take over and possibly rearrange Infernal. The catchy tune of "Cheap Trick Kinda' Girl" was meant to be a seven minutes long instrumental club version - but ended up in its present version when Lina, by coincidence and spontaneously, just sang along to the tunes, straight from her heart. "Hava Nagila" is composed of no less than 3000 sampled voices and a vocal in English and Hebrew, as the song is in fact a Jewish hymn.

During the making of the album, Infernal eventually found an expression that emphasised what the music is all about. Bass Driven Music was the word - an expression inspired from a set of headphones especially designed for - as said: "modern, bass driven music". Out of this came the track "Ultimate Control'", beautifully interpreted by guest artist, John Rock. Then, almost about to finish the album, the duo decided to ask the Swedish accordion player, Lelo Nika, to contribute to "Cheap Trick Kinda' Girl". He is in fact none less than the world champion of accordion-playing! This was for Lina a dream come true. Not really being superstitious, but on the other hand not wanting to tempt fate, Infernal decided it was risky business to release an album with 13 tracks. This meant a quick solution of putting together an intro for the album, and while they were at it, they decided to put in an intermezzo of Lelo Nika warming up his accordion. Infernal have as independent producers chosen to be in control of the overall product. This includes the photographic and visual images and most importantly, their live performances. What has evolved from samples of different genres has become a unique and individual expression in music. As the band puts it themselves: "This is a declaration of love to a genre that we love in all its' shapes and forms."

For more info: www.borderbreakers.com

TRACKLISTING:
CD1:
A01 FAIRYTALE
A02 A TO THE B
A03 TEN MILES
A04 FROM PARIS TO BERLIN
A05 PEACE INSIDE
A06 VIENNA
A07 DRESSED IN BLUE
A08 ULTIMATE CONTROL Feat. John Rock
A09 KEEN ON DISCO (Late Night Mix)
A10 CHEAP TRICK KINDA' GIRL
A11 LOVED LIKE A MANIAC
A12 DEEPER STILL
A13 SUNDAY MORNING MARCH

CD2:
B01 FROM PARIS TO BERLIN (Uniting Nations Remix)
B02 FROM PARIS TO BERLIN (DJ Aligator Club Mix)
B03 KEEN ON DISCO (Hit 'n' Run 12" Disco Mix)
B04 KEEN ON DISCO (Original)
B05 CAREFUL WITH THE BOYS
B06 BASS DRIVEN MUSIC
B07 BALAGAN (HAVA NAGILA) Feat. Uri
B08 KALINKA (Live Version)
B09 YOUR CROWN (Live Version)
B10 SUNRISE (Live Version)
B11 BANJO THING (Live Version)
CD-Rom component
From Paris To Berlin (music video)
Keen On Disco (music video)