Heritage Healers - Spa Body Beautiful / Skin Regeneration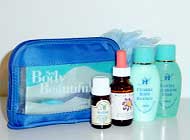 HOLISTIC BODY PROGRAM
Indulge yourself in a complete face and body SPA treat, to boost your energy, increase good health and great skin. Heritage Healers Spa Body Beautiful pack, heals the mind, body and skin. Consists of:
TANTRA CLEANSING FOAM:
A fresh foaming gel cleanser to thoroughly cleanse the body of excess oils & impurities. Use with a
BODY SPONGE
, spreading
WILDFLOWER ESSENCES
all over the body as you shower.
CHAKRA BODY ESSENCE:
A soothing, nourishing body milk to restore moisture to the skin. Best used after a bath or shower all over the body to maintain beautiful smooth and soft skin.
AROMATHERAPY OIL BLEND
: should be added to your bath or vapouriser to enhance your environment and well-being.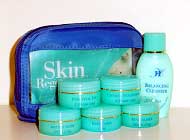 HOLISTIC FACIAL PROGRAM
Your flower essence remedy helps to naturally clear stress and tension from within. More details
www.femail.com.au/heritage_healers.htm
.
Heritage Healers Skin Regeneration Pack can be done in the comfort of your own home and contains:
BALANCING CLEANSER:
to clean the skin,
ESSENTIAL EYE CREAM
: A rich cream to strengthen, nourish and firm this delicate area,
EUPHORIA CREAM (day)
: A super active high performance cream with anti-ageing capsules of Vitamin A, C, E and Co-Enzyme Q10.
CHAKRA NOURISHING CREAM (night)
: A luxurious cream to hydrate, nourish and rejuvenate,
WATTLE HUSK PEEL
: A natural exfoliant to clear the complexion and stimulate skin cell renewal,
REVITALISER MASK
: Hydrating and deep cleansing clay mask to uplift and revitalize the skin.
Heal the mind, body and soul with Heritage Healers Home Care Packs.
More articles:
www.femail.com.au/heritage_healers.htm
www.femail.com.au/echo2.htm
www.femail.com.au/beauty_consultants_facial.htm
To find out more about Heritage Healers visit:
www.heritagehealers.com
---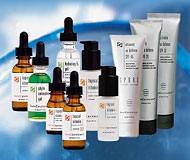 PRIMACY is a highly effective antioxidant treatment system that is available only through licensed skin specialists. Combating the everyday environmental elements like sunlight, smoke and air pollution that cause oxy radicals to form in the skin. These radicals attack your skin's collagen, causing lines and wrinkles to appear: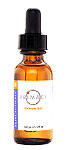 SERUM 20
The highest concentration of stable vitamin-C available, Serum 20 is formulated at the precise concentration proven to deliver maximum amounts of vitamin-C to the skin, providing you with the highest levels of anti-aging protection. Improves skin tone, elasticity and firmness, prevents the appearance of future signs of aging.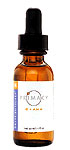 C + AHA DUAL ANTI-AGING TREATMENT
On the inside of your skin, a 15% concentration of vitamin-C helps to diminish the appearance of fine lines and wrinkles by fighting oxy radicals and stimulating collagen production. On the outside of your skin, a 10% concentration of alpha hydroxy acids causes exfoliation, smoothing the skin and creating a more youthful appearance. C+AHA contains both glycolic acid and lactic acid, which slough off the rough, textured outer layer of the skin, revealing newer youthful skin under the surface.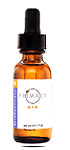 C + E SUPER ANTIOXIDANT SERUM
A combination of vitamins C+E provides better protection from UVB damage than vitamin-C or vitamin-E alone. When used with a sunscreen, a combination of vitamins C+E provides almost complete protection from UVA damage. In the body, vitamin-C is necessary for vitamin-E to replenish itself.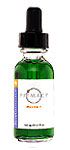 PHYTO + ADVANCED LIGHTENING FORMULA
When too much melanin is produced, deposits are formed and hyper pigmentation appears in the skin. Contains: 5% Arbutin Glycoside - A natural plant extract that helps lighten the skin by breaking up excess melanin deposits. 5% Thyme Extract - A natural extract that helps soothe skin and stimulate circulation, improving the appearance of tired skink or dark under-eye circles. 2% Kojic Acid - Helps lighten skin by inhibiting the production of melanin, the substance that gives skin its color. 1% Cucumber Extract - Helps to soothe, tighten and refresh tired and sagging skin.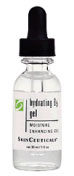 HYDRATING B5 GEL
Restores hyaluronic acid, your skin's natural moisturizer, and replenishes nutrients the skin needs to feel smooth and appear younger. Also enriched with vitamin-B5, known to help with tissue repair. Hydrating B5 Gel is essential for use with vitamin-C treatments, and will help maximise the benefits of your daily moisturizer.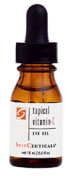 TROPICAL VITAMIN-C EYE GEL
Formulated with 5% stabilized L-absorbic acid, Eye Gel is ideal for the delicate skin around the eye area. Eye Gel will help decrease the appearance of puffiness and restore a smoother, more radiant appearance.
The SkinCeuticals® range of Primacy products are available from professional salons and clinics across Australia.For more information or your nearest stockist details please contact
1 800 242 011
or visit the website:
www.superiorskincare.com.au
.
---

Honey Sandalwood Moisturiser
This is an intensive herbal moisturizer that provides nourishment and prevents lines and wrinkles. Excellent on areas such as around the mouth and neck. A rich moisturizer with the luxurious aroma of sandalwood and the softening qualities of honey.
Beauty Consultant's Note:
This moisturizer improved my skins appearance immediately. The texture was smoother and brighter. Any dry patches were nourished and irritated parts calmed. An effective cream to be massaged in a gentle circular motion after cleansing and toning.
OmVeda products and treatments are available from salons and spas nationally. For stockists details please contact (
02 9810 1830
) or visit
www.omveda.com.au
---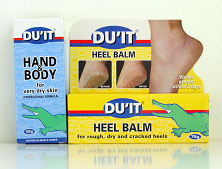 DU'IT Hand & Body / Heel Balm
DU'IT HAND & BODY CREAM (for very dry skin)
This hand and body cream is formulated to especially treat the driest, chapped and hardest thickened skin. A fast acting and highly effective treatment that will shield skin from the harshest of elements in addition to softening even the toughest of skin. Ideal for people working in conditions where there is exposure to water, detergents, chemicals or frequent use of latex gloves, this product replenishes the moisture lost in such abrasive work. Perfect for use in areas of the body where the skin has become flaky and thick, such as cuticles, elbows and knees. DU'IT hand and body cream should be applied for seven days at least two to three times daily and then only once daily from then on. Containing 10% Urea this is a powerful product which may sting highly cracked skin and is not recommended for use on open or weeping skin. Discontinue if irritation occurs.
Beauty Consultant's Note:
WOW! A highly effective product that left my driest of areas looking 110% better. Completely eliminating the flakiness and thickness of the skin on my knees and elbows, I wish I had this product last summer! All I am left with is baby soft silky skin.
DU'IT HEEL BALM
An action packed acid foot care product for hardened heels and thickened skin. DU'IT Heel Balm combines aha's (lactic and malic acids) to exfoliate, Vitamin E to enhance healing and protect against free radicals, Urea (a skin conditioner and humectant) to maintain moisture and seal cracked skin and Dimethicone.
Absorbed instantly, its super hydrating, softening and conditioning formula eliminates calluses while also relieving scaly patches and protecting against further drying, cracking or flaking. Can also be used on elbows, knees, fingertips or any part of the body that experiences extreme dryness and/or flakiness. DU'IT Heel Balm is also beneficial in the treatment of minor fungal infections such as athlete's foot.
Beauty Consultant's Note:
Gives rough edges the boot! Perfect for followers of high-heel fashion and athlete addicts! My heels are soft again no more hiding them away.
Australian owned and made. Both products are available from pharmacies nationally, podiatrists and selected salons. For stockists call
1300 656 101
.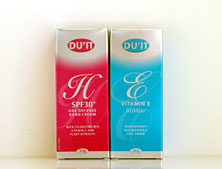 DU'IT Vitamin E Face Cream / SPF30 Age Defense Hand Cream
VITAMIN E FACE CREAM
DU'IT E face cream is a high potency defense against the elements. This protective and nourishing cream helps the skin to remain radiant and hydrated around the clock. With a high concentration of Vitamin E (200iu per gram), DU'IT E assists in the reduction of the visible signs of premature aging. Plus helping to diminish the appearance of stretch marks and scar tissue, an intensely nourishing product that soothes and moisturises even the driest of skin.
The DU'IT E has the ability to neutralise free radicals such as pollution, smoking and air-conditioning which can damage the skin. DU'IT E will aid the skin's own barrier function to greatly improve elasticity and skin texture, ideal for pre and post natal use, it contains no fragrance, lanolin, paraben or petroleum.
Applied whenever needed in a gentle upward circular motion, under make-up and for all skin types, DU'IT E will make a difference to your skin.
Beauty Consultant's Note:
A deliciously scented cream with the oils of grape fruit and mandarin clearly evident on application. Very enjoyable to apply, easily glides over the skin resulting in a swift transformation from tight dull skin after cleansing and toning to glowing and hydrated. Real lasting moisturising power, plus cleared blemishes quickly.
SPF30 AGE DEFENSE HAND CREAM
A powerful hydrating cream that smooths and protects the hands with the added protection of broad spectrum SPF30. A serious moisturising cream which penetrates deeply into the skin to nourish and soften the hands leaving them younger looking. Enriched with essential nutrients such as AloeVera and Calendula Oil, Cocoa Butter and Avocado the DU'IT Age Defense hand cream helps to prevent the signs of premature skin aging.
Infused with the highly effective anti-oxidants, Vitamin E and Q10, the product protects against damaging free radicals. Used as often as needed the DU'IT Age Defense hand cream provides instant hydration and softness.
Beauty Consultant's Note;
A truly luxurious product which gave an instant lift and renewed appearance to my hands. As with the Vitamin E face cream a long lasting moisturising effect and soothing feel to be thoroughly enjoyed. Definitely an improvement in the suppleness and texture to the skin, making my hands appear considerably more youthful. A very impressive product that will protect and renew.
---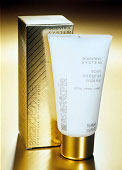 Academie - Total Hand Care Cream
Académie's new Total Hand Care Cream nourishes and protects the skin, strengthens nails and reduces pigmentation spots to leave the skin feeling soft, supple and silky smooth. "The incorporation of an anti-pigment ingredient, composed of plant extracts that inhibits melanin synthesis will help reduce the appearance of pigmentation marks on the tops of your hands. The macadamia oil in Academie's Total Hand Care Cream moisturises and protects the skin."
Formulated with 20% of active ingredients, the hand cream covers the skin with an invisible glove which nourishes and protects the hands throughout the day. Total Hand Care Cream rapidly absorbs into the skin, leaving hands soft and moisturized without leaving an oily residue.
Beauty Consultant's Note:
Smooth creamy texture that actually feels like it is nourishing the skin as it absorbs. Visible difference after 1 week of daily use.