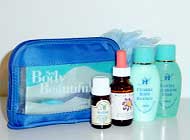 HOLISTIC BODY PROGRAM
Indulge yourself in a complete face and body SPA treat, to boost your energy, increase good health and great skin. Heritage Healers Spa Body Beautiful pack, heals the mind, body and skin. Consists of:
TANTRA CLEANSING FOAM:
A fresh foaming gel cleanser to thoroughly cleanse the body of excess oils & impurities. Use with a
BODY SPONGE
, spreading
WILDFLOWER ESSENCES
all over the body as you shower.
CHAKRA BODY ESSENCE:
A soothing, nourishing body milk to restore moisture to the skin. Best used after a bath or shower all over the body to maintain beautiful smooth and soft skin.
AROMATHERAPY OIL BLEND
: should be added to your bath or vapouriser to enhance your environment and well-being.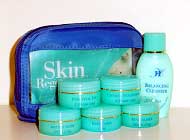 HOLISTIC FACIAL PROGRAM
Your flower essence remedy helps to naturally clear stress and tension from within. More details
www.femail.com.au/heritage_healers.htm
.
Heritage Healers Skin Regeneration Pack can be done in the comfort of your own home and contains:
BALANCING CLEANSER:
to clean the skin,
ESSENTIAL EYE CREAM
: A rich cream to strengthen, nourish and firm this delicate area,
EUPHORIA CREAM (day)
: A super active high performance cream with anti-ageing capsules of Vitamin A, C, E and Co-Enzyme Q10.
CHAKRA NOURISHING CREAM (night)
: A luxurious cream to hydrate, nourish and rejuvenate,
WATTLE HUSK PEEL
: A natural exfoliant to clear the complexion and stimulate skin cell renewal,
REVITALISER MASK
: Hydrating and deep cleansing clay mask to uplift and revitalize the skin.
Heal the mind, body and soul with Heritage Healers Home Care Packs.
More articles:
www.femail.com.au/heritage_healers.htm
www.femail.com.au/echo2.htm
www.femail.com.au/beauty_consultants_facial.htm
To find out more about Heritage Healers visit:
www.heritagehealers.com