Very, Very Tasty (And Healthy) Meals Aren't A Challenge!
F45 Training, the world's fastest growing fitness franchise, will launch the F45 Challenge Meal Delivery Program to coincide with the start of the next F45 8-Week Challenge – Australia's largest body transformation challenge. Bringing F45's famous HIIT (High Intensity Interval Training) workout together with nutritious, seasonal produce, all meals will be delivered fresh and straight to customer's front door or desk.

The F45 Challenge Meal Delivery Program is the first meal delivery system to be aligned with Australia's largest body transformation challenge, providing the ultimate and most holistic fitness and nutrition plan in Australia. Every meal will align with one of three nutrition phases in the 8-Week Challenge (detoxing, muscle toning and fat shredding) by providing highly bespoke, nutritious meals created by culinary experts and F45 Nutritionist, Lyn Green.

Packed with whole grains, nuts, vegetables and fruits, as well as Australian meat, poultry and fish, all meals are freshly prepared and contain no hidden sugars, preservatives or additives – just nutritious, wholesome ingredients. Meals will include cinnamon quinoa porridge for breakfast, sweet potato and turkey mince bowl for lunch, and veggie mash with grilled fish for dinner.

"The F45 Challenge Meals will provide clean, balanced, nutritious meals that are carefully portioned to fuel you through your gym training, fat loss journey or for those with busy lifestyles. By removing the grocery shopping and cooking element from your current fitness routine, the program helps members better stick to healthy eating," says Nutritionist and F45 Global Challenge Director, Lyn Green.

Members will be able to place orders through the F45 Challenge website, select how many meals they would like per day, and the number of days per week.

Teaming up with Australian meal plan companies My Muscle Chef and Chef Good to ensure the highest standards of food preparation, packaging and delivery, the F45 Challenge Meal Delivery Program will be available across NSW, ACT, VIC, QLD and SA and will go nationwide in 2019.

F45 Challenge Website: https://f45challenge.com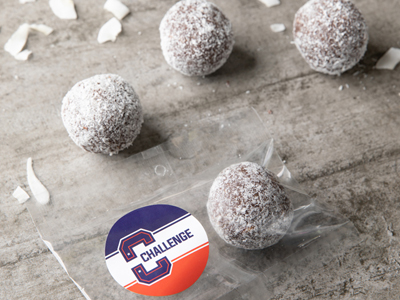 Review: F45 Training's new program offers deliver-to-your-door meals that arrive in exciting packaging and taste great! Made with real food by real chefs, your taste buds and tummy will be left feeling completely satisfied. Just pierce the lid, pop it in the microwave for a couple minutes and voila, your meal is served.

Like most delivery meals, the portable packaging can make it hard not to associate the product with airplane food; however in the case of F45 Training Challenge Meals, the great flavour helped me to overcome this initial feeling. I do recommend transferring the meal to a plate for optimum enjoyment!

F45 Training Meals are designed to help you save time and energy without skipping out on the wholesome and nutritional food your body craves. Rest assured, when the chefs are using ingredients such as coconut oil, paprika and Himalayan salt, you know they mean business.

The Chili and Sweet Potato Balls are seriously moreish and full of favour – containing all the favourites such as feta, basil and paprika - you won't be disappointed!

A special mention to the Choc Coconut Ball which is simple, scrumptious and made with only the best ingredients (no hidden nasties). They're the perfect treat size with a smooth and delicious texture.
- Madeleine Coleman

Review: Food meets fitness with F45's challenge meal delivery program – enabling members to easily achieve their fitness and health goals, easily – mostly because the meals are so delicious!

I get hangry which is why food, especially healthy food, is so very important and the F45 Meals truly filled me up and didn't have me looking for a snack, shortly after. I highly recommend the Oven Baked Basil Turkey with Roasted Veggies or the Chicken and Sun-Dried Tomato with Bean Salad that comes with a delicious dressing.

Challenge meals will go live this week across the F45 Challenge Website, and will be available as part of the next F45 8-week transformation challenge (commencing 8th of October).
- Brooke Hunter


Interview with Lyn Green, F45 Nutritionist
Question: Why was it vital for F45 to introduce a meals service alongside their 8-week challenge?

Lyn Green: To get maximum results out of your workout, it's extremely important to not only train hard, but to incorporate healthy, nutritious foods into your diet. The incredible total body transformations we see throughout the F45 Challenge is largely a result of the tailored recipes, meal plans and long term healthy habits we instill in our members. It's true what they say - getting fit is 20 percent exercise, and 80 percent diet! We are aware that sticking to an eating plan is the most important (and hardest!) part of the 8 week Challenge. When you get home after a long-day in the office, cooking is the last thing on your mind. So as a way to make it easier for members to stick to our nutritious, clean meal plans, we removed the time spent on meal prepping and cooking by creating the F45 Challenge Meal Delivery Program.


Question: What was most essential, to you, when creating an F45 Challenge meal?

Lyn Green: Nutrition and taste is the two top things I think about, and arguably the most important, when creating Challenge meals. When meals lack taste, it makes it all that much harder to stick to your health regime, no matter how nutritious the meal may be for your body! Also, if you aren't getting the nutrients your body requires to get through tough training sessions or to recover post-workout, then you won't see the results you're looking for.

That's why with the F45 Challenge Meals, we try to pack delicious ingredients into perfectly portioned meals that will also fuel you through your workout, fat loss journey, or just your day-to-day activities. These also include whole grains, nuts, vegetables and fruits, as well as Australian meat, poultry and fish.


Question: How many meals are currently in the range?

Lyn Green: At the moment we are offering mainstream breakfasts, lunches, dinners and snacks with up to 12 recipes to choose from over a two week period. In-fact, the online meals that can be chosen as part of the Challenge Meal Deliveries offer more variety for our members than the Cook-At-Home Plan, which is purposefully designed to spend as little time in the kitchen as possible.


Question: Can you talk us through the macro-nutrients in these meals?

Lyn Green: The meals have been designed based on the 3 nutrition phases – Alkalising Detox Phase, High Protein Phase and High Fat, Low Carbohydrate Phase with a calorie count ranging from 350 calories for a main meal and 150 calories for a snack for females, and 450 calories main meal and 250 calories for a snack for males. We have created a separate male and female meal plan to ensure fuel requirements are met whilst targeting fat burn so members can get the best results possible in just 8-weeks. The last phase of the Challenge, World Series, also known as the high fat, low carbohydrate phase, is the only time in the Challenge when one of the main macro-nutrients are considerably lower so members can strip more body fat by shocking the body.


Question: Why is it so important to ensure these nutrients are perfect for Challenge participants?

Lyn Green: The perfect body isn't built on training alone. Nutrition matters, and Challenge participants run through 8-weeks of strict training that is specifically formulated for fat loss and lean muscle development. The F45 Challenge is actually split into three phases: detoxing, muscle building, and fat shredding, so it's really important to create portioned sized meals made especially to accommodate each week of the Challenge. To ensure our members are feeling energized, satisfied, strong and happy on the program, we have included a diet with variety to ensure they receive adequate nutrition to support their body needs during this time.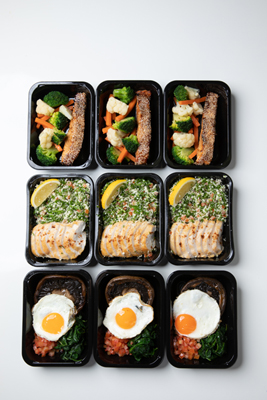 Question: Seriously, how did you make the meals so tasty?

Lyn Green: Creating healthy yet tasty meals is a challenge, but we have definitely found the formula to offer our members the best of the best! It's all about results and taste when creating the Challenge meals, using fresh and nutrient dense ingredients! We try to be creative with our meals and enjoy experimenting with food combinations to make delicious meals that are packed full of nutritious goodness. Some of the meals available for F45's new Meal Delivery program are meals like cinnamon quinoa porridge for breakfast, sweet potato and turkey mince bowl for lunch, and chili sweet potato balls in tomato basil sauce for dinner.


Question: Why did F45 team up with Australian meal plan companies for this service?

Lyn Green: Muscle Chef and Chef Good are industry leaders in providing healthy, clean pre-packaged meals delivered straight to your home or office. We wanted to team up with meal plan companies we could trust to deliver the highest standards of food preparation, packaging and delivery, to make sure our members were receiving the best meals possible.


Question: Which of the meals, is your favourite and why?

Lyn Green: There are many favourite recipes but if I had to pick one from the mainstream plan in week 1 it would be the Chicken and Cauliflower Tabouli. It's fresh, tasty and filing all at the same time! If I also had to pick a snack it's the Turmeric Coconut Protein Bites from week 3. These bites are going to be very popular amongst the Challenges. If you're looking to curb sugar cravings, this snack is going to be your winner!


Interview by Brooke Hunter