How To Make That Girls Trip You Keep Trying To Plan ACTUALLY Happen!
Matching your group's vibe to the best resort:

Relax and recharge – Club Med Bintan Island near Singapore for balancing mind, body and soul. Practice aerial yoga, paddle on a SUP, test yourself at bootcamp, or simply indulge in delicious cocktails and food while soaking up some pool-side vitamin D.

Turquoise playground – Club Med Kani in the Maldives for the active ocean lovers looking to snorkel and swim in crystal waters by day, and dance under the stars with sand between your toes by night.

Kickin' back - Club Med Bali for an effortless girl's getaway. An oasis on the shores of Nusa Dua, with the infamous buzz, shopping, surfing, and temples of Bali just an arm's reach away.

Eco-retreat – Club Med Cherating Beach in Malaysia is for conscious travellers looking to give back. Sitting on wooden stilts with dense jungle to one side and vast ocean to the other, dodge the cheeky monkeys, trek across treetops, and release baby turtles into the sea at the nearby Turtle Sanctuary.

Memories with margaritas – Club Med Cancun Yucatan in Mexico for good vibes, delicious food (all-day tacos, anyone?), pool-side lounging and lots of laughing. Olé!


Question: How long did it take for you to plan your current girl's trip away?

Em Carey: This trip was actually planned quite quickly and spontaneously while we were having dinner one night. Elle and I are both in very pivotal and transformative stages of our lives and felt as though we wanted to take a trip together to celebrate where we were at and also to relax after a particularly busy couple of months. After locking in a week when we were available, we were super lucky that Club Med invited us to check out their stunning all-inclusive resort in the Maldives. All that was left for us to do was book flights, so very quick in this instance!


Question: How do you tackle budgeting differences?

Em Carey: Before planning any kind of group trip we'll always discuss where we're at money-wise and roughly how much we each want to spend. Once we have our budget, we'll think about what kind of trip would accommodate those costs. A lot of the time this means we opt for a quick weekend away camping in our vans to keep the costs low, and sometimes (if we're lucky, once a year) we plan a bigger/overseas trip. Opting for all-inclusive is such a stress-saver, literally everything is included and there's no hassle of splitting the bills.


Question: Can you tell us about Club Med Kani in the Maldives?

Em Carey: Club Med Kani was without a doubt the most beautiful place we have ever stayed in our lives. I've never been to a place that looks EXACTLY as it does in the pictures, but that's what it was like. The water was absolutely stunning and every day we had to keep pinching ourselves that we were actually there experiencing it for ourselves. The staff were all incredible and made us feel so welcome and at home, the food was unbelievable, the overwater villas were a dream and the atmosphere was so relaxing. We loved that we could turn each day into anything we wanted. Some days we just wanted to chill by the water and read a book, then have a quite dinner and go back to the villa. Other days we went snorkelling, surfing, played volleyball, then had a dance at the beach bar at sunset… it was perfect for any mood.


Question: What was the best part about staying at Club Med Kani in the Maldives?

Em Carey: I think one of the best parts about staying at Club Med Kani was the fact that it was all inclusive. This meant that food, drinks (even alcohol), and most activities were all included in the price. This was awesome because it meant that once we were there, we didn't have to restrict ourselves from anything and didn't have to worry about going over our budgets. We also never had to take anything out with us because we didn't need wallets, which was pretty cool.

Another thing that made our trip so special were the team members, known as Gentil Organisateurs (GOs). None of us had ever been to a Club Med resort before so we didn't know what to expect and had no idea that the staff would be such a memorable part of the experience. From the minute we stepped on the island we felt like we had made friends. They brought such an incredible energy to the place and made it so much fun (especially at night time when they all transformed into performers for a show). Saying goodbye to everyone on the last day was genuinely sad after such a beautiful week getting to know the GOs, I actually shed a tear on the boat back to the airport.


Question: What are your top planning tips for a girls trip away?

Em Carey and Eliza Landgren: It's hard enough to get a date in the diary that suits everyone! So, when you're looking for a location – consider places that have something for everyone. Pools for relaxing, activities for the action-seekers, excursions for adventuring, after-dark atmosphere for the partiers, restaurants for the foodies etc. Or better yet, holiday with friends who have similar interests to you! We both love everything water related and are activity junkies but also love being able to relax on the beach and read a book for hours, so holidaying together and choosing a destination is a breeze.

Consider all inclusive. We'd all love to spend hours planning an action-packed itinerary but seriously, who has the time? Imagine leaving for your holiday knowing you'll return with the same amount of money in your bank, you simply rock up, order cocktails, eat all the food, do all the things, and simply walk away at the end of your trip. Plus, no more hassle of splitting bills post-meal – bring on the cocktails!

Agree on a destination together and then divide and conquer the other tasks – someone is on location, flights, transport to the airport. Avoid too many cooks in the kitchen and putting the options to a public vote. Then things never happen!

Don't be scared to extend the invite to the partners in your life so you can sneak in that couple AND gal pal trip at the same time – this could be a good opportunity for your partners to bond and get to know each other or if you're lucky enough, maybe they're already friends!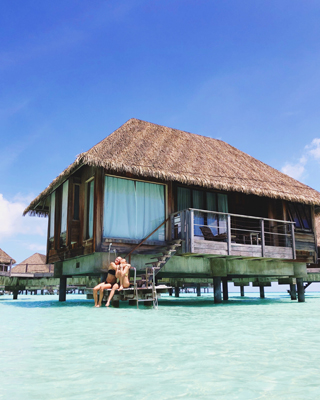 Question: Why are regular holidays so important to you and your friendship?

Eliza Landgren: All of our friends fortunately live within a 10min radius, which makes catching up ridiculously easy with little to no planning involved, so we spend a lot of time together. It's also easy to feel like we are on a constant holiday living on the Gold Coast. If that weren't the case I'm sure we would be planning more holidays away. However, we do have a lot of close friends in Sydney, so we often fly down for a long weekend to have some quality time with them. With busy schedules I think it's important to plan ahead and carve out time for friends that are scattered around the world - before weeks turn into years.


Question: How do you stay fit and healthy whilst holidaying?

Eliza Landgren: When I'm on holidays I like to keep my routine similar to when I'm at home. My willpower to do a workout at the gym (no matter where I am) decreases dramatically after about 9am, so I like to squeeze a session in before devouring a delicious buffet breaky. It is something that always sets me up for a clear day. I also tend to choose holiday destinations where I can surf which offers plenty of exercise that doesn't really feel like exercise. You could even go to flying trapeze school, how cool? In terms of staying healthy, I try to keep sugar to a minimum but I am more than happy to eat whatever my tastebuds desire. Holidays are a time for indulging in every way, and there was so much to choose from even sashimi and delicious tapas!


Question: Where is next on your girls trip away?

Eliza Landgren: There are talks of a snow trip! Super exciting as it will be my first time skiing or snowboarding. We've got our eye on Club Med Tomamu in Japan, it looks incredible.


Interview by Brooke Hunter