Dr Nikki Goldstein Surviving the Christmas Holidays Single Interview
Inspired by the world's favourite singleton Bridget, relationship expert Dr Nikki's tips to survive the Christmas holidays include how to rock spanx and avoiding awkward dates!

Bridget Jones's Baby available now on DVD and Blu-ray


Interview with Dr Nikki Goldstein
Question: Can you share with us your most foolproof dating tips?

Dr Nikki Goldstein: Work on your self confidence and you can never lose in the dating game. Whether that's choosing men or handling rejection, if you believe in yourself you won't make dating choices to boost self esteem (bad dating choices) and you will be able to pick yourself up with you feel down.


Question: How has Tinder changed the singles game?

Dr Nikki Goldstein: Dating is now more fast paced but also full of superficial options. Instead of getting to know someone, we seem to judge on superficial qualities. It's quick but never before have we been able to find dates from the comfort of our homes wearing our PJs. Can you imagine Bridget curled up on the sofa with a bottle of red in hand swiping Mr Darcy?


Question: Tinder has produced the fair share of awkward dates; how can we avoid these?

Dr Nikki Goldstein: Spend some time getting to know someone over the phone or by texting so you feel comfortable enough with them to sit through a dinner and have good chat. If you do not know them that well, start off with a drink and get to know them a little better first. Don't interrogate them on live television like Bridget does to unsuspecting Jack.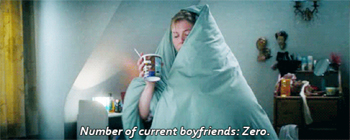 Question: How can we rock spanx, Bridget-Jones style?

Dr Nikki Goldstein: it's important to feel your best when on a date so spanx might just be needed. Nothing is more attractive than a woman with confidence. Bridget goes after what she wants and if spanx is what makes you feel empowered, sexy and confident, so be it. If you do feel like things are going well on the date and clothing might be removed, make sure you take a handbag big enough for an underwear change. Also, ensure you get the timing right when to sneak off into the bathroom and switch into those stomach holding-in pants that is every girl's best friend.


Question: Is there an easy way to navigate Christmas parties when flying solo?

Dr Nikki Goldstein: Christmas parties are a great way to meet new people. Walk confidently up to a group of people standing around and strike up a conversation with them. Introduce yourself and find any reason to start asking them questions. If it feels awkward and you need to meet someone else, politely excuse yourself for a bathroom break. If you have a tendency to ramble in the presence of handsome men like Bridget, take a deep breath and remember to keep your cool.


Question: What is your advice for running into our ex?

Dr Nikki Goldstein: Don't ask too many questions, as you probably don't want to know what is going on in his life anyway but are just being polite. Smile, look happy, make the conversation brief and then find an excuse to walk away. Stay long enough to show him how happy you are without him but leave quick enough not to make a fool out of yourself. Don't repeat Bridget's fumbling down the street in a coat and underwear with no shoes on in the freezing cold.


Question: How can we overcome the holiday-blues due to being single?

Dr Nikki Goldstein: Celebrate your single status. Christmas can be a stressful time for those in relationships, but you don't have that stress. You can do whatever you want when you want and that's something to celebrate right now. Bridget's gang – Shazza, Tom and Jude – always rally for their beloved Bridget so grab your friends and go celebrate you!


Interview by Brooke Hunter