Chilly Towel
Stay cool with a Chilly Towel
Hot flushes and night sweats causing you grief?
Stay cool with Chilly Towel – a unique towel which retains water while staying dry, to provide a cooling relief for hours.
The towel is made up of hyper-evaporative fibres and becomes cooler than ambient air when wet, allowing the towel to maintain a low temperature that feels cool to the skin.
Whether it's for hot flushes and overheating, to menopause, sports and heat stress and travel, Chilly Towel is the perfect way to cool down and feel refreshed. It's reusable and machine washable, and stays fresh when it's stored in its packaging.
Founded by cancer survivor and mother of 3, Tara Lock became an entrepreneur to help other women experiencing overheating from chemotherapy treatment and facing menopausal hot flushes.
Chilly Towel is available in Pink, Blue and Green in a single pack for $27.50 and a double pack for $50.00.
For more information or to purchase, visit www.chillytowel.com.au / @mychillytowel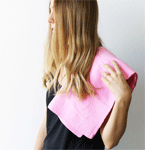 From Chemotherapy to Retail Therapy – How One Cancer Survivor Became an Entrepreneur to Help Other Women

After being diagnosed with cancer over 2 years ago and experiencing constant overheating throughout chemotherapy, Melbourne-based mother of 3, Tara Lock started sourcing and testing over 30 different cooling fabrics before perfecting and bringing the Chilly Towel to life in 2015.
"One of the main symptoms throughout my illness was constantly overheating, hot flushes and night sweats. While I am extremely pleased to say I have fought my cancer battle and won, I still experience this ongoing side effect from the chemotherapy. I use the Chilly Towel to assist with my overheating on a daily basis," says Tara.

Due to the unique hyper-evaporative fibres in the Chilly Towel, this unique towel becomes cooler than ambient air when wet, which enables the towel to maintain a temperature that feels cool to the skin. The fibres retain water, which provides cooling relief while staying dry to touch for hours. The Chilly Towel cools to 30° below average body temperature.
"Being diagnosed with, and beating cancer has given me strength to strive for something positive in my life. My dream is to share this fantastic, affordable quality product that can assist so many people who are going through similar experiences," Tara asserts.
Chilly Towel is proudly supporting the National Breast Cancer Foundation from every pink product sold.
Review: Chilly Towel is helpful all year round for active people. This is set to be a standard household item as it is useful for so many to assist with hot flushes, headaches, stress, people that overheat, gym junkies and sporting enthusiasts.