Radiate this winter with beautiful and healthy skin The Sensé Skin Care Range combines nature with science to deliver high quality skin nutrition that is free of harsh chemical preservativesWith winter on its way and the air temperature continually falling, now is the time to step up your facial skin care routine to help maintain healthy and radiant skin. Clinically proven, the Sensé skin care range delivers moisture and elasticity, whilst helping to reduce fine lines and wrinkles, giving your face luminosity and radiance.
Taking its cues from the beauty of nature, Sensé, a cosmeceutical line of skin care products, has unlocked the scientific secrets to achieving beautiful, healthy skin.
Founded on cellular nutrition, Sensé products combine proprietary self-preserving formulas (free of traditional paraben preservatives), the latest advances in science, nutrition and dermatology technologies, fused with the ancient wisdom of pure-plant extracts.
The result is a skin care range that delivers improved smoothness and increased moisture and elasticity of the skin, leaving it feeling hydrated and healthy.
Perfect for all skin types, the Sensé range features nine facial care products, which when used as a system will cleanse, refine and nourish the skin.
Sensé has revolutionised the science of skin care with groundbreaking, self-preserving formulations. For years, scientists have worked to find an alternative to parabens, the traditional preservative used in beauty and skin-care products. USANA found the answer in a unique, patent-pending blend of botanicals, nutrients and active ingredients that keep every Sensé product fresh, without the need for parabens. Sensé truly is the next generation of skin and body care
The Sensé range of five nourishing products - Perfecting Essence, Daytime Protective Emulsion, Night Renewal, Serum Intensive and Eye Nourisher, also use a combination of unique proprietary technologies that provide optimal nutrition for skin cells:
Regenisomes™ - The Answer to Sun Exposure
: Sensé Regenisomes quickly refresh and restore the skin by enhancing the bodys natural process for revitalisation. This advanced complex helps support cell renewal in sun-damaged skin to rejuvenate it from within.
Dermal Surface Renewal Technology™ (DSR) - For a Youthful Appearance
:DSR technology is a scientific breakthrough exclusive to Sensé. A marine-source, age-defying complex, that is free of alpha-hydroxy acids, it helps retexture, refine, brighten and firm the skins surface. DSR helps to reduce existing signs of ageing and slow the appearance of future lines and wrinkles.
Proflavanol-T™ - Nutrition for your Skin
: Proflavanol-T™ is a breakthrough topical flavonoid complex with concentrated whole-grape extract, rice-derived gamma oryzanol, green tea and pure vitamin E. It provides powerful oxidative defence to keep the skin looking beautiful.
Proteo-C™ - Antioxidant Defense
: Proteo-C™ is a revolutionary topical vitamin C complex. Containing two highly stable, bioavailable forms of vitamin C, it helps to counteract the harsh effects of environmental aggression.
Sensé combines the latest scientific breakthroughs in skin care with pure plant biactives, harmoniously combined for maximum skin nutrition.
Achieve beautiful, glowing skin with the Sensé skin care range.
For Sensé range of skin and body care products stockists, contact 1800 670 126 in Australia or 0800 370 126 in New Zealand. Alternatively, you can visit
www.usana.com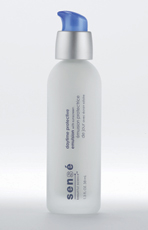 Daytime Protective Emulsion with Sunscreen
This lightweight, gentle, moisturising formula, protects, hydrates and replenishes your skin with its high-performance Regenisomes™ and DSR™ technologies, while defending the skin from UVA and UVB rays and other harsh environmental factors. Regenisomes™, an advanced complex, quickly restores the skin's appearance by enhancing the body's natural process for revitalising sun-damaged skin, while DSR™ technology provides age-defying, marine-source ingredients to refine, brighten and firm the skin's surface. Daytime Protective Emulsion with Sunscreen contains hydrating plant extracts, including aloe to deliver moisture; plankton to revitalise and protect the skin from the sun's harsh drying affects; coneflower to firm the skin's appearance; Irish moss to act as a skin-softening agent; and green tea extracts to deliver essential nutrients.
RRP AUD: $69.00 / NZD: $84.00 / Size: 38ml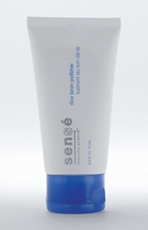 Rice Bran Polisher
This product is designed to revive your complexion by gently exfoliating dead skin cells and impurities. Rice Bran Polisher contains kukui nut oil to soothe and moisturise the skin; saponaria and yucca for their natural foaming and cleansing properties; aloe to restore the skin's pH balance; and whole grape and green tea extracts for powerful protection.
RRP AUD: $33.00 / NZD: $40.00 / Size: 75ml