Renew Skincare, is an Australian company, specialising in natural skin and hair care products, formulated using organic rose hip oil and the finest Australian botanical extracts and essential oils. Renew products do not contain harsh chemicals, synthetic fragrances or artificial colours.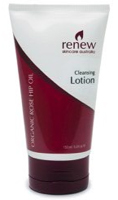 Renew Cleansing Lotion
contains a unique botanical basd formula to tone, soften, cleanse and refresh. Contains skin healing organic rose hip oil, witch hazel to tone, rosemary to purify and rjuvenate, calendula to soften and vitamin E to assist skin renewal.
RRP: $15.95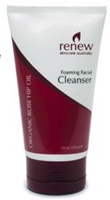 Renew Foaming Facial Cleanser
has been formulated to be mild and non-drying while it goes to work removing surface grime, make-up and oils. Contains skin healing organic rose hip oil, witch hael to tone, marigold to refresh, green tea to protect and cucumber to soothe. SLS (sodium lauryl sulphate) FREE.
RRP: $15.95
Rose Hip Oil
Rose hip oil is rich in essential fatty acids (linoleic and linolenic), powerful antioxidants, lycopene, beta-carotene, vitamin E and carotenoids. This unique and potent blend helps keep collagen and elastin tightly linked to aid skin texture and firmness.
Rose hip oil is ideal for damaged skin tissue and creating healthy new skin cells. Clinical trials carried out by dermatologists have proven rose hip oil to be effective in treating scars, burns, wrinkles, sunburn, acne scarring, sun spots, dry skin, sensitive skin, dry and damaged hair, eczema, dermatitis, radiation burns, sun and liver spots and pigmentation age spots.
For stockists contact 1300 663 142 or visit:
www.renewskincare.com