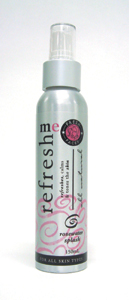 Renew and revive your complexion with Refresh Me, from Fresh Faced, a Rosewater Splash spritzer-toner that firms and soothes tired skin.
Refresh Me, a sublime skin firming refresher spray that brightens, hydrates and comforts the skin due to the cleansing and healing qualities of water from the distillation of rose. Spray Refresh Me anytime of the day to rejuvenate and energize the skin to maintain a clear and healthy complexion.
Refresh Me can be used as a complexion booster, as a toner after cleansing, or applied after make-up for a soft dewy appearance. The convenient pump-spray packaging makes it an ideal travel companion especially for air travel, dehydrated skin or when there is a dramatic change in climate.
Refresh Me is just one of the many 100% natural skin and body care products based on botanicals and pure essential oils in the Fresh Faced range. The Fresh Faced philosophy is simple: move away from chemically enhanced skincare products and gain benefit from using products containing natural organic ingredients combined with the healing and nutritive powers of pure essential oils.
Australian made and owned, Fresh Faced is a holistic, natural skin and body care range based on botanicals and pure essential oils. The refreshingly youthful no-nonsense range of products caters for the face, hair and body.
RRP: 19.95
Fresh Faced is available at selected pharmacies, beauty salons, and speciality stores. In addition, you can purchase Fresh Faced online at
www.freshfaced.com.au
.