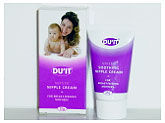 NIPPLE CREAM
Exclusively formulated to meet the special needs of breastfeeding mothers, DU'IT Nipese is highly effective for soothing tender nipples during pregnancy and breastfeeding.
The medical grade lanolin used in DU'IT Nipese offers a unique bioequivalence with skin lipids, long lasting emolliency; effectiveness as skin barrier repair agent and a provider of ideal wound-healing environments. It moisturises, conditions, eases dryness and promotes skin healing. A layer of DU'IT Nipese enables fast relief for dry, cracked and abraded nipples. Safe for breastfeeding, no need to wipe off.
Beauty Consultant's Note:
Very effective, cleared abraded nipples quickly, restored skin around nipple.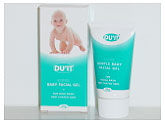 BABY FACIAL GEL
A gentle facial gel formulated especially for the sensitive newborn infant skin to restore the beauty of your baby's complexion. Free from artificial fragrances, DU'IT Kidol helps to soothe and moisturise dry infant skin in difficult times during the first few months after birth. Ideal for use on milk rash, dribble rash, windburn, red, chafed skin or minor facial irritations. Apply to cleansed skin.
Beauty Consultant's Note:
Excellent, cleared milk rash quickly and moistened baby's skin. Highly recommended.