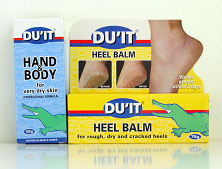 DU'IT HAND & BODY CREAM (for very dry skin)
This hand and body cream is formulated to especially treat the driest, chapped and hardest thickened skin. A fast acting and highly effective treatment that will shield skin from the harshest of elements in addition to softening even the toughest of skin. Ideal for people working in conditions where there is exposure to water, detergents, chemicals or frequent use of latex gloves, this product replenishes the moisture lost in such abrasive work. Perfect for use in areas of the body where the skin has become flaky and thick, such as cuticles, elbows and knees. DU'IT hand and body cream should be applied for seven days at least two to three times daily and then only once daily from then on. Containing 10% Urea this is a powerful product which may sting highly cracked skin and is not recommended for use on open or weeping skin. Discontinue if irritation occurs.
Beauty Consultant's Note:
WOW! A highly effective product that left my driest of areas looking 110% better. Completely eliminating the flakiness and thickness of the skin on my knees and elbows, I wish I had this product last summer! All I am left with is baby soft silky skin.
DU'IT HEEL BALM
An action packed acid foot care product for hardened heels and thickened skin. DU'IT Heel Balm combines aha's (lactic and malic acids) to exfoliate, Vitamin E to enhance healing and protect against free radicals, Urea (a skin conditioner and humectant) to maintain moisture and seal cracked skin and Dimethicone.
Absorbed instantly, its super hydrating, softening and conditioning formula eliminates calluses while also relieving scaly patches and protecting against further drying, cracking or flaking. Can also be used on elbows, knees, fingertips or any part of the body that experiences extreme dryness and/or flakiness. DU'IT Heel Balm is also beneficial in the treatment of minor fungal infections such as athlete's foot.
Beauty Consultant's Note:
Gives rough edges the boot! Perfect for followers of high-heel fashion and athlete addicts! My heels are soft again no more hiding them away.
Australian owned and made. Both products are available from pharmacies nationally, podiatrists and selected salons. For stockists call
1300 656 101
.