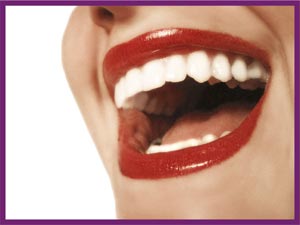 Recognising a desire for white, sparkling, healthy looking teeth, Nouveau Smiles the specialists in Dental Cosmetics has come up with the perfect solution.

Bdazzled Teeth Whitening products- the strongest active ingredients available in take home teeth whitening products across Australia and New Zealand.
Not only will Bdazzled Professional teeth whitening products turn your smile from "dull to DAZZLING", they're safe, affordable, convenient, and at only a fraction of the price of the dentist!
No two people are the same and for this reason, a teeth whitening product has been created to suit every individual.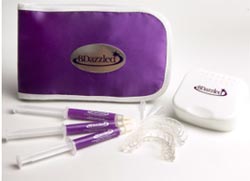 The BDazzled Kit - rated the number one take home teeth whitener by Womans Day NZ this tooth whitening kit started off the professional teeth whitening systems! B'Dazzled whitening gel is exactly the same as professional teeth whitening gels that you purchase from your dentists but with its thermo-shrink technology it provides you with a mouth guard, that moulds perfectly to your teeth for a customised fit. So, you don't need to pay all that extra money for your dentist to make you one. The pack contains three weeks worth of whitening gel to apply (which you may not use all of and can keep for "touch ups". In just 2 weeks your smile will look brighter than ever before and at only $99.00 that makes this kit irresistible.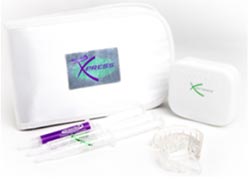 Bdazzled Express Designed for the busy person who doesn't want to wait two weeks for a brighter smile, the tooth whitening Express Kit is perfect. In this day and age it's difficult to find the time to do everything, particularly something for yourself! With the BDazzled Express Kit you can speed up the process by applying the gel 6 times over 2 days. How does this work; - by increasing the hydrogen peroxide level in the gel and applying more frequently over two days. And at only $120 a kit this is an extremely affordable alternative to laser teeth whitening.
The White Smiles Pen (YTJ) - this clever, chic compact pen was designed for the person on the go. Displayed as a classy silver pen which resembles a lip gloss, all you do is twist, apply and PRESTO... a bright healthy looking smile in no time. With this kit YOU can decide on how fast or slow you want the results to be and with such convenient and discreet packaging you can apply it any time and anywhere you like. This product is of the strongest professional dental strength gel, it makes the perfect gift and at $29.95, it won't break your bank balance either.

Of course you could go to the Dentist and spend up to $1,500 for a professional looking white smile, but why would you when BDazzled can offer the same results at a far more affordable price? The gel in the BDazzled kits are enamel and dental-work friendly. The formula has a natural pH and the active ingredient, hydrogen peroxide, works by releasing oxygen to whiten teeth. Hydrogen peroxide has been used by dentists for over 30 years and is extremely safe and effective.
So, not only are you saving money at the dentist, but you are buying a highly respected and guaranteed teeth whitening system. "We are so sure you will love BDazzled and what it can do for your smile that we offer a 100% money back guarantee if it doesn't whiten your teeth." Says Rebecca Beazley the developer of B'Dazzled.
So now there really is no excuse for going out into the world without a dazzling smile! For more information, please visit www.bdazzled.com.au