Andi Lew 9Round Melbourne Interview
As the temperature drops, so does our motivation to get up and break a sweat. But with Melbourne's newest fitness-circuit sensation, 9Round officially open in Fitzroy, step things up with High Intensity Interval training and HIIT away those extra winter kilos!

Fast-tracked from the U.S. by Australian fitness heavyweights, Snap Fitness, 9Round is a 30 minute boxing, kickboxing and martial arts circuit designed to push the boundaries, test your endurance and build your stamina with high intensity interval training.

Taking Australia by storm with 50 clubs opening across the country in 2016 and 100 more clubs to follow in the next five years, 9Round Fitzroy is the first in Melbourne, with 9Round Elsternwick and Brunswick also due to open in the next coming months.

The brand's Australian CEO, Dan Newton said whether you're just getting started or are a seasoned gym junkie, the workout is the ultimate solution for time poor Australian's who are constantly on the run and are looking for a real challenge with real results.

'More and more Australian's are finding it difficult to keep fit but the good news is, you don't need to spend hours in the gym anymore. With 9Round circuits starting every three minutes and burning up to 500 calories in just 30 minutes, it's all about stepping up your workout regime for maximum results," Dan said.

But don't underestimate this new kid on the block, the 9Round workout will get your blood pumping during an intense 30 minute HIIT session which ensures you're reaching the 'Fat Burning Zone" every single time with innovative heart-rate monitoring.

'A new fitness phase is on the rise – people want a more personalised, convenient workout experience which compliments their busy

lifestyle. 9Round is exactly that, with a full body workout hosted by a motivating trainer. Our wearable technology also ensures y
ou're making the most of your workout, with heart rate technology at the ready and a virtual nutrition coach for every member," Dan said.

Serial franchisees and 9Round Fitzroy owners Paul Rayner and Glen Kercher, are some of the first to invest in the 9Round concept, after experiencing the workout first-hand in the U.S., challenging their endurance, strength and stamina.

'We're not your typical fitness fanatics, so when we tried and tested 9Round, we felt it was the sort of workout we'd like to do. And more than that, it was the type of workout we would actually have time for," Paul said.

Up for the challenge? Head to 9round.com.au to join a club near you or connect with the 9Round community on Instagram and Facebook.



Interview with Andi Lew
Question: What is 9Round?

Andi Lew: It's my new favourite type of training! I finally found a way to combine my two loves: boxing and high intensity interval training HIIT.

The 9Round workout is a 30 minute boxing, kickboxing and martial arts circuit designed to push the boundaries, test your endurance and build your stamina with high intensity interval training. Plus, they have ever-changing routines from some of the best martial arts trainers in the world! You can find out more here - https://www.9round.com.au.


Question: Can you provide an example of a 9Round class?

Andi Lew: I was recently put through my paces with a squad of about 20 others for 30 minutes! It never matters if you turn up late - They have new circuits starting every 3 minutes! We did a variety of workout stations including various kicks, punches, speed ball and other functional training moves on bags, pads and with the coaches, all while wearing a heart rate monitor to ensure you're training in the right zone for fitness or fat loss. The time flies and the workout, albeit short, is quite intense as you're using more than one muscle group at a time.


Question: What is it about boxing, kickboxing and martial arts that you enjoy, most?

Andi Lew: The fact you get to focus on technique, like you're learning a new skill. It makes you forget you're actually training!


Question: Why do you choose HIIT training?

Andi Lew: It really generates results. I also don't have much time to train being a single mum, so it suits me fine to get in, get on, get off and get out!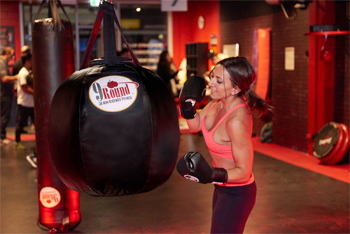 Question: How often do you participate in HIIT training sessions?

Andi Lew: 2-3 times per week. As you only have to train for 30 minutes, it's much easier to find the time!


Question: Can you talk us through your role as a wellness coach for the Miss World pageants?

Andi Lew: I hold programmes that Deborah Miller, the Miss World Director and myself arranged. We teach the girls about the wellness, nutrition and fitness they can achieve when they are on the road. The Miss World tag line is #beautywithapurpose and so I love helping the girls find a purpose greater than themselves and to feel good about eating well.


Question: Can you share with us your favourite recipe?

Andi Lew: Most people don't know what to do with chia seeds, they know they are good for you, but besides adding them to your morning smoothie or sprinkling them on salads, don't know what to do with them. I have 4 recipes in my new book Wellness Loading that incorporates chia seeds into breads, cakes and even crumbed chicken. It really is the best superfood in my mind!


Question: What are your top five tips for wellness?

Andi Lew: I only really have 2 overarching tips for wellness.
1. Drink alkalized water where possible. Cancer cannot live in an alkaline environment.
2. Have regular chiropractic care. Chiropractors are trained to remove nerve system interference. This will help give your other systems a boost when you have healthy signals firing from brain to body.


Question: Can you tell us about The Modern Day Mother?

Andi Lew: It was my 2nd book and is all about how to have a healthy pregnancy and to birth naturally. It supports new mothers with babies from womb to age one.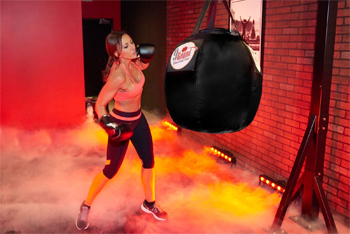 Question: What is the concept behind Real Fit Food?

Andi Lew: It is about intelligent nutrition. Foods that are alive - have life forces in them and therefore give you life. They are also nutrient dense - so when you eat foods with loads of nutrition, it satisfies a part of the brain that is responsible for switching off your hunger mechanism when you feel full naturally. There is also great information about functional training, and how to be able to make time to train if you have a child.


Question: What's a typical day like, for you?

Andi Lew: Every day is so different, but let's look at today. I dropped my 6 year old divine boy at school, kissed him tightly and then went to the hairdresser - Dame Salon, to get styled, picked outfits from my stylist - Seagulls of St Kilda, for tonight's event and jumped on a plane to Sydney for a book signing at a new About Life store in Crows Nest. I am currently replying to emails before I will host a cooking demo and will then be briefed in the hotel room with the director of Miss World tonight, in preparation for our CH9 Today Extra appearance tomorrow.


Interview by Brooke Hunter