Aden & Anais Baby Cakes Swaddle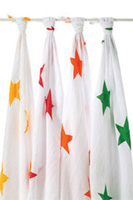 For countless generations, mothers have swaddled and cared for their children with natural muslin. aden + anais® helps continue this tradition with the softest swaddles and fashion-forward prints that say as much about your style as they do about practices that bind mothers together around the world. Available in four packs, two packs and single packs
Pack of four 100% cotton muslin swaddling wraps. aden + anais wraps are the ultimate in breathability and softness. The fabrics light, open weave allows a babys body temperature to regulate itself naturally which helps to prevent overheating. It is gentle on babys skin and durable for everyday use. The more you wash aden + anais wraps, the softer they get.
aden + anais wraps are extra large, measuring 1.2m x 1.2m, so that new and seasoned mums alike can swaddle babies of all sizes with ease. Traditionally used for swaddling our wraps can also be used as burp cloths, nursing and stroller covers, portable crib sheets, stroller and car seat liners, tummy time blankets, change table covers, and more.
Aden & Anais Baby Cakes Swaddle (4 pack)
RRP: $49.95
Aden & Anais Swaddle (2 pack)
RRP: $34.95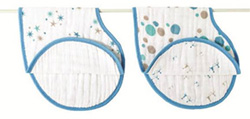 Aden & Anais Dribble Bibs
Great form meets versatile function in our soft, absorbent burpy bib.- Our special shape keeps things clean whether used as a bib or a burp cloth. Natural, gentle muslin is as easy to care for as it is to use. And no aden + anais® product would be complete with our chic, exclusive prints.
Aden & Anais Dribble Bibs
RRP: $24.95
A-list celebs, such as Kourtney Kardashian, Matthew McConaughey, Sandra Bullock, Gwen Stefani, Sarah Jessica Parker and many, many more are huge fans of aden + anais and their ever-growing line of muslin cotton products.
www.adenandanais.com.au