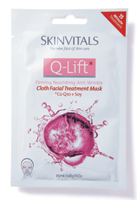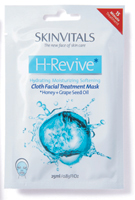 AUSTRALIA'S FIRST COSMECEUTIC CLOTH TREATMENT MASK RANGE
Prepare to revitalise with Skinvitals, an exceptional new skincare range.
Made from quality cloth and infused with proven active ingredients including Hyaluronic Acid, Vitamin C, Grape Seed Oil, Ginkgo Biloba and Soy Protein, the Skinvitals masks deliver a generous replenishing facial treatment with immediate cosmeceutic benefits.
There are six face and two eye treatment cloth masks in the range each offering a unique skincare experience from hydrating, anti spot cleansing, anti wrinkle to rejuvenating and firming.
The masks are easy to apply and offer a no mess application, providing an instant clean, fresh and uplifting skincare experience
Q-Lift *

Firming Nourishing Anti-Wrinkle
Infused with active ingredients such as Soy Protein and CoQ10, the nourishing anti-wrinkle mask helps to increase the skin's thickness, stimulate the production of lipids and the renewal of epidermis. CoQ10 promotes skin firmness and elasticity. This firming skin cloth leaves the skin replenished, nourished, smoother and plumper and is particularly beneficial to refresh the appearance of more mature skins.
L-Soothe*

Relaxing Calming Comforting
The potent anti-allergenic and anti-inflammatory ingredient of Lavender, combined with Green Tea, a 20 times stronger anti-oxidant than Vitamin E, suppresses inflammation and soothes irritation which means that skin will be left feeling calm, soothed and healed. A wonderful aid for skin that has been exposed to harsh sun or wind conditions.
C-Brighten *

Radiant Vitalizing Moisturizing
The Vitamin C and Ginger extracts in the C-Brighten mask act as moisturising and stimulating aids, smoothing fine lines, boosting complexion and brightening skin tones to leave the face looking more refreshed and youthful.
H-Revive *

Hydrating Moisturizing Softening
Honey helps the skin retain moisture and allows the skin to rehydrate itself by forming a watertight film on the face. Grape Seed Oil, a major anti-oxidant, rich in vitamins, boosts micro-circulation, allowing the skin to look smooth, soft and supple. Especially suitable for anyone working in centrally heated or air-conditioned environments.
T-Purify *

Anti-Spot Cleansing Clarifying
The anti-septic, anti-bacterial and anti-fungal qualities of the Tea Tree in T-Purify deeply penetrate the skin to soothe and relieve a large array of skin problems. Complemented with the active ingredients of Rosemary, which is an excellent skin tonic, the skin's vitality will be restored and circulation will be improved. A great detoxifying mask for all skin types.
G-Energise *

Anti-Stress Rejuvenating Invigorating
Ginseng is known as a 'wonder of the world' as it increases vitality and removes fatigue. Combined with Gingko Biloba, which is a powerful anti-oxidant and anti-inflammatory that reinforces capillary walls, G-Energise will help fight premature ageing, increase circulation, and restore energy to relieve tension and anxiety. The perfect "pick me up" to relieve stress or before a special occasion for instant vitality.
Eye-Lift *

Anti-Puffiness Anti-Wrinkle Firming
The nourishing Soy Protein and CoQ10 ingredients support the skin's structure to energise cells and stimulate the production of lipids, improving pigmentation and the skins firmness and elasticity, leaving the skin replenished, nourished, smoother and plumper.
Eye-Brighten *

Anti-Dark Circles Brightening Invigorating
Nutrients such as Vitamin C and Liquorice in the Eye-Brighten treatment mask act as an aid to help replace lost moisture and reduce fine lines whilst boosting your complexion and brightening skin tones. The toning and expectorant qualities of liquorice may also assist in lightening dark circles around the eyes.
The Skinvitals Active Cloth Treatment Masks and Active Cloth Eye Treatment Masks are RRP $3.95 each or RRP $9.95 for a box of four.
For stockists details call 03: 9427 9222