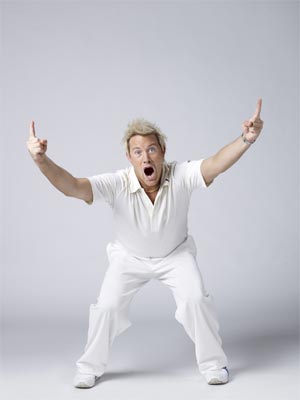 The real wizard of Oz is spinning into Melbourne this summer.

SHANE WARNE THE MUSICAL - ON SALE!

Australia, your musical is ready and ON SALE MONDAY 21 JULY 2008.

Weve seen singing cats, tenor ghosts, dancing coal miners and drag queens with bridges on their heads. Now Melbourne has a musical it can really call its own. The greatest spectator city on Earth has the sporting box seat each year on the last Saturday in September, first Tuesday in November and Boxing Day. Now Wednesday 10 December will take its place on Melbournes calendar as the day the sheikh of tweak finally got a musical all of his very own.

SHANE WARNE THE MUSICAL is a leg-spun yarn about what it means to fall arse-backwards into the Australian Dream and emerge a champion. In a country that routinely lops its tall poppies, this show sets out to both celebrate and understand the life of cricket's most adored and maligned hero as he battles fame, failure, fidelity and the ferocious Australian media.

The boy from Black Rock will be immortalised on stage by the most impressive team ever assembled for an Australian musical premiere.

Shanes ups and downs will be brought to life by the multi-talented composer and comedian Eddie Perfect with editorial assistance from Casey Bennetto, the creator of Keating!. Neil Armfield, one of Australias most acclaimed theatre, opera and film directors, (Keating!, Stuff Happens, Exit The King, Candy) will lead the creative team, with set design by Tony Award winner Brian Thomson (Priscilla, Keating!, Boy From Oz - Arena).

A sizzling live band and an exceptional cast, including Eddie Perfect as the man himself, bring to life a brilliant score which fuses soul, gospel, rock, power ballads, drum n bass, opera and even a touch of Bollywood.

SHANE WARNE THE MUSICAL is a new breed of Aussie music theatre that smokes, drinks, carries a few extra kilos and still brings home the Ashes. Made in Melbourne, by a boy from Melbourne, about the greatest player the Sandringham Line ever produced.

ON SALE MONDAY 21 JULY 2008
BOOK NOW TO GET PREVIEW TICKETS FROM $54.90

Written & Composed by Eddie Perfect
Director Neil Armfield
Set Designer Brian Thomson
Musical Director Will Poskitt
Lighting Designer Damien Cooper
Costume Designer Tess Schofield
Dramaturge Casey Bennetto

SHANE WARNE THE MUSICAL

World Premiere Season from Wednesday 10 December 2008


Athenaeum Theatre, 188 Collins St, Melbourne
Bookings: www.ticketmaster.com.au, 1300 723 038 or through the venue on 03 9650 1500
More information visit www.shanewarnethemusical.com.au


Bowled, Shane!
In keeping with the career of its subject, SHANE WARNE THE MUSICAL is officially a bloody big hit. The world premiere season will be extended into February, with tickets for Sunday 1 - Saturday 14 February going on sale at 9am on Monday.

SHANE WARNE THE MUSICAL is a new breed of Aussie music theatre that smokes, drinks, carries a few extra kilos and still brings home the Ashes. Made in Melbourne, by a boy from Melbourne, about the greatest player the Sandringham Line ever produced.

Eddie Perfect is...."the next superstar of Australian show business. He can sing. He can dance. He can act. He's funny...Hugh Jackman with a bit of an edge." Neil Mitchell, 3AW

SHANE WARNE THE MUSICAL opened at the Athenaeum Theatre in Melbourne on 10 December, and has been enjoyed by lovers of music and comedy as well as sport, including Shane Warne himself, Bill Lawry, Tony Hachem, Geoffrey Rush, Brendan Cowell, Judith Lucy, Tim Rogers, Michala Banas, Corinne Grant, Deborah Conway, Julia Zemiro, John Safran and Hugo Weaving, along with Red Symons, the Hon Steve Bracks, Lisa Gorman, Alannah Hill, Neil Mitchell, Jo Stanley & Matt Tilley.

"Wild, funny, outrageous... straight up hilarious." Herald Sun

"A glorious piss-take on celebrity, cricket and musical theatre." The Age

"Perfect's vision is an almost unimprovable mingling of satire and homage, cheek and deference, music and comedy." The Guardian UK

"It's vital, rude, smart, irresistibly funny and passionately performed. Don't miss it." The Australian