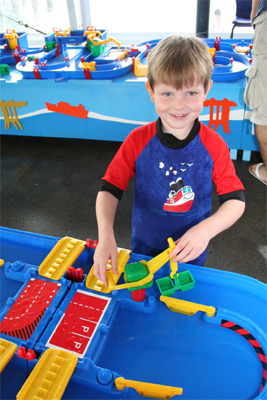 27 Dec 2006 - 28 Jan 2007 (except Australia Day)
Australian National Maritime Museum, Darling Harbour
It's time to don the togs and prepare to get wet at the National Maritime Museum's Wetworld these school holidays.

By popular demand Wetworld has returned for its sixth year, guaranteeing plenty of fun activities and splashy games for children aged 3 to 9 years to explore and enjoy the properties of water.The 'water piano' is back following its successful debut last year....where children can test their musical skills and play their favourite tune from 'chopsticks' to 'Hot Cross Buns'.

Along with the intriguing Wet Lab full of intriguing, splashy experiments and exciting River Races, a brand new hands-on water wheel has been added to teach kids about hydro-power and it's sure to be a crowd pleaser.

Then take aim and cool down in the Super Soaker Action Zone… kids can expect to get wet, so it's a good idea to dress for the occasion.

But there's plenty more summer holiday fun....Arrrgghhh! The Musical will keep the littlies entertained with its interactive theatre show full of dancing and singing. Weekdays at 11 am, 12 pm and 1 pm.

Then experience the excitement of the Pirates! adventure land. Young, apprentice pirates can learn the finer points of being a fearless buccaneer in Pirate School. Lessons including arts and crafts activities run daily from 10 am to 4 pm.

Entry to Wetworld and Pirates! is $9.00 per person or $25 for a family ticket, and includes Pirate School and Arrrgghhh! The Musical.

The National Maritime Museum, at Darling Harbour, is open daily from 9.30 am to 5 pm (6 pm in January). All inquiries, (02) 9298 3777.