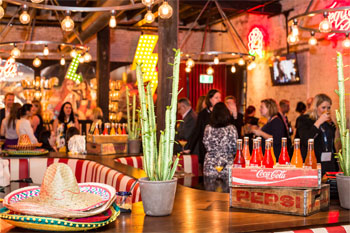 Trifecta of Fiesta Experiences at El Camino Cantina in May
Cinco de Mayo
Good things will come in fives this Friday, 5 May when the late night, Tex-Mex hangout in the heart of The Rocks celebrates Cinco de Mayo with $5 tacos, accompanied with $5 Margaritas, craft beers, house wines and house tequila until 7pm. El Camino's famed, colossal, frozen and shaken Margaritas will be given a Cinco de Mayo flavour boost of peach and habanero chilli, and a DJ will kick the party along from 6pm. Unleash your inner bandito or señorita, with prizes for the best dressed.
First Birthday Fiesta
The party will be fired back up for El Camino's 1st Birthday Fiesta on Friday, 19 May. Get ready for sombreros, piñatas, Margaritas, tequilas and tacos … not necessarily in that order.
We're celebrating 365 days in existence for Sydney's most authentic Tex-Mex cuisine. There will be a free taco station from 5-7pm, a Tex-Mex infused, limited-edition birthday Margarita, a DJ from 6pm and churro birthday cupcakes for guests. What's not to celebrate!
Vivid Inside & Out
From Friday, 26 May, the neon-filled diner will be the perfect destination for a pre or post Vivid feast. Entry to this one-of-a-kind cantina is via The Argyle's cobblestone courtyard, which will be a dazzling den of activity throughout the festival. Once indoors, surrounded by enough bright beams and fluorescent signage to light up the Vegas strip, guests will be forgiven for thinking the Vivid Festival has continued inside the fun-fuelled cantina. Enjoy authentic Tex-Mex feasting, as well as a DJ every Thursday, Friday and Saturday evening during the festival.