CARTOON NETWORK'S HOLDING OUT FOR A HERO!
Play the Ben 10: Alien Force Heroes Challenge!
Kids nationwide will have the chance to show off their gaming skills with the launch of the highly anticipated Ben 10: Alien Force Heroes Challenge gaming tournament on www.cartoonnetwork.com.au .
Beginning Monday, February 2nd, a new Ben 10: Alien Force game will be released online each week for three consecutive weeks. Kids are encouraged to compete in the online gaming tournament for their chance to win the Grand Prize: a one-week family trip in their very own campervan, just like Ben 10's "Rustbucket"!
To participate, kids need to tune into Cartoon Network between 4-7pm to identify the Ben 10 alien in the ticker at the bottom of the screen and then go online to register. Entering the correct Ben 10 Alien name online will unlock the weekly game and allow users to compete for the highest score.
For the first three weeks, the best performing player for each game will win a prize pack including a Ben 10 action cruiser, Ben 10 action figures, Ben 10 key rings and a Ben 10 alien USB memory stick. In the fourth week of the competition, all three games will be unlocked and available for completion, with the best overall performer winning the Grand Prize.
The three games in the tournament are: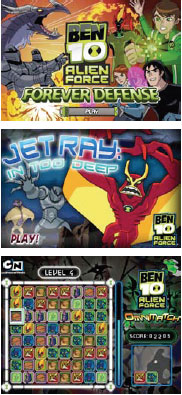 Ben 10 Alien Force: Forever Defence

Help Ben 10, Gwen, and Kevin 11 hold off the Forever Knights from invading the Earth using Swampfire, magic, and more!
Jet Ray: In Too Deep

Help Ben 10 alien Jet Ray navigate the dangerous depths of the ocean to avoid the Forever Knights and DNAliens.
Ben 10 Alien Force: Omnimatch

Swap tiles and create matching sets of aliens. Super stacks get bonus points!
For more information and to start playing, visit
www.cartoonnetwork.com.au