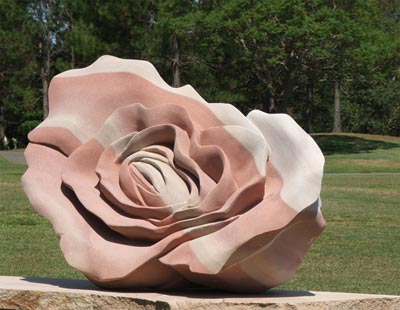 Exhibition: Flowers and other works in stone Antone Bruinsma Sculpture Park, 58 Cedar Creek Road, Cedar Creek (Gold Coast) 4207 Every Sunday in May 10am to 4pm and other days and times by appointment - phone 07 5546 4109.Antone Bruinsma is a professional sculptor who has been creating meaningful sculptures for landscapes, urban spaces and private homes for over 25 years. Signature sculptures for small and large residential and commercial developments will landmark your project and provide visual impact to attract people to your precinct. Pieces are created individually for your space. Or you may find a sculpture that suits at Antone's sculpture park in the Gold Coast/Beaudesert hinterland region, located at the northern base of beautiful Tamborine Mountain. You can visit by appointment - the park is an hour's drive from Brisbane's CBD or 40 minutes from Surfers Paradise.Antone is happy to take you on a guided tour through the park to view his sculptures. Allow at least 2 hours to enjoy your visit. Exhibition: Flowers and other works in stone
Antone Bruinsma Sculpture Park, 58 Cedar Creek Road, Cedar Creek (Gold Coast) 4207
Every Sunday in May 10am to 4pm and other days and times by appointment - phone 07 5546 4109.
Antone Bruinsma is a professional sculptor who has been creating meaningful sculptures for landscapes, urban spaces and private homes for over 25 years.
Signature sculptures for small and large residential and commercial developments will landmark your project and provide visual impact to attract people to your precinct.
Pieces are created individually for your space. Or you may find a sculpture that suits at Antone's sculpture park in the Gold Coast/Beaudesert hinterland region, located at the northern base of beautiful Tamborine Mountain. You can visit by appointment - the park is an hour's drive from Brisbane's CBD or 40 minutes from Surfers Paradise.
Antone is happy to take you on a guided tour through the park to view his sculptures. Allow at least 2 hours to enjoy your visit.
www.stonesculpture.com.au