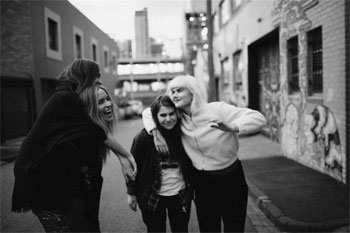 Gretta Ray Electric Lady Live Session
Electric Lady, the all-female movement featuring Ali Barter, Alex Lahey, Jack River, Gretta Ray, Bec Sandridge, Rackett and Bodytype will make its live debut at Sydney's Metro Theatre on Friday, June 30 and Melbourne's The Corner Hotel on Saturday, July 1. In the lead-up to these momentous shows, Electric Lady will be releasing a series of "Live Sessions" which will feature select artists on the lineup covering eachothers songs as well as interviews with inspiring women working in diverse fields. Gretta Ray's cover of Jack River's 'Talk Like That', released today, is the first in this series of bespoke content.

Electric Lady is inspired by the movement of women electrifying their voices, guitars and rights across the world. Australian musician Jack River developed the idea around conversations with fellow musicians Ali Barter, Alex Lahey, Montaigne, Lisa Mitchell, Kita Alexander and Gretta Ray about the incredible surge of women in music and how powerful it would be to join together to join together and amplify their voices. "The last year in music, politics, and culture made me realise the time is now for this idea. Girls are ready to amplify their talent alongside each other and the world is ready for diversity in female role models," Holly said.

More than a live show, Electric Lady will be a platform to amplify the strength of women in music, politics, science, sport and beyond. This platform is set to feature interviews with peers across other fields including Stephanie Gilmore (Surfer), Isabel Lucas (Activist/Actress), Tyler Wright (Surfer), Katie Mack (Astrophysicist), Belinda Pavlovic (Aeronautical Engineer, DASA), Molly Taylor (Rally Racing Champion) and more.