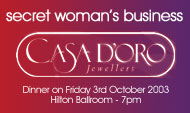 "Secret Women's Business" Dinner on Friday 3rd October 2003, Hilton Ballroom - 7pm.
Secret Women's Business promises to be a very special evening where Adelaide women will have the opportunity to hear first-hand some of Australia's most influential women divulge the secrets to their success. Come along and listen to the stories of Libbi Gorr (aka Elle McFeast), Sonia Todd (McLeod's Daughters), Rosemary Crowley, (former federal Government Minister) and Dorinda Hafner (Diva of the Delicious) and be entertained by the award-winning music of Fruit and Gentlemen Prefer Curves. For more information or to book visit the Secret Women's Business web site at
http://www.onyasoapbox.com/html_email/swb_email.htm
The event will be hosted by Amanda Blair (SAFM) and will raise funds for the YWCA of Adelaide. Silent and public auctions will also be held on the night. Secret Women's Business takes place on Friday October 3rd at the Adelaide Hilton Hotel Ballroom and cost includes include a 2 course meal, beer, wine and soft drinks and showbag.
Related: Also see business opportunity using The Secret business principles.