The Sydney Mum with one Down Syndrome child and one child with Autism
Once more, Jean and Nissy Nassif, Founders of the Wiping Tears Charitable Foundation have found an inspirational mother of 2 kids, Sarah, a 34-year-old mum of Jack (2 years old) and Josh (4 years old). Her hands are kept pretty full with her two boys, as Jack has Down Syndrome and Josh has severe Autistic Spectrum Disorder.

Josh was diagnosed with Autism at 2 years old when he didn't reach typical communication and development milestones. His lack of speech was the first sign that he had a problem.

Sarah commented: "He would always look at me but the words were just never there."

"Josh has no concept of what today is, what tomorrow is and why you're here. He can get very unhappy and cry and cry. But we have no idea why because he can't communicate with us."

Josh has outbursts of unintentional behaviour, where he hits himself. Sarah commented: "He's not violent or aggressive to other people but he can be violent unintentionally. He's actually very affectionate and sweet. He hugs and kisses me all the time."

"I'm lucky we have such a special bond", she continued.

Nissy Nassif and the team from Wiping Tears visited the family days before Christmas to spread some festive cheer and meet the kids.

2-year-old Jack is very relaxed and happy all the time. Doctors picked up on Jack's Down syndrome at 13 weeks into Sarah's pregnancy and they were pressuring her to terminate the pregnancy.

"I'm not that religious, I can't explain it, I just didn't feel right about the idea of terminating. We had people messaging us telling us all these things that can be associated with Down Syndrome and saying I should end the pregnancy", she said.

Feeling overwhelmed, Sarah joined a couple of private Facebook groups of mothers with kids who have Down Syndrome.

"I couldn't get any information from doctors, they were just trying to get me to terminate and everything seemed so negative", she continued.

Until she found Down Syndrome Australia Pregnancy Group, a hidden Facebook group for Mums who have kids with Down Syndrome. She then found that all the stories from these mothers were really positive.

"These mothers told me such beautiful positive stories. None of these parents were complaining about their kids with Down Syndrome, they were complaining about their other kids sneaking out, stealing alcohol and stealing money. I thought they were lying to me to try and make me feel better", she said.

But she soon realised she was making the right decision in keeping her baby. "I said philosophically: how much can you design your life? Ultimately, I could have another baby if I chose to terminate, but there can be so many other health problems to worry about", she reflected.

"Part of me wishes I didn't know about Jack having Down Syndrome while I was pregnant, as it would have saved me so much stress and anxiety during the pregnancy, wondering what to expect."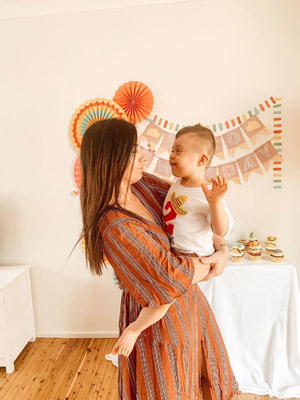 At this point Sarah didn't know Josh was autistic but to this day she's so grateful she made the decision, as she now has two beautiful sons and cherishes everyday with them.

"If we didn't have Jack, I don't know what we would do. He's the light of our family. Even when Josh is having a meltdown, Jack goes over and hugs him. He's such a sweet little boy," she noted.

The family relies heavily on government grants to cover the expense of Josh's speech therapy. Sarah has to be a full-time carer for both kids and so cannot work, particularly as Josh isn't ready to be with other kids in a daycare or school setting. With the cost of special shoes for Jack to nappies for both kids and weekly groceries, their bills have piled up.

"People assume I would be dying to get out of the house but I love spending time with them. I've always been close to my kids and I don't want to be away from them. I'm lucky that I have a really strong and special connection with both of my kids," she commented.

To help Sarah and her family out, Wiping Tears Charitable Foundation are covering the family's daily expenses, such as rent, car payments and educational toys and equipment for the boys.

Nissy Nassif said: "Jack was the very first baby with Down Syndrome, I've ever met. He is one of the cutest kids I've ever met, with so much love to give. He will always be in my heart. I'm so pleased we could help Sarah and her beautiful family in some way."


Interview with Sarah Jackson
Question: Can you tell us about you and your family?

Sarah Jackson: I am a mum to two beautiful boys, Jack (2) and Josh (4). Jack was born with Down Syndrome and Jack has severe Autism. I am a busy proactive mum; I have studied so I can be both of the boys' main therapist. Overnight I had to learn so much and ultimately became an advocate. I am the admin of a group for 16,000 Autism parents in Australia, my Instagram page @jacksgot21 has a 10,000+ following. I like to be on/create platforms that create connection and lived experiences for people to share. This is our "normal" we do a lot of attached parenting and child led therapy. We live relatively "normal" lives we just take it each day at a time.


Question: What's a typical day like with Josh and Jack?

Sarah Jackson: We have breakfast together then we do a lot of music therapy. After that they have free play, we then have lunch and head outdoors to the park (there's a bit less of that happening right now though). We go grocery shopping together then we come back and have some sensory play. The boys usually nap while I prepare dinner, then we head out to the park again. It's a fun time. I work on their individual communication goals within our play and routines.


Question: How was Josh diagnosed with Autistic Spectrum Disorder?

Sarah Jackson: I made an appointment with the pediatrician because I noticed he wasn't hitting the standard communication milestones. He asked me some questions and was able to diagnose him in the same appointment.


Question: How did you hear about Nissy and Jean Nassif and the Wiping Tears Charitable Foundation?

Sarah Jackson: My good friend Mira had been posting on social media about the wonderful work they do, so I was aware of the foundation but I never thought I would be lucky enough to receive such incredible support from an organisation and Nissy who's ultimately become my friend.


Question: How has the Wiping Tears Charitable Foundation supported you and your family?

Sarah Jackson: They helped us financially with everyday living costs such as rent, bills, groceries etc. I was also able to purchase my boys a swing set with their help too. It's because of this, our stress was greatly reduced and we could spend more time with our children.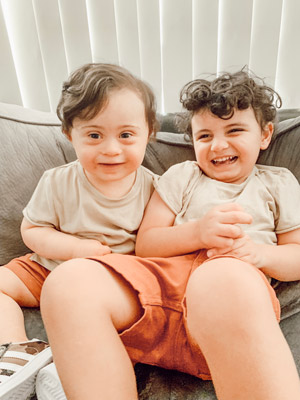 Question: You mention that Nissy is particularly good with your kids, can you please expand on this and explain how others can learn from how she interacts with both Jack and Josh?

Sarah Jackson: Josh and Jack are both currently non-verbal in their communication. They rely purely on gestures and facial expressions. Nissy is great at playing with them and communicating to them on their level and in showing so much understanding.


Question: What message do you hope to spread in light of World Down Syndrome Day which took place earlier this month?

Sarah Jackson: I would like everyone to know it's not doom and gloom! It's nothing like what the medical model will have you believe. You will be lucky to know someone with Down syndrome. I would also like people to know these statistics - 99% of people with Down Syndrome are happy with their lives, 97% like who they are and 96% like how they look. Overall, the overwhelming majority of people with Down Syndrome surveyed indicate they live happy and fulfilling lives.


Question: What advice do you have for parents of children with Autistic Spectrum Disorder and Down Syndrome?

Sarah Jackson: I know all the fears, challenges and guilt. We feel like the world doesn't understand our struggles it can be isolating. We put our heads on the pillow at night the tears are silent and our intrusive thoughts are always there. We ask ourselves "what more could I have done today? What more can I do tomorrow?" So I just want to say don't be so hard on yourselves. You provide your children with a home of love and laughter and that is more than enough and we are all in this together.


Interview by Brooke Hunter