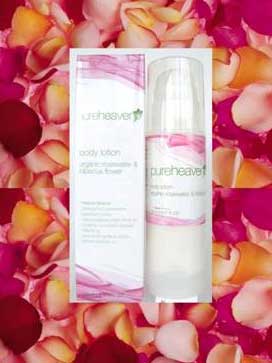 Would a rose by any other name feel as sweet?
Sensual, vivacious and the ultimate in femininity, it is no wonder that the scent of roses has been worn by some of the world's most alluring women for centuries. Pure Heaven, Australia's organic complementary skin care brand, sensually blends notes of angelic rosewater, soothing hibiscus flower extract and pure geranium essential oil to create the captivating 'Rosewater and Hibiscus Flower Body Lotion'.
Wrapping the skin in a veil of softness, Pure Heaven has drawn upon a unique combination of nature's purest ingredients to create a luxuriant lotion, which soothes the senses and calms the mind.
Believed to be the secret weapon on the world's first true beauty minx Cleopatra, rosewater possesses unique healing properties, which work to stimulate, soothe and regenerate the minute blood vessels under the skin.
Ensuring that the skin remains hydrated and illuminated, the Rosewater and Hibiscus Flower Body Lotion blends rose petal infused rainwater with tranquil hibiscus flower extract. Hibiscus which has been revered throughout history for its therapeutic and calming properties, synergistically combines with the rosewater.
Providing your skin and senses with a botanical array of soft florals, the 'Pure Heaven Rosewater and Hibiscus Flower Body Lotion' leaves the skin luxuriously smooth, whilst bathed in one of the most beloved and bewitching scents of all time.
Review: A delicous blend of rosewater and hibiscus flower in a non irritating body lotion is exciting to the senses.
RRP: $18.95
For stockists call (07) 4681 0586 or visit
www.pureheaven.com.au