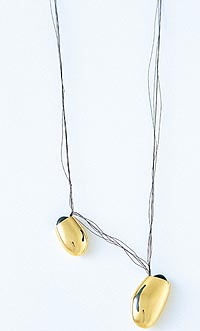 AUSTRALIAN JEWELLERS SHINE IN THE QUEENSLAND SUN
Australia is the third largest producer of gold in the world. Queensland, as a have for local and international visitors alike, boasts some of this country's most talented jewellers. It's only natural then that
OZGold - an exhibition and award celebrating Australian gold jewellery design
- should make a lengthy visit to the Craft Queensland in Brisbane.
This November works by 20 of Australia's most talented jewellers will be on show at the Craft Queensland. OZGold is the Australian Gold Council's (AGC) first foray into gold value adding and is a celebration of Australian gold and design talent.
One of the most talked about pieces in the exhibition is by Queensland based jeweller,
Melissa Turner
. Her intriguing 18ct neckpiece is a celebration of Australian gold - engulfing the patinated steel she has also used in the design.
The Goldfields OZGold Award
reflects the Australian gold industry's strong belief in its product and heralds moves to promote gold and jewellery from the consumer's perspective. Through the AGC's involvement (along with the World Gold Council) OZGold was able to provide jewellers with an ounce of gold each. One jeweller (Sally Marsland) won a $25,000 cash prize and her work, along with the work of fellow jeweller, Helen Britton, travelled to Italy to be part of the prestigious Gold Virtuosi competition in Italy this June.
The Australian Gold Council was formed in 1998 and is the peak body representing the interests of the gold industry in Australia and the Asia-Pacific region. The AGC works to publicise the industry's significant social, economic, social and environmental contribution to the nation.
The Goldfields OZGold Award 2002 has travelled around Australia throughout 2002 and Queensland represents the Grand Finale. Don't miss out!Exhibition dates: 15 November 2002 to 25 January 2003
Venue: Craft Queensland
381 Brunswick Street, Fortitude Valley

Entrance to the public is free.

Visit www.OZGold-au.com* Melissa Turner's 18ct neckpiece pictured above