NELLY FURTADO
By MIKE GEE
Blame it on Portishead. If you're sick of Nelly Furtado being like a bird, tough. If you suspect she has way too much energy for it to be natural and that the whole Whoa. Nelly! phenomenon is all a producer's manufactured dream, think again. Nelly - quick talking, fast thinking, preciously talented, trippy Nelly - is just as warm and spontaneous as her music and just as unlikely to be an overnight sensation. The bird is only just spreading her wings.
Of all the youngsters that have come - and mostly gone - over the past 18 months, Furtado stands out: she writes her own songs; big, fat, juicy songs with large chunky hooks and irresistible melodies that seem to worm their way under the skin. With Nelly, you're never sure what is coming next. As a debut Whoa. Nelly! is remarkably good. A smorgasbord of pop, rock, hip-hop, urban trip-hop, folk, latin rhythms and funk that occupies its own peculiar epicentre. She has character, is highly personable, multi-cultural, and seemingly unphased by the fuss that's accompanied her rapid rise as both critics sweetheart and chart-busting pop star.
"It's been a transition, a really big transition, huge transition," she says. "It takes away your innocence, right. You're just forced to think more like an adult to start with; then you go back and find balance again. Pressure ... okay, there was pressure in the beginning when I was making my record. I was really worried I wasn't going to be able to make this great record and I was worried that the record company wouldn't like it. I was worried people would think it didn't have good songs on it. Then everybody loved it, so great! You have this enormous weight off your shoulders when the record is released, then the next battle you have to get through is touring. 'Will people like me as a live performer?' 'Do I suck?' 'What's going to happen?' Then you play your first set of shows and it's like 'Great they love me. I'm great'. Then the pressure is lifted daily. And the pressure gets less everyday."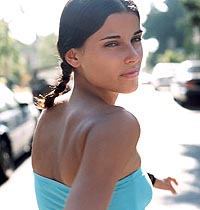 "I think when you've dreamt about something for so long, you're going to feel very satisfied when it starts to happen. The fact that I got to open for U2, the fact that I got to do a duet with Elton John post-Oscars, the fact that I got do the version of Missy Elliott's Get Ur Freak On for the Tomb Raider soundtrack, the fact that all these other great people [including Moby] want to work with me. It's the creativity. Why wouldn't I be digging it?"
"Before, my whole life, I've been a fan, a pop music fan, a pop culture junkie, looking at this world from the outsider's perspective. Now I'm in it, I'm making the transition from pop fan to peer - to being a singer and a songwriter and a musician - and it's a strange one. And the more I start to accept it, the happier I become. It's the natural response as an artist to push it away and go 'I'm not a star, I'm not a star'. Now I'm starting to accept it, it has made my life a lot easier."
Nelly grew up in Victoria, British Columbia, which is on Vancouver Island, so she's a second generation Portuge-Canadian West Coast girl. Her heritage is all music and all passion. She first performed at the age of four - with her mother - before a crowd of 300 at a Portuguese festival. Her family has a deep embrace of Portuguese culture but she also knows the hardness of life. For eight summers she made beds alongside her mother who was a chambermaid while watching her dad work two jobs - as stonemason and landscaper.
"My family's very musical," she says. "My mother has always sung in the church choir, since I was young, and when she would have rehearsals at our house, when I was little, I would hide behind the couch and watch. And her father, her grandfather, her uncle, the great uncle, they're all multi-instrumentalists and they composed music in Portugal, where my parents are from. So there's this big heritage in music and I grew up always hearing about my mother's father who was really well respected in his town for writing and being a band conductor. So I started playing instruments. First, I started singing though. I was singing in Portuguese before I was singing in English. I knew right away that I loved performing." "And there were a lot of opportunities to play and sing at school. I joined a ukulele ensemble when I was eight, then I started taking trombone when I was nine or ten. I played five days a week in different bands: jazz band, concert band, marching band. So I was very musical. I was always doing musical theatre or dancing. My parents were show-parents though, so it was very organic."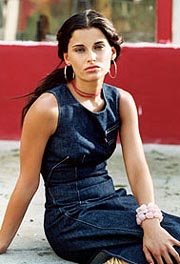 Rather like her website. It's energetic, colourful, alive. Next to her official biography is her autobiography, Me by Me. It is both warm and revealing. Shared Nelly. At once she is the cumulative spirit of a young Joni Mitchell, Jewel, Jack Kerouac, Sarah Mclachlan, Woodstock, Free Tibet, Bjork, Cornershop, Sade, Jeff Buckley, Beck, Bob Marley, De La Soul, improvisational anything, jazz, bossa nova, technology, 'scratching', Antonio Carlos Jobim, Nusrat Fateh Ali Khan and any other number of people she admires and artists to whom she's been exposed in a life coloured by sound and movement.
"I think what's cool about my record is that I'm one of the first in my generation [she's 22] to be writing their own material whereas a lot of the younger artists right now are not writing their own material," she says. "I think I'm representing a sort of more artistic view from a young person, which I think is good, because I'm involved in everything. I co-produced the record, I named the record, I picked the photos. I do everything, it's me, it's my brainchild, and I think that's a positive thing for music. And I think I'm representing those kids who grew up with a bunch of '90s influences, you know? I grew up with all the hip-hop and the urban stuff and I think that's what my album taps into."
Her first infatuation was for R&B and urban music. She listened to nothing but hip-hop and urban music; everything from Ice-T, LL Cool J and Tribe Called Quest to Bel Biv Devoe, Mary J. Blige and Mariah Carey. She even wrote rhymes for a while, hung out with MCs and DJs and plastered her walls with rap magazines and posters. "I hated Nirvana, when they came out," she says, "because they sabotaged my R&B station - it was the Seattle station. But then, around my last year in high school, I started listening to Portishead and Tricky and stuff like Radiohead and The Verve, Smashing Pumpkins, Oasis, Poe, just more like melancholy kind of stuff. I think it kind of fitted in with, you know, post-high school depression."
"When I heard Portishead it really clicked something in me; I really loved it. They took elements of rock - melancholic singing and subject matter and the emotion of it - and combined it with hip-hop and old jazz. It kind of made me feel that you didn't have to do one or the other. It was a genre you could do both. Just like you could combine pop music with Indian music which I thought was amazing. So I thought, 'I want to make a pop music record with Brazilian and Portuguese influences."
Moving back to Toronto she started a group called Nellstar. "It was a lot of melancholy kind of melodies. So I did that for a while, but I didn't quite feel that that was utilising my voice. And I still had to learn to play guitar. All the songwriters that I admired were writing more complete songs. So I decided to move home, to Victoria, and go to college, studied a year in creative writing, and learned guitar. And I realized that good music doesn't have to be sad, it can be groovy, like the way Stevie Wonder is groovy or Michael Jackson is groovy."
There's a pause. Sometimes, it almost seems that so much stuff simultaneously floods through Nelly Furtado's head that it threatens to overwhelm her.

"You know when I write really good songs?" No. "When I go to sleep. When you turn off the light and your mind is still going. Sometimes you come up with a whole idea. That's how I'm Like A Bird came to me - in minutes or something. I usually start with a hook or something or the chorus, then work backwards. I'm hopeless. I can't help writing hooks. I got into pop because it was like genre-less. I wasn't quite cool enough to make rock music or underground music because I know that the things that I come up with are very melodic and catchy - and I can't get around them."
And it worked out fine.
"It has, hasn't it. I call my own music 'international pop' since it mixes many styles of music and has global awareness. The world isn't just one culture - that's why I learned to sing songs in Hindi. With pop, you're not tied to any one thing. I love that!"
All this from a woman who once thought of being a nun. Seriously.
"Yeah, that's true," she giggles. "There used to be all these nuns where I used to live with my parents in San Miguel in the Azores Island. There was a convent but it was not really what you would expect. The nuns hardly ever wore their outfits; you would see them on Sundays chilling at the beach in their swimming costumes! They looked like they had a really cool lifestyle. They were like these really cool independent women - like the ladies Destiny's Child were singing about!"
She'd have made a hell of a nun. She makes a better singer/songwriter.
- Mike Gee