We interviewed the lovely Leah Haywood, read on for more details......

Have you ever daydreamed about releasing a serious pop hit, fantasised about pursuing that seemingly elusive dream of popstar fame and fortune? Well meet someone who has made their dreams a reality.

Firstly congrats on the success of your debut album, which took over 2 years to make! Did you expect it to take this long in the beginning?
LH: No I'm actually the type of person who wants everything in the here and now, but I'm getting used to the process where you have to fit in with schedules, especially producers and songwriters of a high calibre.
What is your favourite song on the album and why?
LH: I don't have a 'fav' they are all kind of 'spesh,' because I was involved in writing all of the songs. If I have to choose; 'We think its love (first single release) because the way it eventuated was kind of uncanny, it was written in half an hour and then recorded with Britney Spears and Backstreets Boys producers, the process was quick and the results amazing.
Leah, what about these all too common impossible pop princess, we are seeing churned out by the music industry. You are far from this, often depicted as being 'down to earth', so why aren't you throwing Pop Diva tantrums? You certainly qualify with huge chart success, and an ARIA award.
LH: Those people that chuck tantrums are people who are having smoke blown up their butts! I certainly don't have that around me, there is a strong sense of reality to what I'm doing. Some people have huge success instantly, like Britney's 'Baby one more time,' this was a number one smash hit simultaneously around the world, and her debut single. I guess you appreciate it (success) more, when you have to work so hard for it, I've definitely worked my ass off! (Laughs)
You've said that your album is a very personal statement, so this means that you have drawn inspiration from personal experiences in life and love?
LH: I'm referring more musically, than global issues loss of love, as far as the writing and the production goes that was personalised for me, it was definitely a statement on where I want to go.
Tell me when you are on stage, are you completely immersed in appearing the professional performer or do you let inhibitions go and think of the people and places that have inspired those lyrics?
LH: It depends on your surrounding like their may not be an ounce of inspiration in your surroundings, its like getting blood out of a stone. Like promotional shows VS the entertainment centre where there is a vibe because people have paid so much to see you.
You are a formally trained pianist and vocalist, was pop music always your focus or were you heading in a different direction when you were younger?
LH: Yeah I was always a top 40 girl, you know switch on the radio and tape it, you know "Caseys Top 40" American accent. At the conservatorium I never had the inclination to go down that road
When did you first start songwriting?
LH: I started right through my teens, then the first 200 probably went in to the bin, then I started writing good stuff when I was at the 'Con' during the ages of 19-21.
Was any another career option ever on the agenda apart from singing?
LH: I left school at the completion of year 11 and completed a tertiary course in tourism, so I'm actually qualified in Tourism. (laughs)
Okay I'll know who to book my flights through next time!
LH: Well, yeah you could!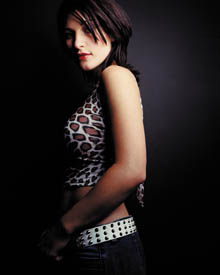 So you have relocated to Sydney from Perth, how hard has this been, and was this a necessity for your career?
LH: Absolutely (a necessity). I made the move after I graduated. During my final year of school I performed on, in Melbourne tonight where the IMT producer spotted me and expressed an interest to write with me. I just knew that this was going to be the beginning of a series of things that could be really significant and I just thought screw this I'm going and not missing the opportunity for the world!
I've never really looked back, there's so much happening here (Sydney) and I think it was good for the record company to see my commitment to my own career as well.
Leah you have a great website, do you visit it regularly and what do you think of the many positive messages on the Leah Billboard board from fans?
LH: Its great, I do go into the site at least once a week and check it out, people are obviously digging the album I just appreciate people taking the time out to type a message, its really sweet.
Visit:
www.leahhaywood.com
When you were officially signed to Sony Music, how did you celebrate?
LH: To be honest I was actually standing at the photocopier and my manger said you've got to sign this hurry (laughing) so I just signed the contract.
A bit of an anti climax!
LH: Oh yes (laughing)
You've spent some time in Los Angelos could you live there?
LH: I actually far prefer Europe, LA's a bit schmoozy, New York would be my vibe, definitely.
You have been quoted as saying your G4 is your most prized possession, what do you use your computer for mainly? Your music, surfing the net?
LH: Its definitely Music, I've got a studio set up at home, which I've probably had for a couple of months now. I am just getting the hang of all the music programs, you can virtually make a record at home now with what's available.
Leah, you are actually having lunch with one of the Femail readers and we thank you for participating in what will make someone very happy! Femail thought it would be a good idea to give readers a head start on some of your favorite conversation topics, so you guys will have lots stuff to talk about throughout lunch!
LH: Cool, no worries!
Read carefully as the following facts give you a fun and interesting insight into Leah's Life!FAST FACTS Favourite Toy as a child: My Purple three wheeler - I use to ride down the hill at 100 mph and then purposely stack into the fence! I was a freak!

Favourite School subject: I was really good at Maths.

Miss about home: My family and this amazing house my dad built, its like a Balinese hideaway.

Favourite past time in Sydney: Hanging with friends, I'm bit of a social lite

Favourite Movie: Moulin Rouge and I'm to planning to see it again

Favourite Book: I'm reading this book about the end of the world, don't know what its called, I only read randomly.

Favorite City: Rome, I went their last Christmas.

Ideal Saturday Night: For starters I would visit Zen the art body of maintenance, then go home and get spruced up, ready to go out with friends to a lush restaurant.

Teen Celebrity Crush: Corey Heims, (80's actor) but please don't hold it against me.