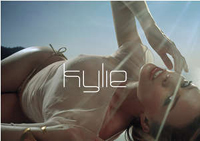 Kylie Minogue - Light Years Ahead
Kylie Minogue is in her prime. At 32 she looks sensational, sounds sensational and is by most people's accounts, sensational. Right now Kylie is celebrating the release of her new album Light years. Looks like the impossible Princess, has grown up and filled out a little more than that sexy figure. Armed with a comfortable yet inspirational 30 something persona, energy an 18 year old would envy. Kylie's music peaks on her new album, which is arguably her best to date. Perhaps because it mirrors where she's 'at'. Living a lifestyle, which epitomizes the quintessential 'rock star'. The inspiration drawn from this album is straight from those experiences, the beach, poolside parties, hot disco nights, and emotions after one or maybe two cocktails.
Those gold hot pants and 'Spinning around' (first release from Light Years) certified to fans that Kylie is back, and ready to tear up dance floors Kyliestyle. 'On a Night like this' the albums second release, boldly separates the pretenders from the real artists of today, a track like this comes along, to remind us of the real meaning of pop music. Having said that, Kylie is clearly living the best years of her life now, there's no better time to catch up with Kylie and recap on everything from her first job ever; Skyways, playing a drug snorting gangster's mole, and love according to Kylie at 30 something.
Interview:
Let's start from the earliest point in your career, I just wanted to clarify whether your very first acting job was for Australian Drama 'The Sullivans'?
'The Sullivans' was the first job I was confirmed for, however before we began filming that, the production company 'Crawfords' offered me a role in another one of their productions, 'Skyways'.....so it's always been a confusing story.
Where was your first live singing performance and what track did you sing?
I'm pretty sure the first one was performing 'Locomotion' with other members of 'Neighbours' at a foot ball benefit!! We all did it for a bit of fun. It was because of this show that I recorded a demo of 'Locomotion' and subsequently got a record deal.
'Sample People' is your latest film, you play a drug snorting gangsters mole. How much fun was it, playing this role?
The making of the film was an immensely enjoyable experience. Namely because of all the wonderful people I met. I've become close friends with a few of the cast members. It was great to get a little experience with a lot of talented actors.
Now that you are thirty something, how has your opinion on love relationships altered since your twenties? i.e are you a little more realistic?
I've become more fatalistic and believe that any relationship I've had was meant to begin and end when it did. I'm a romantic and adore the feeling and notion of being in love. It's so simple and complex simultaneously.
And speaking of love, here's an interesting quote from Kylie on Michael Hutchence.
Michael's still around I know that ....people might think I'm mad but I feel his presence.It's very personal. He checks in with me and it's typical of him that I feel his presence just when I need him most or just when something appropriate happens. It's not spooky it's reassuring - although the force of his presence can be scary" Woman's Day.
Name your best friend, or closest friends?
I wouldn't name them. They don't need to be made public and I don't see what difference it would make if I did. Suffice to say most of them are in the 'industry' in the broader sense and only a few are celebrities.
Yourself and Madonna are often compared because of Hit status or image changes etc. How do you feel about this? Have you established a friendship with Madonna?
I've never met Madonna. I have the utmost respect and admiration for her. She influences me, as she does many people. I think it would be more newsworthy if I wasn't influenced by her! As the years have gone by, I'm much more tuned in to my own sense of style so there are less of the 'copycat' comparisons these days.
Did you have a feeling about Spinning Around from the beginning, or did its success take you by surprise?
I thought it would do well simply because the making of the whole album has felt so right, but entering at No. 1 completely took me by surprise! Let's just say there were a few little tears when I found out.
'On A Night Like This' is a sensational track with a hot film clip to match where was that filmed?
'On A Night Like This' was filmed on the Cote d'Azur. I was literally dripping with DeBeers diamonds (watched all night by two security guards) which unfortunately I had to give back at the end of the shoot!
What's your favourite track on the new light years Album?
It depends what day you ask me!! Today I'll say 'Light Years' and 'Loveboat'.... Oh! And 'Koocachoo'!

Style Profile - Kylie Minogue | Kylie Minogue | Kylie Minogue - Light Years Ahead