Jamiroquai's ten year odyssey through the galaxy of funk has generated some spectacular statistics. The four albums released since Jay Kay's 1992 emergence from London's acid jazz underworld have sold 16 million copies. The last two albums alone, 1996's 'Travelling Without Moving' and 1999's 'Synkronized', shifted over 11 million between them.

The one time 'skinny white skate kid' from west London has taken a lot of flak for getting on down his way, yet as trends have disintegrated and prejudices faded, contemporary music has come to *synkronize* with Jamiroquai's groove more than ever before.

Boogie is back big time. Young, cocky and full of funk, Jamiroquai have consistently been an amazing live band and have paved the way for other acts like Basement Jaxx and Daft Punk.

Front man Jay Kay sat down to an interview with Dan Gennoe recently where he talked about his love of the 70's and his latest album "A Funk Odyssey".All through your career you've had this space age fascination, is that because you like all the 70s sci-fi funk stuff?

JAY KAY:
It was all very space and there was all the Parliament kind of movement and Aquarius and it was all very space like in those days, yeah. But it comes from the fact that I think it's just something that's so important, that actually we usually ignore. We don't know much about it. We're sitting on this little ball, with all these other little balls in one little system that all go round this source of heat and light and basically it's the start and beginning of us. I'm always surprised when human beings use phrases like 'At the end of the universe...' what do you mean at the end of the universe, what end? We say that purely because we have a thing where we live and then we die. Everything in our lives has an end. This interview ends, my life can end, everything can end. I don't believe the universe does have an ending, I think it just goes on and on and I feel it's pretty presumptuous for a fairly intelligent bunch of apes to turn round and say 'yeah, there was a big bang four billion years ago and ahh...' oh really, was there? We still can't go past the moon, we still haven't found a power source, be it iron drive or anything else, that will actually get us to somewhere. We can't travel anywhere near the speed of light, we've got no chance.
As a race we do seem to think we know it all don't we?

JAY KAY:
Yeah, and what I find fascinating about space is that we're so vulnerable from it. You know if a rock from outer space, and there are so many rocks flying around, and if a large one comes and hits us it will destroy life as we know it. No one seems to get that, and people seem to think it won't happen because we've got big cities now and it only happened to the dinosaurs and it won't happen to us. But it may well happen in the next 20 years. As far I know, in 2028 a large lump of rock misses us by 600,000km. And that's gonna cause problems if they've mis-calculated, and they can mis-calculate.
So is it a thing that you're in awe of the magnitude and power of space?

JAY KAY:
Well I just feel that when you look up at the heavens and the cosmos above us, you see where we're from. We're not from anywhere else. We're all space dust, that's what we're made of, the whole chemical reaction came about from dust and from rocks from other areas, that's what started the whole thing of life on what was really just a ball of fire and ice. And I mean, you can look at a map of the world and think 'Any place there, I can go to', whereas I'm always still fascinated every night, to look up at all those stars and see a million places that I can't even go to. And they are just the ones that I can see with my naked eye. And when you actually go to the middle of Australia, where there's no light pollution, and you look, the stars absolutely cover, the night sky, there's hardly a gap. It's a carpet of stars from to horizon to horizon. We don't ever get to see stars like that here, I think that if everyone could see the stars like that they'd truly be in awe of it.
Do you think that would change our perception of the Earth?

JAY KAY:
All we ever seem to do on the planet is fight each other, and if we spent less money on weapons and more money, time and energy either sorting out the problems on the planet, or developing space travel, we would start to realise that we only live in a small place and we have to live together on it. That's it, because we haven't anywhere else to go, so we might as well learn to try and make the best of it. And I tell you, the only time that human beings will start doing that is when suddenly we are confronted by something that we can do nothing about. Something completely beyond our power, when we have a large asteroid heading towards the earth, what two, three miles across. Well God help us if that hits water, 'cos we're finished, and only then will we say 'let's get all our weapons together and point them at it'. And it's sad that we'll have to come to the very end of human existence on the planet before we'll come together, and then only because we're all threatened. That's what I find so fascinating about space, we can't control it, we know so little about it, and no matter what the scientists say, they know nothing about it. But anyway, that's what feels so good is about. One of my less complex answers.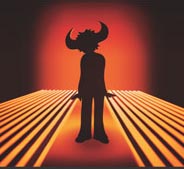 So is it safe to say that you'd happily be on the next space shuttle?

JAY KAY:
God I'd love to go out there. I'd happily volunteer, keep the ship going. Where are we going next? Can we go and see Sirius today? Magic. I'd love it, God, the rings of Saturn, I mean you'd just sit there all day wouldn't you? I mean, let's just stop the ship here, just gonna hang out and watch the rings of Saturn, from about 100km away. How cool would that be?
There's a lot of diversity on the album, does that reflect different parts of your personality, because 'Twenty Zero One' is very hard and in-yer-face and 'Corner Of The Earth' is very sweet and romantic?

JAY KAY:
Well I'm lots of different people, I'm not just one guy. Well I am one guy, but what I'm saying is I've got six clones outside. [laughs heartily] No, I'm not just a simple one thing kind of person. I flit from thing to thing. In fact there are two very specific and different sides to me, and one is really quiet and quite mellow and the other is the life and soul of the party and aggressive with it. I have to release some of my aggression through that music. I have to also think about how those tracks are going to translate live, and whatever you say people who come to a Jamiroquai gig, much as they may love 'Corner Of The Earth', they don't want to hear a whole set of it. Plus I don't believe I could write ten different Latin or Latiny tunes in one go, I couldn't do that. So I'm influenced by funk and classical and Latin, and rock and technological music to an extent and disco, jazz and all the rest of it. That's all mixed in, I love different bits of everything and that's what you end up with with me; you end up with lots of bits of everything. But that's probably why we've such a broad fan base.
There's a track on the album called 'Love Fool-osophy'. What does it mean?

JAY KAY:
It's across between fool and philosophy. I happened across it, it was a very old, 17th Century Old English word, and I thought it encompassed how I look at love sometimes. You know we're all out there looking for somebody and we all have these philosophies about how we're gonna meet somebody and in a way you can be led along like that. That's what happens to me a lot. I kinda think things are perfect, this is great, this is really good. And it's difficult in my situation because people can tell you what you want to hear, they can be what you want them to be and you get very confused about...ahh, it's very difficult, but I'm sure it will have a happy ending. But the song's just about how you meet people and how you think about love. I think everybody has an idea in their head about how it's gonna happen, you know, you're gonna walk in and spill coffee over some gorgeous chick and she's gonna go 'Wow you spilt your coffee on me, it felt great' so in a way you're fooling yourself, it's a Fool-osophy...and yes I am single.
You're famed for your videos, so what's the video for 'Little L' like?

JAY KAY:
The video's rubbish. No, the video was done by a French man called Stephan Sednui, who has done a lot of good stuff, and he's very quirky and French and different. A bit like I'm a bit quirky and English, he's a bit quirky and French. And we worked well together. The trouble is I'm always living up to the Virtual Insanity video, that really stuffed me in the gutter that one. And they won't left me go in Ferraris and Lamborghinis in my videos anymore after 'Cosmic Girl', so I've sodded that one and I'm stuck. But the 'Little L' video is great, it's basically got a lot of post production in it, it's a lot of flashing floors, very much a dancey up kind of vibe to it. There's a lot of women in it, a lot of young Parisian women in it, which was terrible for me, I found that really hard to work with. But it's a club thing, like a boogie, feel-good kind of video, which relies heavily on performance and how the post production fits in with that performance. It's very much a lights and colours video, and it's gonna look good.
Videos are very important for Jamiroquai, it must be hard to constantly live up to some of the fantastic videos you've done?

JAY KAY:
Again, I have this reputation and videos are really important to me, but at the same time I want to have fun as well. I like to do, and I haven't really done, videos that exactly encompass the song. Often they're not like that, everyone loved 'Virtual Insanity' but even in that you couldn't really see any of what I was talking about. Still, I suppose the insaneness was that the stuff was moving, but I really like the song and video to link up and mean something together.
'Travelling Without Moving' was such a huge album, do you feel a pressure to live up to past achievements when you go in the studio, or do you start with a clean sheet?

JAY KAY:
Well I haven't felt it [the pressure] so much this time. I felt let's write some music, enjoy ourselves doing it, and do something a little bit different. With the last album there were a great deal of problems in the internal structure of Sony which didn't help us to an extent and that was unfortunate, but that was the way it was. They were having a massive change around round the world, so people were losing their jobs all over the place and suddenly there was no one to look after us, and the project didn't really get going like it should have done. But it did four million copies, which is a huge amount, and a lot of people liked it, but I feel that they're gonna like this one more. I feel it's just that bit stronger, and I feel better about it, and that I really want to tour this 'til I drop. The shows are gonna be great: slightly more thumpy and aggressive in places. And I've seen the set that we're taking and the money we're spending on screens and lights; hopefully I can take the audiences somewhere else for a few minutes. Which would be nice.
How does the making of this album compare to previous albums? Has it been a pleasurable experience?

JAY KAY:
It has, definitely compared to the last one which was difficult, the bass player [Stuart Zender] left, uh-ohh, and it was like we've got to find someone, audition, rehearse, record and we've got to write a whole album from scratch again, in five months, wow. I don't like working like that, it's intense pressure and what you've got to remember is getting towards the end of the album it's building up momentum. I was never the kid at school who finished my homework three days before it was supposed to be. I finished it half a minute, maybe fifteen seconds, before the teacher went 'Can I have a look at your book please Jay'. That's the way it was and I'm still the same with this. But then again that's why you get it fresh, you get it fresh as the day, it's not been sitting around for months and months to go stale. It's bang and right to the minute, so I had a lot more fun with this one. But it was also equally hard work, the monotony of it sometimes with all the computers and machines that we used on this one...it's very difficult, everyone's got the same machine, or pretty much. There aren't 16 different programmes, so you're desperately trying to avoid touching the old Cher auto-tune button, hoping that you don't have a close call with that one. Now and again we saw it come-up, Auto-Tune, you're like, 'ooooooh, quickly, get out of the way, get it off the screen, we'll have something else instead thank you'. But it's quite different to translate, transform and morph, from being a live outfit to 'okay what are we gonna do? We're gonna flange these hi-hats a little bit, put a little bit of tape delay on the snare, a modulation delay on the keyboards, we're gonna mess around, using the existing Rhodes and things like that that we normally use'. And Toby was searching high and low for different Keyboard sounds, and Vintage Keyboards, so you've very much got a mix of the old and the new on this album.
But you're pleased with the result?

JAY KAY:
Absolutely, and you know there are a lot of things missing off this album. A lot of the tracks that we did were much longer versions. They've been edited down, and there are various reasons for that, but it's a very snappy album. What I want to do though, is there are some amusing bits from the middle of the album, like Richard Strauss's waltz that was used in Kubrick's 2001; we'd filtered it and really screwed it up, and it never made in on there which I'm still gutted about. So what I want to do is release some of these things on the website which is
www.jamiroquai.co.uk,
which we've now managed to get back from the record company. It's now ours, so I shall be feeding you pieces of information and bits of film of us doing stupid things every couple of weeks, so tune in if you can. I'd really like to put the longer versions of these tracks on the site, or the parts that were missing and people piece it together and see what went with what, which could be quite interesting.
So are you heavily involved in the new website?

JAY KAY:
I'm involved on some bits and bobs, I haven't been hugely involved, but at the moment I'm just racking my brain trying to think how we can keep it interesting and exciting. The response so far has been huge though, I think there were a third of a million hits on the first day, which is pretty good going. So I want to keep people interested, and them to have lots of different things on there. Obviously, with me being so busy, some of that has to go out of my hands into other people's hands at times.
- Dan GennoeVisit http://www.jamiroquai.co.uk for more information on this funky group!