Napoleon Perdis proclaims his mother is the biggest glamour icon in his life and to honour her and all women this Mothers Day, he introduces two new gift packs. For mothers of any age, background and style, Napoleon Perdis collections empower women to bring the perfect look into their own reality.
"My mother was the first face where I saw the splendour of make-up application, the results of skin care and the glamorous effect of fragrance," Napoleon Perdis says with great affection. "She understood makeup and fashion, and took me to department stores with the most incredible displays that would later inspire me to have my own oasis where I could transform and fuse looks."
For Mothers Day 2007, Napoleon Perdis has created two gift ideas to pamper with the Limited Edition Mothers Day packs or beautify with the colourful Chandelier Shine Nail Polish and Lip Gloss packs.
Napoleon Perdis introduces a Limited Edition Mothers Day pack combining two favourite body products from the Summer Range to soothe and caress the body. This pack contains Smooth Over Body Scrub coupled with either French Lemon Body Lotion & Body Wash or Fig and Pomegranate Body Lotion & Body Wash in a Mothers Day gift bag. Valued at $70.00, the Limited Edition Mothers Day pack retails for $55.00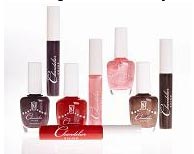 Introduce your mum to the new Chandelier Shine Nail polish and Lip-gloss packs for the perfect pair of colour-matched nail polishes and lip-glosses. Napoleon Perdis has chosen 12 of the best colours in the Chandelier Shine nail polish collection and has partnered them with a new formula matching lip-gloss. RRP $30.00
Napoleon Perdis Mothers Day gift packs and new products for gift ideas are available from Napoleon Perdis stores, exclusively at David Jones department stores and at select independent retailers around Australia. Napoleon Perdis is also stocked in NZ, USA and Canada.
Limited Edition Mothers Day Packs RRP $55.00
Chandelier Shine Lip Gloss pack $30.00
For Stockists call: 1800 814 572 or visit:
www.napoleonperdis.com