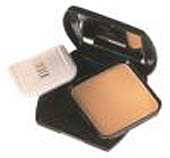 The perfect powder should let you choose how you want to wear it and because every woman's make up needs are different, Nu Skin have created the new Wet/Dry Pressed Powder Set. The ultimate professional finish for your skin.

The search for the perfect powder is over when you can choose wet or dry. Wet will hide imperfections to leave skin looking and feeling flawless. Applying dry will simply set make up and reduce shine. Anyway you wear it, Wet/Dry Pressed Powder will give your skin a natural, evened out look without looking like you're "wearing make-up."

By promoting a soft translucent natural finish, Pressed Powder comes in a range of wearable shades to enhance the skins natural radiance. Its smooth texture makes skin feel comfortable as it glides on easily.

The perfect addition to any woman's cosmetic bag, Wet/Dry Pressed Powder is so versatile, it not only sets make up but is perfect for touch ups throughout the day. Available in 6 different shades to harmonise easily with all skin tones, snap your choice into a gorgeous easy to use compact.