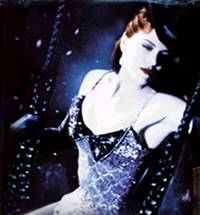 Many people have been asking me lately how they can get Nicole Kidman's look in Moulin Rouge: the porcelain skin, fiery red lips, and smoky charcoal eyes... not to mention the flaming hair, amazing body and incredible talent! Now unfortunately I can't help you much with the hair, the body or the talent, but the makeup? Yes, you can-can-can! Just follow these steps for the Moulin Rouge Makeover.

1. Foundation: Use the shade closest to your natural skin colour don't try and go lighter, you'll just look ghostly! To achieve that glamorous radiant porcelain glow, dust your face with a light-reflecting translucent powder (try SHE Australia Translucent Loose Powder).

2. Blush: Dust some rosy-coloured blush along your cheekbones, not on the apples of your cheeks. Try SHE Australia Rose Petal Blush.

3. Eyes: Smoky, smoky, smoky! Blend some charcoal-grey eyeshadow (SHE Australia Eyeshadow in Entrance) along the outer corner of your eyelid, and use a cotton tip to shade about halfway along the lower lid (starting from the outside and going in towards the middle). If you like, you can also add some white or very pale eyeshadow to highlight underneath the brow.

Now, line both the upper and lower lids very lightly with a grey or bronze eye pencil (try SHE Australia Eye Pencil in Dusk - this can also be used to define the brows) , and then line the top lid only with a black liquid eyeliner. Finish with lots of black mascara.

4. Lips: The lips are the focus of this look, and they must be red! If you're fair-skinned, look for a blue-based red like SHE Australia Lipstick in "Love", while darker skin tones will fare better with a brownier red like SHE Australia Lipstick in "Flame" or "Siren". Line the lips first with a matching lip pencil (we recommend SHE Australia lipliner in Garnet), then apply your lipstick, preferably with a brush to get a more defined look.

Voila, you're done! Now go put on your can-can dress and kick up those heels!