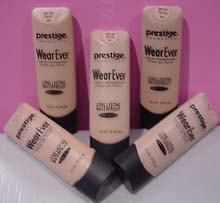 BEAUTY REVIEW

PRODUCT: Wear Ever Liquid Foundation by Prestige Cosmetics

VERDICT: Absolutely Fabulous daaarling! *****

Are you sick and tired of caked foundation? Does your existing foundation disappear into the pores of your skin? Well what you need is Wear Ever - the gorgeous new liquid foundation from Prestige Cosmetics.

The Prestige Wear Ever Foundation is a revolutionary makeup that provides comfortable all-day wear. The unique formula is both water-resistant and transfer-resistant making it ideal for the active woman.

The super long lasting formula sets instantly and will not rub off on clothing or stain the skin.

Antioxidant vitamins A and E help to combat the formation of skin damaging free radicals. The SPF 12/15 sun protection factor helps protect against the sun's damaging UV-A and UV-B rays. It has been tested by dermatologists and is non-comedogenic.

This product is also not tested on animals so we've got to be happy about that one!

Best Application: Always apply outward towards the hairline, blending carefully. Allow to set completely before continuing with your makeup application.