Meet Napoleon, the man behind the amazing makeup that we have all come to know and love. Opening its first concept store in 1995 in Paddington Sydney, Napoleon has now 170 concept & department counter stores Australia wide.
Napoleon-Cosmetics originated from one mans dream, the visionary Australian make-up artist Napoleon, to create international class make-up that enriches you with educational insight, professional make-up skills and the richest palette of make-up colours ever seen.
The new store is elegantly designed with an extensive range of exciting colours. Little Collins Concept Store is located at: 273 279 Little Collins St. (6/7 Howey Place) Melbourne.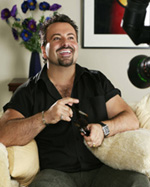 New from Napoleon
Lip Lacquer
Marshmallow Foam Makeup Remover
Pre-Skin Primer-Cleanser
Shimmering Body Lotion
SPF Foundation Stick
For those of you who are a little shy and naive when it comes to makeup, I would recommend a trip to one of the Napoleon concept stores where you can go from now to wow and learn from the fashion industry specialists. I myself fall into the barely there category wearing little if any makeup because I have no real idea of what I am doing. With sensitive skin, no time & no flair for makeup, I gave up many years ago bothering unless for a special event like a wedding. It was all to hard and there always seem to be consequences to those few hours of cover up, pimples, dry skin the works,so why bother. Well today it all changed!
Being the only person at the opening without makeup on, I was asked if I wanted to get a makeover and try the range. Hesitant, I bit my tongue and headed to the chair, that is what I am here for right. What have I got to loose, well I was pleasantly surprised. Lisa, my beauty consultant was very reassuring and explained everything she was using:
Pre-foundation skin primer. Magnificent, I could actually feel the vitamin e & moisture blending into my skin. So smooth and creamy. Contains vitamin e & chamomile extract.
Pot concealer in Amber around the eyes. Having a predisposition to itchy eyes and very sensitive skin around the eye, Lisa advised that I should avoid using foundations around the eye that contain SPF as it irrigates the skin.
Light diffusing Liquid Foundation. Matching the skin on my chest, which has orange tones in it, Lisa used a blend of No. 1 and No. 2 (done on the back of her hand) to achieve the closest possible match. My foundation was sponge brushed on rather than using fingers that can add oil to my skin.
The best thing about this so far is that I do not feel like I am wearing makeup, when at this point I normally feel like a Christmas cake covered with icing. The funny thing is that I am wearing more.
Camera Finish compact powder in No1, applied lightly with a brush.
Cheeks were brushed with blush CDs No.82 and No.6 to lift my cheekbones and give me dimension. CD colourings can be used on cheeks and eyelids, which is more economical.
Eyelids fully covered with CD No.6, then No42 (Ultrapearl) shadowed to define the eyes. Loose dust No 7 on the eyelids for extra sheen and lift.
Black eye pencil on upper lids only, to keep the look soft and dewy.
Using a gentle Napoleon eye curler was not as scary as I once thought. Apparently the trick is that you curl before you apply mascara (black). Usually this is my biggest fear and the item that causes me the most problems, itchy eyes, but the Napoleon brand I did not even notice it was there.
Lisa used a lip liner called Cameo, filling in my lips to halfway, and then covering the whole lip area with Lip Lacquer in Baby Lips. I have it on good authority that the Lip Lacquer is one of our beauty consultants personal favourites, as it does not run.
Napoleon has definitely made an impression on me, not only with his makeup but his expert staff. Napoleon concept stores offer a makeover for $55, this is a comprehensive makeup consultation with a Napoleon makeup artist for one hour (learn how to achieve the best results for your face). You must book in advance, but your makeover fee is redeemable on purchase, how can you go wrong. If you are not sure, visit one of the stores and talk to one the Napoleon professional consultants, they will help you discover a look that works for you.
Being a woman does not necessarily mean we know who to apply makeup, it is a learned skill. I would recommend a makeover and learn the tricks of the trade. I know I will be heading down to one of the many accessible concept, department stores and salons to purchase the following must haves:Pre-foundation skin primer, Pot concealer in Amber & Light diffusing Liquid Foundation cause the secret to success is a good foundation. But then again, with little success with mascara in the past, I am sure a Napoleon mascara will not go astray (plus it did not irritate my eyes).

Concept stores:
NSW - Burwood, Sydney Central Plaza, Paddington, Parramatta, Miranda
VIC - South Yarra, Little Collins St
QLD - Brisbane
NZ - Wellington, Auckland
For more information on your closest store visit:
www.napoleonperdis.com