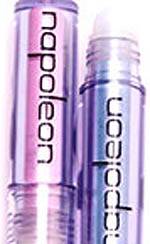 ROLL YOUR WAY TO EUROPE'S HOTTEST COLOURS THANKS TO NAPOLEON

Part of the fun of this job is the perks that go with it! And being girly girls, we just luuurve the beauty products that get sent our way. This month we got to sample and roadtest the most glamorous eyeshadow colours direct from London and Paris. Eyeshadow can now be applied with speed and ease to suit the fast-paced life of modern women (like us!), thanks to Napoleon.

Australia's makeup master has taken the concept behind his amazingly popular rolla lips and applied the "rolla" technology to the hottest eyeshadow shades straight off the catwalk.

Napoleon's London and Paris eyeshadows are available in a stylish applicator, which can simply be rolled onto the eyes for the very latest in ultra-glamour eyeshadow.

With pink being the hottest colour for summer, Napoleon's Paris Pink Rolla Eyes can easily be applied at the beach or at a party by all ages. The latest pink compliments any bronzed body, doesn't cake and stays on all night, no matter what you get up to!

London Blue Rolla Eyes is the hottest colour in London currently as the in crowd add a splash of colour to their faces while dreaming of warm, blue Mediterranean waters.

Rolla Eyes are both available at Napoleon Concept Stores and Myer/Grace Bros. Stores nationally.