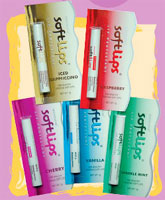 SOFT LIPS
Flavoured lip protectant, helps prevent chapping leaving your lips silky and moist. Moisturizes lips to help keep them looking healthy, supple and smooth. Slimline design to fit in any purse, bag or pocket. Softlips is available in 3 flavours, Raspberry, Cherry & Vanilla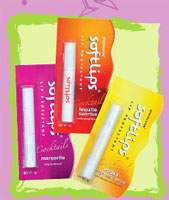 SOFT LIPS COCKTAILS
Flavoured lip protectant, your lips get thirsty too, so here's a way to give them a real drink. Soft glide on formula moisturizes lips to keep them looking healthy, supple and smooth. Great flavours; Margarita, Tequila Sunrise, Vodka Pineapple Splice. Yum.
Beauty Consultant's Note:
Tasty, and an excellent gift idea.
For stockists visit
www.softlips.com.au