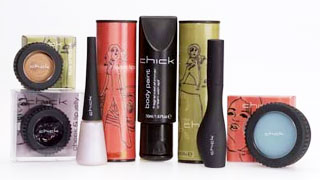 Total RRP Value $227.20
Save $172.20
Fortify your femininity with a little 'funk'.

***(Please note: Not all products are shown in image)

Time to rejuvenate the beauty routine to fit your busy and diverse lifestyle!
Pander to the babe within and splurge on yourself for a change...go on, you know you want to.
Chick is for chicks that want their cosmetics to be as funky and fashionable as their wardrobe.
The 'Funky Chick cosmetics gift pack' is perfect for pampering yourself before the Spring festivities!
This exclusive pack is well below the RRP and features some of the top selling products.

Lip Juice in "Vanilla Fudge"; lip shine with vitamin e, b5, green tea and aloe vera for smoothing and healing. Flavoured with vanilla.(5ml) Normally ($9.95)


Lip Juice in "Grape Cocktail"; lip shine with vitamin e, b5, green tea and aloe vera for smoothing and healing. Flavoured with Vanilla.(5ml) Normally ($9.95)


Lip Wax in "Coconut Ice"; containing vitamin e, rose hip oil and avocado oil and SUNSCREEN - flavoured with cool mint.(5gm) Normally ($12.95)


Lip Wax in "Cool Kiss Mint"; containing vitamin e, rose hip oil and avocado oil and SUNSCREEN - flavoured with cool mint.(5gm) Normally ($12.95)


Wet Lips in "Trick"; Sparkly, shimmery, super high-gloss lip colour fragranced with Vanilla (7gm) Normally ($14.95)


Eye Shades Powder in "Yo-yo"; Shadow & highlight in soft silky powder (2.4gm) Normally ($14.95)


Eye Shades Crème in "Karaoke"; Water Resistant shadow & highlight in silky crème (2.4gm) Normally ($14.95)


Eye Lash in "See-Thru" lash; last defining mascara with fine brush fragranced with apple (3gm) Normally ($14.95)


Eye Splash in "Black Splash"; Waterproof mascara with fine brush fragranced with vanilla (3gm) Normally ($14.95)


Eye Lines in "Midnight Black"; Liquid eyeliner with easy to use brush and non-cracking formula. Normally ($14.95)


Highlights in "Flick"; translucent iridescent powder for face & body (3.6gm) Normally ($14.95)


Body Paint in "Fudge"; translucent body shimmer cream with SPF in sexy romantic fragrance (50ml) Normally ($15.95)


Body Glow Glitter in "Gen X"; Body & face shimmer dust in pot with mini sprinkle brush (1.6gm) Normally ($16.95)


Nail Paint in "Rev It Up"; a 3 in 1 enamel containing a base coat, colour and top coat all in one. (8.5ml) Normally ($12.95)


Nail Paint in "Sidewalk"; a 3 in 1 enamel containing a base coat, colour and top coat all in one. (8.5ml) Normally ($12.95)

Note: Pack items are subject to availability and may be changed at any time.

* This pack is no longer available