Escape to a world of glistening turquoise waters and gleaming white coral sands when you create your own exotic makeup look with Estée Lauder's color story. Inspired by a luxurious seaside holiday with intoxicating scents of crisp, ocean air and blossoming white hyacinth and plumeria, 'Exotic Color Collection' comes in two tropical looks, perfect for this Spring season.
With a color palette reminiscent of ivory sands, lush green palm trees, clear turquoise waters and exquisite pink sunsets, 'Exotic Color Collection' is the perfect complement to the European spring season's vintage resort-wear and the flowing fabrics of sheer sarongs. The two wearable looks include Exotic, a soft coral look, and Resort, a dune pink look.
Effortlessly chic with a modern edge - makeup subtly illuminates the face with rosy, sun kissed highlights, vibrant ocean-colored accents and blended earth tones. This vibrant color collection will be complemented by beautiful advertising featuring Gwyneth Paltrow.
Put Your Best, Radiant Face Forward


Estée Lauder Tender Blush Sheer Stick
Debuting as part of this feminine and fun color collection is the Tender Blush Sheer Stick. Not only is this cheek and face color easy to use, you can also build color and drama by layering, or create a more natural, sheer look with just one swipe. Either way, it's easy to achieve a fabulous radiant glow. Tender Blush Sheer Stick's portable packaging looks great and allows for quick and convenient touch-ups and easy application. Brighten your look with eight translucent shades in Pearl, Pink, Rose, Plum, Coral, Natural, Copper and Bronze.
RRP: $44.00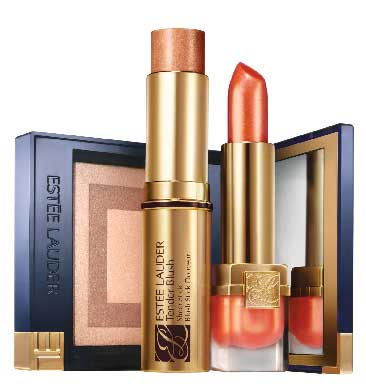 Estée Lauder Brilliant Shimmer All-Over Powder
This limited edition all-over powder comes in Coral Sand and Rose Quartz and can be applied anywhere on your face or body for instant luminosity.
RRP: $62.00
Create Luscious Lips for the Ultimate Pout


Estée Lauder Double Wear Stay-in-Place Lip Stain Duo
Delicately tinted lips will last all day with this new lip duo. One end of the sleek, dual-sided tube holds a longwearing lip stain in beachy Coral Stain or fruity Cherry Stain, while the other end contains a clear gloss coat for satiny sheen.
RRP: $40.00
Review: Tender Blush Sheer Stick provides an instant glow and sun kissed look. Handy size fits in your handbag for emergency touchups. The two toned Brilliant Shimmer All-Over Powder will give your skin that Hollywood look, and the Double Wear Lip Stain Duo is the ultimate, talk about staying power.
Exotic Color Collection will be available at selected Estée Lauder counters from 15 April 2007 for a limited time only. Stockist no: 1800 061 326