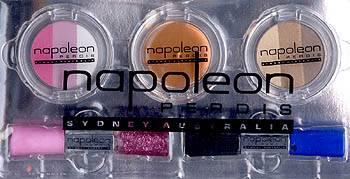 NAPOLEON
is getting into the spirit of things this silly season with the launch of their sensational
Napoleon Christmas Pack!
Whether you purchase a pack for yourselves this Chrissie or for your favourite gal pal, these Christmas packs are guaranteed to both delight and satisfy your every beauty need!
Each pack contains a gorgeous selection of Napoleon cosmetics including two shimmery trio eyeshadow compacts in all the latest shades. For those approaching hot summer days, Napoleon Suntan Lip Gloss will come in very handy as will the Double Lip Gloss, which comes in mouth-watering colours. To top off this fantastic Christmas Pack, also included is a Double Mascara in Electric Black and Electric Blue.
Spoil yourself and the ones you love this festive season with the very enticing Napoleon Christmas Pack - which is the Chrissie pressie you just HAVE to have!
Napoleon Christmas Packs is available at Napoleon Concept Stores and Myer/Grace Bros stores nationally. RRP: $49.95 - Annemarie Failla
www.napoleonperdis.com