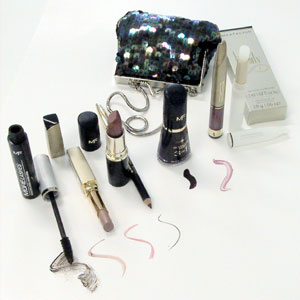 Total RRP Value $139.75
Save $74.75 rrp

Lipfinity in Whisper - ($29.95)
A unique two-step lip colour with PermaTone, an incrediable new ingredient complex that delivers up to 10 hours of long wearing colour combines with moistursing benefits.


More Lashes in Brown - ($19.95)
A unique formulation using the latest technology which provides both volume and separation to lashes. It coats each individual lash, enabling them to become more visible and appear to be twice as many. It will never clump lashes together and resists water and smudging.


Kohl Pencil in Black/Brown - ($19.50)
A creamy kohl pencil with a new advanced formula for easy application. Cream formula which applies easily and smoothly.


Lasting Colour Lipstick in Sun Bronze - ($21.50)
A long wearing lipstick that lasts without feathering. A combination of uniquely balanced colour reserve and active moisturisers that keep lips moisturised while pigmented with rich lasting colour.


Gold Lipsilks in Barely Blush - ($24.95)


Metalic Eyes in Lilac Icon - ($12.95)
Pot of metalic eye colour for bigger, brighter eyes. Easy to use in WET or DRY formulation.


3 in 1 Nail Enamel in Crushed Berry - ($10.95)
A long wearing nail enamel that bonds glossy colour to nail surface for a vibrant, chip-resistant finish.

BONUS: Max Factor Multicoloured Beaded Bag.

Note: Pack items are subject to availability and may be changed at any time.* This pack is no longer available