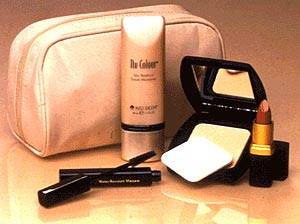 Nu Skin's Sun Kissed Summer beauty pack, the latest in their Christmas gift range is a MUST for any girl who wants a touch of radiance this festive season.

A stylish new make-up range in the one bag, Sun Kissed Summer is the new look for summer. Featuring contemporary colours, get back to basics with an easy natural sun kissed look. Hiding imperfections while highlighting your gorgeous summer glow, this cosmetic pack includes Skin Beneficial Tinted Moisturiser, Porcelain Beige Moisturshade Pressed Powder with compact, Water-Resistant Black Mascara and Honey Sun Undeviating Lipstick.

A Sun kissed look to suit every girl, Nu Skin's latest cosmetic release is perfect for those upcoming hot days. Light and non-greasy to wear, the look is perfectly natural with a hint of shimmery glow.

This Christmas give your close girlfriends the new look for summer and remember to indulge and pamper yourself too!

Packaged in a gorgeous caramel coloured cosmetic pouch, Sun Kissed Summer ($125.00) is available online at www.nuskin.com.au or by calling stockists on 1800 063 808.