Mary Lascaris Hi-5 House Interview
Beloved children's entertainment group Hi-5 are returning to free-to-air television, with their latest series Hi-5 House premiering on Network Ten's ELEVEN on Monday, February 24, at 9am. With a new name, new set and new format, Hi-5 House is the 'home" in which all five cast members live with their loveable puppet friends, Chats and Jup Jup.

In the house they each have their own special pod, which comes to life with all the fun, singing and dancing that Hi-5 are renowned for.

The Hi-5 cast includes two favourites viewers are sure to recognise: Stevie and Lauren. Adding to the Hi-5 family are three new bright talents: Dayen, Ainsley and Mary.

Hi-5 House will also be available on tenplay Kids, a dedicated digital hub just for kids featuring on-demand video, extra content, and activity sheets that can be engaged with anytime, anywhere at tenplay.com.au/kids and via the tenplay app for iPhone and iPad.

Network Ten's Head of Children's Television, Cherrie Bottger, said: 'We are thrilled to bring back to free-to-air television a program so loved by children. Hi-5 House invites them to actively share in the excitement of exploring the world through movement, music and fun, bringing joy and laughter to every little person watching."

A global success story, Hi-5 has captivated children aged two to six across 13 series to date. Hi-5 House joins ELEVEN's dedicated programming block of innovative children's programs, which begins daily at 6am and includes proven favourites Toasted TV, Totally Wild, Scope, Mako – Island of Secrets, iCarly, Pokémon, Victorious, Care Bears, Strawberry Shortcake, Tree Fu Tom and Vic the Viking.

Hi-5 House premieres Monday, February 24, at 9am and continues weekdays on ELEVEN.



Interview with Mary Lascaris
Mary Lascaris is a graduate from the Inaugural musical theatre course SHOWFIT at Centrestage Melbourne in 2010. While she was training at Centrestage, her credits included Show People, Spotlight, Hats Off (National Theatre) and performing at the Red Cross Ball.

Mary performed at Universal Studios in Osaka, Japan in 2011as a swing for a multitude of shows and characters where she strengthened her love of performing and working with young children.

Mary has performed in pantomimes at Melbourne's legendary Tivoli Theatre Restaurant with Terry and Carole Ann Gill and performed with Nana Mouskouri with the World Peace Youth Choir.

Having a strong passion for teaching and entertaining children, Mary has been working for -Bop Till You Drop' as a Children's Party entertainer as well as teaching singing, dancing and drama to build confidence in young children.

Mary has always had a passion to perform in a children's company. Now being a Hi-5 company member is a life dream come true. Mary is so excited to be part of this group – she can think of nothing better than waking up knowing that she will be singing, dancing and acting to entertain and educate children from all over the world.

She wishes to thank her loving family, friends, teachers and agents at IWM for their constant support and encouragement to get to this moment. Hi-5 here we go!


Nickname/s: Mare-bear, Mary-Loo, Mezza, Maria, Ave-Maria
Star sign: Scorpio
Birthday: October 27th
Colour of eyes: Brown
Colour of hair: Dark Brown
Hobbies: Dancing, Singing, Gym, Crafts, Cooking, Fishing, Cleaning, watching movies and playing board-games with my Family & my brother and I like to jam on the piano together- he is a brilliant pianist and he plays any song I want so I can sing to it! So much fun!
Favourite Food: Lamb, Fresh Ricotta, Blueberries and Honey
Favourite Music: I like all music especially ones that I can dance and sing along to.
Favourite Colour: Purple, Pink, Silver and anything glittery that sparkles!!
Favourite Book & Why? The -Hazel Green' series by Odo Hirsch because it is about a strong and fun young girl, Hazel Green, and her adventures to explore and solve all the mysteries around her.
Favourite Animal: I love Elephants! They are just so beautiful and kind and even though they are so big, they are very graceful.
Favourite Animated Film: -Anastasia' & -Cinderella' because I like singing along to all the Disney songs and -The Incredibles' because it always makes me laugh!
Favourite Joke: Why did the Moose look in the Mirror? To check out his M'oo'sles!

Question: What is the best thing about being in Hi-5?

Mary Lascaris: 'The greatest thing about being in Hi-5 is being able to play with so many wonderful children all around the world. I love how Hi-5 is so unique in where it educates children in such a fun, positive and entertaining way. Dancing, singing and putting smiles on kid's faces is all I've ever wanted to do."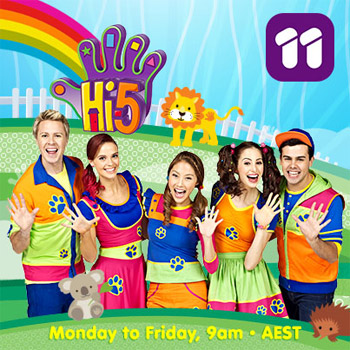 Question: What is your favorite Hi-5 song?

Mary Lascaris: I have so many I keep changing my mind! But I really like a song back from one of the very first seasons, 'Mirror Mirror".


Question: If you could have any magical power in the world, what would it be and what would you do with it?

Mary Lascaris: I would want to be able to breathe underwater! Then I could go exploring in the sea for as long as I want like a Mermaid!!!


Question: What should audiences expect from Hi-5 House?

Mary Lascaris: A brand new feel and style to Hi-5! From a new cast, new sets, new songs; it's a new Hi-5 for a new generation of kids!


Question: What happens in a typical Hi-5 House episode?

Mary Lascaris: The episodes are very similar to the original layout starting with the Song of the week and then going into everyone's individual segments however we are all living together in a house! So after the song we have a brief chat in the lounge room of what we all want to do that day and then we all do our scenes in different rooms of the house: Stevie in the Rumpus Room, Lauren in her Bedroom with Chatterbox, Ainsley in the Music Room, Dayen in the Kitchen and myself in the backyard with my Cubby House!


Question: Where and when did you film Hi-5 House?

Mary Lascaris: We filmed Hi-5 House in Singapore last year in August/September.


Question: Can you talk us through how the show has changed?

Mary Lascaris: Hi-5 House is definitely a more updated version of the original show. With children being born every minute and with life ever changing its trends, it is so important that we keep cool and fun for the kids to want to come play! This new house setting makes it more relatable to children as if we are just chilling in their home with our best friends.


Question: How did you joining Hi-5 come about?

Mary Lascaris: The whole audition process was actually filmed into a movie that was out earlier this year at Hoyts called 'Some Kind of Wonderful'. It was a 3 day intense audition in Sydney that involved singing, dancing and doing scenes with Stevie, Lauren and the top 50 performers of Australia! But actually, the first audition I did was a video audition and I didn't actually know it was for Hi-5!


Question: How did you previous work prepare you for Hi-5?

Mary Lascaris: Before Hi-5, I was studying Primary and Secondary Teaching, Music Theatre, doing Children's Parties and I did a year Performing in Japan at Universal Studios as characters like Princess Fiona from Shrek, Cinderella and Marilyn Monroe!! I've always loved performing, teaching and playing with kids so Hi-5 was the dream job for me.


Question: What's a typical day like for you?

Mary Lascaris: In Hi-5 world there is no such thing as a typical day! From filming the TV shows to Live tours around the world, recording CDs, doing Charity work and other radio and TV appearances... Everyday is always different and brings something new and exciting!


Question: What have you learnt about yourself since joining Hi-5?

Mary Lascaris: I've learnt how important it is to be open to anything, everything and everyone! Everyday is full of so many opportunities waiting to happen. With a bit of courage and an open mind.... Be ready to explore the world!


Question: What's the best part about being a member of Hi-5?

Mary Lascaris: I love being able to make so many people happy all around the world! Singing, dancing and playing with kids is a dream come true! I especially love all the charity work we do with Starlight and World Vision. It's amazing how much music and laughter can make a difference to any child's life anywhere around the world.


Question: Why is Mirror, Mirror your favourite Hi-5 track?

Mary Lascaris: I used to love singing this song to my younger cousins and my godsister. It's just such a fun and boppy song that always got stuck in my head! Plus I remember at the time, one if my dancing costumes at jazz class was a fringe Charleston costume which was very similar to what the Hi-5 girls wore for the song.... I already felt very apart of the group!


Interview by Brooke Hunter