Keanu Reeves John Wick
Cast: Keanu Reeves, Bridget Moynahan, Willem Dafoe
Director: Chad Stahelski
Rated: MA
Running Time: 96 minutes

Synopsis: When a retired hit man is forced back into action by a brutal Russian mobster, he hunts down his adversaries with the ruthlessness that made him a crime underworld legend in John Wick, a stylish tale of revenge and redemption set in a brilliantly imagined New York City and starring World Stunt Award-winner Keanu Reeves.

After the sudden death of his beloved wife, John Wick (Reeves) receives one last gift from her, a beagle puppy named Daisy, and a note imploring him not to forget how to love. But John's mourning is interrupted when his 1969 Boss Mustang catches the eye of sadistic thug Iosef Tarasov (Alfie Allen). When John refuses to sell the car, Iosef and his henchmen break into his house and steal it, beating John unconscious and leaving Daisy dead. Unwittingly, they have just reawakened one of the most brutal assassins the underworld has ever seen.

John's search for his stolen vehicle takes him to a side of New York City that tourists never see, a hyper-real, super-secret criminal community, where John Wick was once the baddest guy of all. After learning that his attacker is the only son of a former associate, vicious Russian crime boss Viggo Tarasov (Michael Nyqvist), John turns his attention to vengeance. As word spreads that the legendary hit man is after his son, Viggo offers a generous bounty to anyone who can bring John down.

With a veritable army on his trail, John once again becomes the remorseless killing machine the underworld once feared, launching a pitched battle against Viggo and his soldiers that could mean the end of them both.

John Wick
Release Date: October 30th, 2014
About The Production
When producer Basil Iwanyk of Thunder Road Pictures first read Derek Kolstad's original screenplay for John Wick, he found himself drawn to the contradictions and complications faced by its main character, a seemingly ordinary man who harbors an extraordinary secret.

'The tone of the script was subversive and really fun," says Basil Iwanyk. 'It had a very clear emotional throughline and a great premise for an action movie. John Wick is the story of a man who loses his wife and has his home invaded, his car stolen and his dog killed. It's a very human premise for a big action movie, something that could happen to anyone. To me, the holy grail of the action genre is to pair a very simple and very accessible premise like this with a hyper-real style, as we've done with this film."

Derek Kolstad found his inspiration in some of his favorite film-noir classics. 'When I was a kid, I watched a lot of movies," he explains. 'My favorites always had a revenge motif. And I love the antihero. So I wanted to explore what would happen if the worst man in existence found salvation. Would it be true to his core? When the source of his salvation is ripped from him, what happens? Do the gates of Hades open?"

And so began the extraordinary journey of John Wick, the only man to ever walk away from a shadowy world of elite professional killers and survive, only to be sucked back in by fate. 'John's the kind of guy who walks into a room and has everything laid out in his mind like a chess game," says Derek Kolstad. 'In the underworld, he's a legend, and he's been away long enough that the young up-and-comers have heard the name, but don't necessarily believe all the stories."

Given the character's fabled career as an assassin, the filmmakers initially imagined an older actor in the role. 'Instead, we decided to look for someone who is not literally older, but who has a seasoned history in the film world," says Basil Iwanyk. 'Keanu Reeves is someone I've always wanted to work with."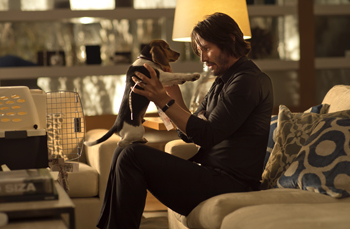 Keanu Reeves' impeccable action pedigree, which includes the groundbreaking Matrix trilogy, two chapters of the blockbuster Speed franchise and the daredevil adventure Point Break, has justifiably earned him iconic status in the action world. But for the past five years, Reeves has been devoting most of his time to his directorial debut, Man of Tai Chi.

'So audiences haven't seen much of him," notes Basil Iwanyk. 'We thought that gave him a fresh and interesting edge. I think the audience will believe that this character has been retired for five years, because in some ways Keanu retired as an action star for a while."

Keanu Reeves signed on to headline John Wick, working closely with the writer to refine the story. 'Basil Iwanyk and Peter Lawson of Thunder Road brought the script to me with the idea that I would be a part of such a great collaboration," the actor says. 'We all agreed on the potential of the project. I love the role, but you want the whole story, the whole ensemble to come to life."

Derek Kolstad says there was no 'star temperament" working with Keanu Reeves. 'What I really like about Keanu Reeves is that he's a normal, laidback guy," he says. 'He's incredibly bright and such a hard worker. We spent as much time developing the other characters as we did his. He recognizes that the strength of the storyline lies in even the smallest details."

Looking to infuse the film with innovative action sequences that would set it apart from the pack, Keanu Reeves contacted the filmmaking team of Chad Stahelski and David Leitch, co-founders of 87Eleven, one of Hollywood's most elite stunt groups. Reeves and Stahelski originally met on the set of The Matrix and Stahelski eventually became the actor's stunt double. Together with longtime friend David Leitch, Chad Stahelski has worked on dozens of high-profile action films, and the pair are now two of the most in-demand second-unit directors in Hollywood.

Approached to design and film the blistering action scenes of John Wick, Chad Stahelski surprised the producers by asking if he could pitch his ideas as director. After years at the top of his profession, he was ready to transition to the next level, with his longtime collaborator Leitch on hand to produce. When this screenplay landed on his desk, he knew it was time to grab the opportunity.

'It had gun fights, knife work, car chases and lots of hand-to-hand combat," says Chad Stahelski. 'David Leitch and I talked about the potential to make a great graphic-novel-influenced action movie set in an almost mythical world. We pitched Keanu Reeves, Basil Iwankyk and the guys at Thunder Road the idea of John Wick as an urban legend, a thriller assassin movie with a realistic vibe and an otherworldly setting." Keanu Reeves was already confident the duo had the skill and creativity to stage John Wick's groundbreaking action sequences better than anyone else. 'Hearing Chad Stahelski speak about the material and how he thought he could visually bring it to life was revelatory,"

Keanu Reeves says. 'He and David Leitch were interested in making each character unforgettable. They had given thought to the themes of the movie, the double life, the hyper-reality. They've been closely following the film since day one and trying to bring out all the emotion that is in this piece." As a filmmaking team, Chad Stahelski and David Leitch were the ideal choice for John Wick, according to Keeanu Reeves. 'Chad Stahelski and David Leitch are experts in terms of this genre," the actor notes. 'The dialogue is hard-boiled but it's also got the humor of graphic novels, the kind of amazingly original imagery and framing that we've come to associate with them. It's a unique vision. I thought it was exciting and really cool to see all of these influences and experience and craft come together."

Basil Iwanyk was immediately sold on Chad Stahelski and David Leitch's approach to the film. 'Their take for the movie and their visual presentation were so in line with what we were thinking the movie should be," says the producer. 'Everything from the color palette to the way in which the action should be staged and shot to the lookbook just felt right."

One of Chad Stahelski's strengths as a fight choreographer and second-unit director has always been the ability to tell a story through action, says Keeanu Reeves. 'He always thinks about action in terms of narrative. He knows how to storyboard and pre-visualize the choreography; he has a lot of experience with the camera and with production issues. It's clear that this is what he and David Leitch should be doing right now."

Although Chad Stahelski has worked with Keanu Reeves for more than a dozen years, this is their closest collaboration ever. 'Keanu Reeves was very hands-on," says the director. 'He's one of the hardest-working men we've ever come across. He knows everyone's job. He can turn on a camera, he can shoot, he can edit, and he knows writing, character, directing and, obviously, performing. He's always the first on set and the last to leave."

At the heart of John Wick is the age-old question: Can a man truly change? 'Can you do bad things for a big part of your life and then become good?" asks Basil Iwanyk. 'At what point are you judged? At what point are you forgiven, and how do you forgive yourself? That's a big part of who John Wick is. Is he a bad man who transformed himself, or is he a good man who has done some bad things?" Even if he can change, there are always consequences in John's world. 'John Wick has done enough rough stuff in his life," Basil Iwanyk says. 'He wasn't able to walk away without paying for that. No one is. Not John or the crime boss trying to go straight. And those two characters are on a collision course. They need to pay the piper before they move on."

Audiences expecting to see a standard-issue action film will be surprised by the authentic emotional response they have to John Wick, says Basil Iwanyk. 'Keanu Reeves is so urgent and so passionate in his role. His emotion feeds into the velocity of the storytelling. Not a lot of action movies can communicate the kind of journey John goes through as he tries to heal the wounds he has suffered. That's what I'm most proud of about the movie, and what I think people will really connect with."

Adding to the excitement and anticipation for the film is the choice to release John Wick in immersive IMAX®, an epic format typically reserved for big-budget studio spectaculars. 'When you're standing on the set of an independent movie, your only hope is that the movie will one day be released," says producer Basil Iwanyk. 'The fact that John Wick will now have an IMAX release is beyond all of our expectations. We are extremely excited. It's a testament to the support we have received from Lionsgate."

For Chad Stahelski and David Leitch, the decision is a huge vote of confidence in their first feature as director and producer, respectively. 'We are thrilled that IMAX has embraced the film," says Chad Stahelski. 'It should be quite an experience!"

The Man They Send To Kill The Boogie Man

Intense, charismatic and bound by honor, John Wick is also a ruthless hit man, skilled in dozens of ways of killing, and completely without remorse. How, the filmmakers asked themselves, could a man like that gain the sympathy of the audience?

'The character is extremely hard-edged," says Chad Stahelski. 'Rather than presenting him as a stereotypical badass assassin on a rampage, we wanted to emphasise that he's a man who has suffered loss after loss. Keanu Reeves brings an emotional side to every role he plays. He's never hard as nails. As John, he goes through a full range of emotions: depression, anger, sorrow and hope and, ultimately, when he goes into rampage mode, he still communicates his humanity."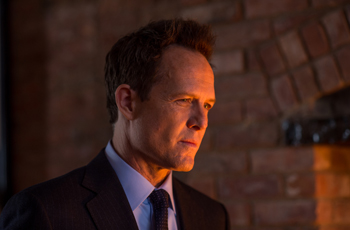 After a prolonged absence from Hollywood, Keanu Reeves' return in John Wick marks an exciting emotional transition for the actor that the filmmakers underscore with signature visual elements. 'We gave Keanu Reeves longer hair, a beard, a suit," says Leitch. 'He is not the Keanu Reeves of The Matrix, he is the Keanu Reeves of John Wick.

'He becomes the boogie man personified," David Leitch adds. 'But the way Keanu Reeves plays him, you never lose that empathy for his mission, no matter how scary or ruthless he is."

By the time production began, Keanu Reeves felt he had the character squarely in his sights. 'I think John's a good man," the actor says. 'He's not a psychopath. He isn't out there killing innocent people. Everyone he kills in the film is trying to kill him."

Derek Kolstad's spare and economical dialogue gave Keanu Reeves the first clues to John's essence. 'There's sharpness in Derek Kolstad's writing, as well as a kind of beauty," Reeves says. 'The script deals with fate and the dark side in all of us in a way that is compelling. It speaks to the life that we hope to lead and the life that we've actually led."

An essential part of John is that he has sought to change his course. 'When we first see him, he's a guy grieving for his lost wife," Keanu Reeves says. 'But it turns out he has lived lives in two worlds: one in which he's a happily married man and one in which he's an assassin. He has tried to bury his past, but without his wife, he is lost."

With everything he cares about gone, John reverts to his earlier self. In the workroom where he used to restore classic books, John unearths his abandoned treasure chest, a trove of weaponry, gold coins and an iconic suit. 'In a way it's almost like the costume and tools of his trade that he's hidden," says Keanu Reeves. 'He thought it was something he would never go back to. But he kept it, didn't he?

'John thought he was stronger than he is, when really he'd been drawing that strength from his wife, Helen," continues Keanu Reeves. 'He thought he was in control, but the switch flips and there's no turning back. I always thought of it as being a kind of Old Testament revenge story. When someone takes the things he cherishes, violence erupts and John can't temper it."

To play Viggo, John's former colleague and current nemesis, the filmmakers were determined to bypass the stereotypical Russian mobster. They cast a wide net, eventually landing on Michael Nyqvist, star of the original Swedish The Girl with the Dragon Tattoo series of films. 'We went through so many meetings to cast that role," says Chad Stahelski. 'But Michael brought something very odd and interesting. He came at it from a really different angle. His quirkiness is a good match for Keanu Reeves's stoicism."

The direction Nyqvist was given was simple: Viggo doesn't know he's the villain in this movie. 'We wanted an actor who would be believable as this ultra-bad guy, but was still very, very charming," says Basil Iwanyk. 'He had to be a little older than Keanu, but still have physical confidence about him. Michael brought the character a kind of humanity. His no-good son screws up, and he's on the spot."

Viggo is, in fact, a vicious sociopath who has mercilessly eliminated his competition to unite the warring crime clans under one umbrella"his. When the film begins, he is attempting to turn his business interests legitimate. 'He's finally able to wash his hands of the crooked stuff he's done," says David Leitch. 'But his son messes with John Wick. Now everyone is finally going to have to do penance for their past."

A street brawler raised in the slums of Kiev, Viggo has worked his way up the underworld food chain. Now, he is in the process of transitioning to respectability. 'His mantra is to be civilized," says Nyqvist. 'But things happen that send him back to his roots."

Long ago, John Wick asked Viggo to allow him to step out of that world so he could marry Helen. Instead of saying no, Viggo agreed to grant his request under the condition that John complete an impossible task. And John accomplished it.

'I found the relationship between John and Viggo to be interesting," says Nyqvist. 'Viggo has always liked John because he was brilliant at his job. They have the kind of love and respect you might see between a father and son, but it breaks down when John comes for Iosef." The director and producer gave Viggo a signature style of fighting, based on a brutal Russian system of combat called Sambo. 'I started stunt training in Stockholm, where I live," says Nyqvist. 'When I came to New York, I met the stunt group and what impressed me was that they use the work to help build the character."

John Wick is packed with familiar faces, including some of the film industry's most sought-after character actors. 'It was really important to surround Keanu with other terrific actors," says Iwanyk. 'Most of the characters have very showy scenes but not many of them. We wanted actors who would steal the few scenes they were in, unforgettable people that represent this hyper-real world. So we got actors with amazing faces, like Willem Dafoe and Ian McShane. And we got the most beautiful women, like Adrianne Palicki and Bridget Moynahan."

'The casting ensures that each character stands out," says Stahelski. 'Even though you may not know every actor's name, you will recognize them."

Having such experienced players also meant that each of the characters is fully fleshed out, even if they have just a few minutes of screen time. 'They brought things to their characters that we would never ever have thought to add," says David Leitch. 'For example, Willem Dafoe, who plays John's former colleague, Marcus, suggested that in one scene he be making juice. Why? He figured his character was a little older than most of the other assassins and to keep up, he stays super healthy. It is one of these small character things that adds flavor. Great actors will bring those ideas to you."

John's first contact with his old life comes at his wife's funeral, when Marcus shows up to caution him against coming back. 'Marcus is a father figure," says Derek Kolstad. 'But he's a father in the sense that he's the king of the pride. When a new lion takes over a pride, he slaughters all the cubs. Marcus is that guy. The big question is, can he pull the trigger on John?"

Willem Dafoe was impressed with the leanness of the screenplay. 'The story is expressed mostly in action," he says. 'That seemed to work well with Chad Stahelski and David Letich's history. They have worked on some of the biggest action movies ever and participated in some of the most extraordinary stunt work in the last 20 years. They have such enthusiasm, freshness and eagerness that it is seductive. I look for projects that have a particularity that makes them feel special. This group of people coming together to make a character-driven action film in New York City is something that I haven't really experienced."

Working with Keanu Reeves was another plus for Willem Dafoe. 'I've always liked Keanu Reeves's work," he says. 'I'm particularly charmed when he's in an action role, because there's a softness and a reticence about him that's very interesting in that context. When I read the script with him in mind I thought, I'd like to support him playing Marcus."

Marcus may be the closest thing to a friend that John has, but that counts for little in his world. 'Marcus is an assassin on a very high level," says Willem Dafoe. 'It's clear that he and John Wick have a history and he's something of a mentor to him. They're friends, but it's a friendship that was made in a very dark world – a world John has left. He is there to caution John not to slip back into his former life after his wife dies."

Willem Dafoe hints that the older man may be envious of what John has found. 'What Marcus does for a living isn't very nice. He seems pragmatic; he seems fatalistic, which you would have to be in that line of work. He's probably at the end of his career and he's conflicted. He knows he has done a lot of bad things in his life but, hey, that's his job. There's a certain pride to him, and to all the characters, even though it's a very dirty world they live in."


Reigning almost silently over the Continental is Winston, played by Ian McShane. 'Winston is one of my favorite characters," says Derek Kolstad. 'He doesn't say a lot, but when he does, the earth moves. If John and Viggo are the gods of New York, Winston is the titan."

In a world full of riddles and conundrums, Winston is the ultimate mystery man. 'You don't know if he's good or bad"and he doesn't know either, which is fantastic," says Basil Iwanyk. 'In his first scene, he is simply sitting at a table in the club with John Wick. The dialogue is pretty straightforward, but Ian McShane delivers it with menace and the utmost cool."

Ian McShane was intrigued by the possibilities of the character. 'Winston is mysterious and enigmatic," he says.

The film indulged Ian McShane's admitted fondness for modern noir movies, of which he says John Wick is a prime example. 'It's got incredible stunts and action," says the actor. 'The writing, the acting and the visuals all have a mythical quality. And every character has an important part to play in a puzzle that comes together gradually. You always hope that audiences will have a good time, but this movie will take them someplace very unusual."

Quintessential New Yorker John Leguizamo, who plays Aurelio, agrees. 'It is such a beautifully crafted thriller"dark, violent and intriguing," he says. 'It's definitely a page-turner. I love the spareness of it. Many things are implied and you have to really pay attention. And it's packed with bad-ass action, which is the kind of movie I want to see."

John Leguizamo's character is the owner of a high-end chop shop. 'When a Russian mobster's son shows up with John Wick's car, I know there's going to be trouble," he says. 'I'm going to have a problem either with the Russian mobster or with John Wick, but I'm not going to win either way." The film's stylish visuals gave the actor, who had just a short time to make an impression, a big boost. He says it all started in wardrobe for him. 'Mine is pretty slick, and that adds a lot of character. I'm walking through the set and all of a sudden I start feeling a little cocky, like I'm somebody. It all helps."

After things escalate in the wake of Wick's run-in with Viggo's son, the staggering bounty Viggo puts on Wick's head attracts the attention of other high-level assassins, including Ms. Perkins, a femme more fatale than most. The part was originally written for a man, but a last-minute director-and-producer brainstorm reversed that decision. 'We didn't just want to get more women in the movie," says David Leitch. 'We also wanted to create an authentic female action character. You believe this woman could come in and give John Wick a run for his money."

The filmmakers cast Adrianne Palicki in the role. At 5-foot-11 and with a resume that includes G.I. Joe: Retaliation and the Elektra Luxx franchise, Palicki is both a beauty and a force to be reckoned with.

'Adrianne is tall and sexy and young and dangerous," says Basil Iwanyk. 'At a certain point we realized we had a lot of dudes. We needed some hot women. She was an amazing coup. We had no idea that she was in such good fighting shape. She knew the basic moves and it allowed us to make the showdown between her and Keanu very intense and intimate."

'Ms. Perkins may be the biggest badass in the movie, so I had to do it," says Palicki.

'She is an assassin, and there's a contract on John Wick's head. They know each other and maybe they even worked together at some point, but she's all in for the kill. That's how her brain works. She'll do anything she has to."

The highlights for the actress included working with Keanu Reeves and doing her own stunts. 'I was just completely in awe knowing that Keanu Reeves was going to play the lead part,"
says Palicki. 'It could have been written for him. And I love doing stunts. Chad wanted to make sure I would be willing to do my own stuff in the huge fight sequence that I have with Keanu"and I was all game. I had months of training. I had to learn jiujitsu, which she uses to take him down. It was a lot of pain that led to a lot of gain."

She hopes that moviegoers will sit back and just enjoy the movie. 'It's a lot of fun. They're going to want to see what happens next. Most importantly, I hope they're rooting for John Wick the way that I did when I read the script."

As Helen, John's ill-fated wife, Bridget Moynahan is able to create an indelible portrait of a loving and kind woman with very few words. 'Bridget Moynahan's incredible," says David Leitch. 'Helen's the crux of the movie, so to have an actress like Bridget Moynahan come on board in such an important role was gratifying. She's got an elegance that is captivating."

Bridget Moynahan chose not to read the entire script, believing that all she needed to know about John is what Helen knows. 'There was a large portion of the story that I didn't want to be informed about," she explains. 'I didn't want or need to know that side of John. Helen brought love and light and joy into his life. Knowing the other side of it would make it a different story for me. Helen was so devoted to her husband that in the last moments of her life she tried to make sure he was taken care of. And I think that was a really wonderful, sweet, thoughtful thing for her to do."

Basil Iwanyk agrees. 'Helen probably thought John had some skeletons in his closet, but it wasn't important. All we know as an audience is that the moment he met her, he became a different person. Love changed him."

The rogue's gallery of small-time hoodlums and shady characters that lurk in the shadows of John Wick's underworld starts with Iosef, the violent and spoiled son of an underworld boss, played by Alfie Allen. Though he recently became a small-screen star based on his role in HBO's 'Game of Thrones," Allen's unself-conscious admiration of his co-stars charmed Kolstad. 'When we had the first cast-and-crew dinner, I was talking with Alfie and suddenly he just froze," remembers the writer. 'He just said, -Oh my god! It's Willem Dafoe.' He's a great actor, but he's also a fan like everybody else."

Derek Kolstad describes the character Allen plays as 'a dinner-theater version of his father. Iosef is a rich kid who imagines himself a tough guy; but without his father's muscle, he's a punk. In his mind, he has the scars of battle. But the reality is he's one spoiled kid."

Dean Winters, well known to television audiences for his roles on '30 Rock," 'Law & Order: SVU" and 'Rescue Me," took a peripheral role as Viggo's attorney, Avi, and made the character a linchpin in every scene in which he appears. 'As the part was written, he was just Viggo's lawyer," says Stahelski. 'But then Dean came in and made it funny and edgy. The scenes between him and Michael Nyqvist are some of my favorites."

Like Allen, Dean Winters brought his admiration for his colleagues to the set. 'I got to work with Willem Dafoe and Keanu Reeves," he marvels. 'We've got John Leguizamo, Michael Nyqvist and Bridget Moynahan. I mean, it's a really good cast and I got a front-row seat."

Sharp-eyed viewers will also catch a glimpse of some of Chad Stahelski and Leitch's favorite supporting actors as they drop in and out of Wick's life, including David Patrick Kelly as Charlie, the 'cleaner"; Randall Duk Kim, playing a doctor with a select clientele; and Lance Reddick, a concierge who always seems to know what the client needs.

Keanu Reeves made it his mission to pull everyone in the cast together, according to Chad Stahelski, no matter the size of their role. 'He cares about them all, just like the department heads care about their people," says the director. 'Keanu Reeves takes the other performers under his wing on the set. Whether he's in a scene with a cast member or not, whenever someone new arrives, he goes out of his way to make them comfortable. He'll knock on the person's door, and say, -Hi, I'm Keanu Reeves. Welcome to John Wick. Is there anything I can do for you?'"

Out Of Exile

Filmed in New York City and nearby Rockland County, John Wick captures some of the area's most iconic landmarks and locations, from the idealized pastoral vistas of John's marital home to the cavernous concrete canyons of Manhattan. The settings, say the filmmakers, are meant to be familiar, yet not of this world and, perhaps, not quite like any world audiences have seen before. 'This movie has real style," says producer Basil Iwanyk. 'There is an intensity to the visuals that is based on some of the iconic conventions of the graphic novel."

The filmmakers invented two separate and contrasting worlds for John Wick. First, there is the very private, rural world of John's life with Helen. 'That is very organic and warm; very cinéma vérité real," says Leitch. 'Once he crosses back over, he enters the hyper-real world of the assassins, where the situations are heightened and the characters are a little over the top. Everything in that world is pushed a bit."

Production Designer Dan Leigh jokes that there were not two worlds, but two of everything on John Wick. 'There were always a couple of opinions," he says. 'I approached the story as more of a fable, which ties into the graphic-novel idea. The visual manifestation of that is something that transcends reality. The light is a little bit different. There's texture in the air. There are unexpected objects everywhere."

'Derek doesn't provide a lot of details about the world, which is one of the things we liked about it," says David Leitch. 'He provides plenty of clues, but there's still so much mystery."

The clues include gold coins that serve as currency and the exclusive institutions that shelter the assassins and their assets. 'We've constructed a very specific, interesting, well-rounded world," says Iwanyk. 'Everyone wears a suit. Everyone looks sharp."

It's a world that takes patience and cunning to gain entry into. 'Most of it is never seen by other people," says Nyqvist. 'It exists not just in New York but also in Rome or Paris, wherever you go. It has different rules than the regular world. You have to know who is who to get in, and once you are there, it's like a very brutal chess game. This world is very hard and very strict. It's a life-or-death commitment."

The hub of the New York underworld is the aforementioned Continental, an uber-stylish hotel and bar. 'The Continental is the meeting place for all the high-end bad guys," says Chad Stahelski. 'It is the Switzerland of the movie. You go there to make your contacts and your deals. Anything off those sacred grounds is fair game, but when you are at the Continental, you behave."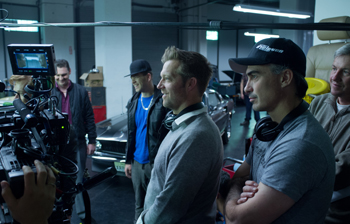 The strict formality of the underworld appealed to Keanu Reeves. 'Everyone is really sophisticated. We deal in gold coins. Ian McShane's character, Winston, runs the Continental Hotel and speakeasy where the assassins go to relax. It's a very tasteful safe house. The whole world has romance and civilization."

The Continental is not a hotel that can be found in tourist guidebooks. Production Designer Leigh had to construct the elegant hostelry from several sources. 'We had to put together different elements that added up to what Chad and David envisioned," he says. 'They wanted the exterior to look like the Flatiron Building, the iconic three-sided building on Fifth Avenue. We found a similar façade for the exterior and we didn't have to do much to it. Inside was a different story. We used a classic early-1920s art-deco lobby and updated it with different kinds of textures and patterns and lighting that are very contemporary. The result is a very stylized idea of a lobby, as opposed to something that's completely realistic."

Every visual element was selected with the utmost care, according to David Leitch. 'We are trying to create an entire world by choosing the right costumes, choosing the right hair"in really making things feel a little off."

Working with Director of Photography Jonathan Sela, the filmmakers developed a signature style that depends on the scope and depth of anamorphic widescreen to create larger-than-life panoramas. 'Using the anamorphic format helped us find the right feeling for both worlds," explains Leitch. 'In the more organic early world, we have beautiful landscapes on these epic frames. In the assassin world, we created great flares and sprawling city views. We didn't do any of the things we normally do cinematically. There aren't a lot of fast cuts. We didn't use a long lens or a shaky cam and there are more long takes. Because Keanu Reeves could do the stunt work himself, we didn't have to try to hide stunt doubles."

Chad Stahelski and David Leitch took an active role in developing a hybrid fighting style for Keanu Reeves' character that involves martial arts and gun work, working with 87eleven's top stunt coordinators. 'It's something we don't think people have seen before," says Iwanyk. 'We like to call it -gun fu'." As skilled as Keanu Reeves is, the training for John Wick was among the most intensive Stahelski and Leitch have ever implemented. 'On a movie this size and shot in this way, we had to be able to change things as we went along," explains Chad Stahelski. 'It was essential for him to be proficient in a variety of techniques. He spent four solid months getting in shape, learning judo and jiujitsu. We wanted to use practical grappling martial arts and mix in guns, so we created a new style of close-quarter combat."

Playing an assassin opened up an enormous toolbox for Keanu Reeves to reach into. 'In terms of weapons, I had the chance to work with tactical pistols and long guns," the actor says. 'The action sequences are really ambitious. Chad Stahelski created longer, mise-en-scène scenarios instead of using just quick cuts, which I was really excited about. The choreography became very complicated. It's bang, bang, bang and then throw someone, stab them"all sorts of fun stuff. I also did some stunt driving with the wonderful and amazing Jeremy Fry. I got to slide a car around and do some drifting."

The training took place in 87Eleven's dedicated training facility. 'There are weights, wires, weapons, green screens and trampolines for training," Keanu Reeves says. 'It's a dojo of action design."

The actor's commitment to training was awe-inspiring, says Basil Iwanyk. 'Without question he was more committed to physical training for the movie than any actor on any movie I've ever worked on," the producer adds. 'He started months before shooting began, five days a week, eight hours a day. He carved out his entire summer to become John Wick."

When shooting finally began, New York City provided a dramatic backdrop for the high-style, big-action story. 'We always knew this movie had to take place in New York," says Basil Iwanyk. 'Manhattan just naturally feels hyper-real. The buildings, the architecture, the scale of everything and the variety all worked for us."

'New York is an important element in the underground experience," adds Keanu Reeves. 'There's something gothic about the city, mysterious and beautiful. We found locations that are hyper-New York because of the framing, the lens and the color."

Similarly, when John transforms back to John Wick, the visuals lead the way. His sharp black suit is the first signifier of his return. 'If we speak about John Wick's suit, we have to speak about our Costume Designer, Luca Mosca," says Keanu Reeves. 'He gave the clothing so much subtle meaning. All the different shades of black that Luca used gave it a lot of overtones. It's funereal and it's priestly. It's also very chic, but it doesn't call attention to itself. When I put the suit on, it definitely affects me."

Mosca brought an inspired touch to the elegance and sophistication the filmmakers asked him to incorporate in his designs. 'People in this movie dress extraordinarily well," the designer says. 'It's a little bit of a fantasy world, visually speaking, with beautiful homes, extreme money, sophisticated objects and fine art. I had to make a statement with every character.

'For John Wick, we needed to find him a sort of uniform to be worn almost throughout the entire movie," Mosca continues. 'Then we had to tailor it perfectly and make it sleek and timeless enough to fit into this perfect world."

Looking back on the experience of directing John Wick, director Chad Stahelski says, 'Making a movie is actually fairly easy. Making a good one is much harder. It was a huge learning experience and I'm very proud of it. We stretched our schedule to the absolute limits. We fought for what we believed in, and chose to make a story-driven, character-driven action movie. That's why I chose to do it. This was an opportunity to do something that wasn't just about cars, explosions, fire and fights. Yes, John fights; yes, he shoots guns; and he drives a car very fast, but the focus was always trying to do something cinematically different."

John Wick
Release Date: October 30th, 2014