Win Win
Cast
: Paul Giamatti, Bobby Cannavale, Amy Ryan, Melanie Lynskey, Jeffrey Tambor
Director
: Tom McCarthy
Genre
: Drama, Comedy
Rated
: MA
Running Time
: 106 minutes
Synopsis
: Tom McCarthy, acclaimed writer/ director of The Visitor and The Station Agent, once again explores the depths and nuances of human relationships in his new film about the allegiances and bonds between unlikely characters. Disheartened attorney Mike Flaherty (Paul Giamatti), who moonlights as a high school wrestling coach, stumbles across a star athlete through some questionable business dealings while trying to support his family. Just as it looks like he will get a double payday, the boy's mother shows up fresh from rehab and flat broke, threatening to derail everything. McCarthy's deft touch with balancing drama and comedy, broken hearts and poignant humanity is at play in Win Win.
Release Date
: August 18th, 2011
About the Production
Tom McCarthy's Win Win starts with an ordinary man who is struggling to survive and provide in these tough economic times. As portrayed by Oscar® nominee Paul Giamatti, Mike Flaherty is a suburban father who wants more than anything to be a victorious wrestling coach, a winning husband and father and a better friend. He gets his chance to be all those things with one questionable choice that changes his life in ways he never expected, leading him not only on an incredible sports run with a young wrestling phenom, but also to heartbreak, hard truths and a surprising road to redemption.
The result is Tom McCarthy's own witty, warm take as several of the characters - especially Mike Flaherty and his unexpected house-guest turned wrestling star, Kyle Timmons - confront one of the underlying dilemmas of our era: when times get tough, should you do whatever it takes to get ahead or what you know is right in your heart?
"Mike Flaherty had a simple plan for his life, but in these times, it just doesn't seem to be happening. He's a decent, humorous, hard-working guy who just makes one bad decision - and the fact of the matter is that if he had really thought things through, he probably wouldn't have done what he did," Tom McCarthy comments. "What interested me was how good people sometimes make very faulty decisions and have to find a way to live with them in the end. That became the compelling through-line of the story. What started as a broad sports comedy became more of a human comedy."
Tom McCarthy's first two films were critical and popular indie hits that introduced a compelling voice to the film world - a comedic voice that is deeply humane at its core. The Station Agent was a poignantly funny character study of a loner drawn, in spite of himself, into a quirky, yet sustaining circle of friends; The Visitor was the powerful story of a college professor who becomes unwittingly embroiled in the lives of an immigrant couple trying to stay in America.
But with Win Win, Tom McCarthy enters broader, lighter territory with a tale of sudden sports success that is not just about winning but also about whether winning is really the point. At the center of the film's action, Tom McCarthy chose a sport rarely seen at the movies, yet one close to his heart: high school wrestling. Having once sported a wrestling singlet himself in his New Jersey youth, Tom McCarthy was inspired by the vision of a last-place high-school wrestling team in a town where nearly everyone is hoping for a lucky break - and suddenly, they get one. That was the initial spark for Win Win.
"The idea really spoke to me and the challenge, I thought, would be to bring to life what, on the surface, looks like a very conventional world - suburban America and high school sports - but do it in a way that would be authentic, funny and alive," Tom McCarthy says.
To create this world, Tom McCarthy partnered with a former wrestling buddy and current New Jersey lawyer, Joe Tiboni, to pen the script. They began by envisioning the team's coach, Mike Flaherty, a former high school wrestler turned eldercare lawyer. Mike is hovering on the brink of financial despair when an opportunity to solve all his problems suddenly appears - at the seemingly small cost of taking advantage of a client with dementia, who might not even know the difference. By all accounts, Mike has always been a decent guy, but he has no idea his decision will have all kinds of consequences - both thrilling and unsettling - for strangers he has yet to meet as well as his loved ones.
"Mike is kind of an everyman," observes Tom McCarthy. "He has a sense of commitment to his family and to his community and maybe he's not an extraordinary success, but up until now, he's been doing a pretty decent job of things. The problem is that Mike has ideas of where he should be in life and that doesn't quite match up with the reality of where he actually is. He's looking for some easy money, but the way he does it, brings a whole new set of obstacles into his life."
With money as his motivation, Mike makes a bid to become the legal guardian for his client, Leo, whose confusion keeps him from realising what is happening to him. It seems like a fail-proof plan - until, out-of-the-blue, Leo's unmet grandson, Kyle, a scruffy teen rebel on the run from a broken home, shows up on the Flaherty family's doorstep, and reveals himself to be both a remarkable wrestling genius, and a troubled soul hungering for a true home.
Kyle might be the catalyst for much of the film's humor, but his situation is also heartrending. "Kyle is a kid in a tough spot," notes Tom McCarthy. "He's a runaway, his mom is in rehab and he's come to find his grandfather who he's never actually met. But the one thing this kid lives for is to wrestle, and when he's offered the chance to wrestle for Mike's team, he just can't pass it up. And that's when the fun starts, because Mike realises he's got a true ringer."
Tom McCarthy and Joe Tiboni surrounded Mike and Kyle with a vibrant cast of characters from the community who each have their own need to rebound from rough times. They include Jackie, Mike's wife who unexpectedly becomes Kyle's confidante; Terry, Mike's recently divorced friend, who can't get his mind off his wife's affairs, literally; Vigman, Mike's fellow coach and stressed-out CPA who can't afford his stepson's Lasik; and Stemler, the skinny, petrified nerd whose presence on the wrestling team is a mystery even to himself.
As the town's characters came to life, Tom McCarthy and Joe Tiboni modeled the relationship between Mike and Terry, best friends and wrestling coaches, on their own friendship. "We're very different guys than they are, but we wanted to get at that kind of ease that comes when two friends have a very long history with each other," says Tom McCarthy, "and at the way a good friend can push your buttons at one moment and then make you laugh the next. Paul Giamatti and Bobby Cannavale really nailed that."
That type of funny/moving duality is a big part of Tom McCarthy's comedic style, which, no matter the subject, always focuses on the real experiences of everyday people. "I love to find moments of quiet humanity," he says, "where you get the feeling that the people on screen are people you know, flaws and all. If you can do that, I think the audience will go on any ride, and this is quite a ride."
When the screenplay was completed, Win Win attracted a producing trio that includes long-time Tom McCarthy associate Mary Jane Skalski, who produced The Station Agent and The Visitor; Groundswell Productions president Michael London, whose films include The Visitor and Sideways; and Everest Entertainment President Lisa Maria Falcone, who recently served as an executive producer on Danny Boyle's 127 Hours and producer on Mother and Child. They were each drawn to the human side of the film as well as to its spirited humor.
"What I love about Tom McCarthy's work is that his films are always about characters that just need one little push to change their whole world," says Mary Jane Skalski. "I love seeing that kind of story on screen. Win Win is about a single impulsive move that simultaneously brings people together and takes Mike Flaherty down a path that makes him question everything."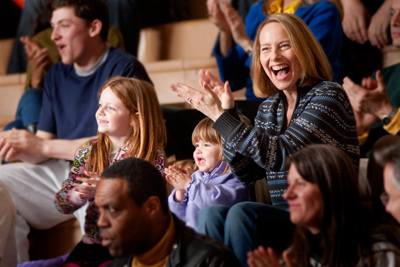 Adds Michael London, "Tom McCarthy's movies have all been about disconnected people who come together and create surrogate families. It's a theme I really love, and I think it's the reason his movies resonate so much with audiences. It's also why his movies are so exhilarating to be part of. In creating a family on screen, he creates a family behind the scenes as well during the making of each movie. Win Win was that kind of experience for everyone involved in the project and I think that camaraderie really shows on screen."
Concludes Maria Falcone, "I was aggressive about pursuing this project because I really believed in the story and in Tom McCarthy's vision. I think in these economic times people can really associate with a struggling lawyer in his forties just trying to make ends meet, and then he comes across this defiant young kid who's a high school wrestler, and unexpectedly forms a bond with him. I just love the idea that someone can come along to fulfill a part of your life when you least expect it."
Meet Mike Flaherty
Mike: "I'm an idiot."
Jackie: "You are, but you're a good idiot."
Paul Giamatti, known for creating indelible American characters such as the lonely, middle-aged wine tourist, Miles, in Alexander Payne's Sideways to the stubbornly devoted U.S. patriot and President in the award-wining mini-series John Adams, was thrilled to have Mike Flaherty, a good man who makes one life-changing mistake, join the list in his most unabashedly comedic role to date.
"I was drawn to the character and I thought that Tom McCarthy was trying to do something very interesting in Win Win, creating a portrait of suburban life that is more complicated and willing to show the ordinary ways good people compromise themselves," Paul Giamatti says. "I thought it was really subtle and well-done. He doesn't turn suburbia into a sinkhole for vice and grotesqueness and it's not a satire. But the film also isn't sentimental. It's about a man whose life is fairly good and then one little decision makes it deviate from the norm. That's tricky to do well."
That trickiness is part of what excited Paul Giamatti as he thought about how to make a man who is struggling in familiar ways, without falling into a desperate stereotype, compelling and full of comic layers. He took a compassionate but unsentimental approach to the character.
"It was a challenge because Mike is not like characters I'm used to doing. He's quite content and he's not given to emotional extremes," he notes. "It's really not that easy to play a character that is generally happy with his life and basically is a decent, good-natured guy. You have to find a way to give it some depth."
Mike may not be extreme but he is in a state of panic as the film opens, to the extent that he collapses of a full-blown anxiety attack while out for his morning jog. "Mike doesn't deal with stress very well at all," Paul Giamatti laughs. "He bottles it all up, but that only makes the stress worse. He's trying to keep up appearances at all times that everything is all right. That's who he is. Mike wants to believe that everything he does, even if it's slightly crooked, is done to help other people."
This characteristic is especially true when Mike sets out to be the caretaker for his elderly client Leo, in exchange for a monthly check, and even truer when he meets Kyle, Leo's runaway grandson who turns out to be the wrestling prodigy Mike's team has been in search of for years. "I think Mike really wants to help Kyle out and it turns out that Kyle's also very useful to Mike because he's such a great wrestler," explains Paul Giamatti. "There's this constant thing in Mike where he is taking advantage of someone, and yet at the same time, he convinces himself that it is an opportunity for the other person, too. He wants everything to be a win-win situation."
Paul Giamatti came to the role knowing next to nothing about Mike's greatest passion, wrestling, but quickly did his homework, heading to local wrestling matches as an awed observer. "It's a strange sport," he admits, "and as physically tough as it gets. There's something obsessive about it, with all this focus around 'making weight.' And it is rough. I went to a lot of real matches where I saw kids getting their noses broken and throwing up on the mat - it gets really intense."
He goes on, "I found the wrestling stuff really interesting in the context of the story because wrestling is filled with all this pressure for achievement and to be as aggressive as you can possibly be - which is also so much a part of the modern culture that surrounds these characters. But what Mike begins to see is that this kind of all-out, aggressive achievement doesn't actually matter to him. All that matters to him is how much he's loved and how much he loves other people around him. He finally sees that he was trying to be something that he's not."
Tom McCarthy says that Paul Giamatti makes that discovery palpable because he manages to meld both the charm of comedy and the ache of tragedy into the character, to makes his choices seem at once relatable and full of human frailty. "He's such an immensely talented actor," says the writer-director. "I've actually known him since we went to school together at Yale but this is the first time we had the chance to work together. As tricky as the character is, Paul Giamatti makes playing Mike Flaherty look effortless. Watching him turn out this performance was very exciting."
Adds Michael London, who previously worked with Paul Giamatti on Sideways, "This role is something quite different for Paul Giamatti. You get to see him be incredibly funny and yet still very touching. I think Paul Giamatti can truly do anything and from the minute he stepped on the set, it was impossible to imagine anyone else in the role."
Jackie Flaherty
"We have kids, Mike. I'm not taking any chances with Eminem down there."
- Jackie
Mike Flaherty's wife Jackie, who is aghast to find herself suddenly playing surrogate mother to a 16 year-old runaway when Kyle shows up in town, is played by Amy Ryan, an Oscar® and Golden Globe® nominee for her role in Ben Affleck's Gone Baby Gone. Though known for her role as Holly Flax, soul-mate to Steve Carell on the hit television series "The Office," Win Win marks Amy Ryan's first foray into film comedy.
Much like Paul Giamatti, Amy Ryan had to plunge below the surface of a seemingly typical suburban wife and mother to get to the rich vein of comedy in Jackie's plight. To Amy Ryan, Jackie is the one person who knows something is weighing on Mike's conscience, if only he would just confide in her.
"Jackie is very happily married to Mike, they know each other inside and out and it's pretty clear they'll be together forever," she explains. "But, at the same time, she knows something is off with Mike right away, as soon as this whole thing starts. It's something very subtle, but it's there in their interaction and it was important to me that the audience be able to sense it."
Equally subtle is the relationship Jackie develops with Kyle, in which she moves from being mortified by his hair, his smoking and the fact that he's even within 500 feet of her two young daughters, and ends up being the one person he opens up to about his past and his fears for the future.
"I think Jackie is the first experience with real parenting Kyle's ever had," observes Amy Ryan, "so that works for him. With her, he eventually feels like he can start to open up in his own time and by his own will."
Tom McCarthy was thrilled with Amy Ryan's performance. Once neighbors in Greenwich Village, he had always wanted to work with her. "I wrote the role with Amy Ryan in mind," he confesses. "She has a quality to her that struck me as just right for a mother and wife from New Jersey. She's very direct and she can be sharp but underneath that there's always a great sense of warmth and caring - and at the same time she is naturally funny. Seeing the different chemistry she developed with Paul Giamatti and Alex Shaffer was such a pleasure and it brought so much to story. I think in many ways she is the heart of the movie."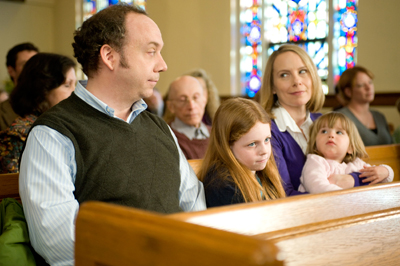 Terry Delfino
"All I do is sit in my condo and think about Lori and that guy having sex in the Jacuzzi I paid for."
- Terry
Close as Mike is with his wife, if there's one person he can tell absolutely anything to, no matter how crazy, unflattering or wrong, it is his best friend, Terry, played by Bobby Cannavale. Bobby Cannavale reunites with Tom McCarthy after drawing accolades for his role as the talkative coffee vendor, Joe, in The Station Agent.
Tom McCarthy followed a gut instinct that Bobby Cannavale and Paul Giamatti, who had never previously met, would have just the right mix of friction and connection to be believable as real-world male buddies. "They're so different, but that's why it was really fun to see them come together, hit it off so well, and then bring that to the work," he says. "Whenever Bobby Cannavale and Paul Giamatti saddled-up for a scene, everyone else gathered around to watch, knowing this was going to be a blast."
Bobby Cannavale couldn't wait to take on the part as soon as he read the screenplay. "I thought the contrast between Terry and Mike was full of comic possibility. Terry's this Type A, hedge-fund manager and Mike is his polar opposite," he says. "But their friendship is very real, and the crux of their relationship is that they can admit failure and vulnerability to each other. When Terry talks about his marriage, about the fact that he hates his wife and yet he also still loves her, he feels he's the luckiest guy in the world to have a friend like Mike, who gets that. That felt very true to me."
The whole setting also felt authentic to Bobby Cannavale, a New Jersey native himself. "I grew up with people like this, regular, middle-class people who in an economic downturn really feel it," he observes. "I know the kind of pressure that Mike is under, to feed the kids, to keep paying the mortgage. He feels like the rug is being pulled out from under him and that's why he makes this one little decision that he hopes will be the right thing, even if he suspects it isn't."
Just like Mike, Terry's world is suddenly blown wide open when he discovers Kyle's wrestling prowess. "Kyle showing up is a big catalyst for Terry," he explains. "Suddenly, for the first time in a long time, he's excited about doing something new, something that might give him some meaning in life for a moment, you know? This kid is like a spark for all of them."
Bobby Cannavale had no wrestling background whatsoever, but found himself caught up in the coaching scenes as if he'd been a wrestler all his life. "It was a lot of fun for me," he says. "We started to feel very close to these kids and to really care about them. They're such underdogs, and who doesn't love rooting for the underdog?"
For Lisa Maria Falcone, Bobby Cannavale and Paul Giammati were the perfect foils for each other. "Even in scenes that are dramatic and serious, there is something comical about the way the two men are with each other," she notes. "Their choices are always unpredictable and I love that."
Vigman
"OK. So the move is called 'whatever the fuck it takes.' Let's go.
Let's work on it. Come on. 'Whatever the fuck it takes.'"
- Vigman
If Mike just wants to do well by his family, and Terry is in search of his own resolution, their other co-wrestling coach, Stephen Vigman, has the most modest desires of the bunch: he just wants a little respect. A struggling CPA, the man known simply as Stephen Vigman doesn't get much of it at work or on the wrestling team, until Kyle comes along and suddenly makes wrestling so cool, even his stepson starts to admire him. Bringing Stephen Vigman's put-upon personality to life is comedy favorite Jeffrey Tambor, whose roles include the acclaimed television series "Arrested Development" and the runaway hit film The Hangover.
Jeffrey Tambor was drawn to how Win Win seemed to speak to the moment we're living in right now. "I think we're living in times when a lot of people are up against things they've never faced before and people do funny things when that happens," he explains. "Paul's character makes a strange decision, but I think it's something we all can relate to right now."
Jeffrey Tambor might be a wrestling coach but he's not exactly an expert wrestler, which Jeffrey Tambor plays to the hilt. "I started out asking Tom McCarthy, 'should I watch wrestling films?' and he said 'no, no, no.' And I came to see that it's Vigman's lack of expertise and his lack of edge that makes the character so humorous," he says.
Like Paul Giamatti and Bobby Cannavale, Jeffrey Tambor was inspired by the natural rapport that developed among the unlikely trio. "I'm a huge fan of both Paul and Bobby Cannavale and we had a lot of fun, and kept it very loose," Jeffrey Tambor comments. "I think everyone will relate to at least one of us."
Says Tom McCarthy, "What I love about Jeffrey Tambor, Paul Giamatti and Bobby Cannavale is not only how comical they are together but how they give you a feel for three regular guys bringing everything they can to this job of coaching high school wrestling. They don't come off as stereotypical sports coaches but as multi-dimensional guys with real jobs, who just do this as a side thing, yet bring their whole lives and personalities to it."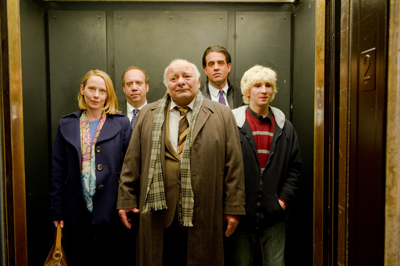 Comedy was the natural result of the frisson between Bobby Cannavale, Paul Giamatti and Jeffrey Tambor. "We are all three such completely diverse personalities and I think that was Tom's brilliance in casting us," notes Bobby Cannavale. "You can't say too much about Paul Giamatti because he's one of the best there is, and then you throw Jeffrey Tambor into the mix and it was just too perfect. In fact, some of my favorite, classic comedies involve trios of men - maybe there's something about the number 3 that's funny."
The Timmons: Kyle, Cindy and Leo Poplar
"So let me ask you something, Kyle. How good are you?"
- Mike
The biggest casting challenge of Win Win came as the filmmakers went in search of Kyle, the renegade teen wrestler who changes the future of a New Jersey suburb, while tying Mike Flaherty up in knots over the web of lies he unwittingly set in motion. In looking for the right person for what becomes an anchor role, Tom McCarthy was faced with his own dilemma: should he look for an actor who could learn to wrestle or a talented wrestler with natural acting potential?
Taking a risk, he chose the latter and never looked back when he discovered Alex Shaffer, a nationally-ranked teen wrestler on a local New Jersey high school team, who makes his motion picture debut. Not only could Alex Shaffer authentically pin his opponents to the mat, he had that blend of tough skin and vulnerable center that is so hard to find.
"I knew that if the kid we cast had never wrestled, he wasn't going to be able to fake it, at least not at the level we wanted Kyle to be," explains Tom McCarthy. "Wrestling is a very difficult sport to fake. The great thing about Alex Shaffer is that not only can he really wrestle, he also evokes all the qualities of a 16 year-old kid trying to deal with school, family and the start of his adult life. He just felt so real to me. We really put him through the ringer on this movie and he just kept getting better and better. It was tremendous fun to watch him take on new challenges and keep growing."
Alex Shaffer's gritty enthusiasm and lack of preconceptions inspired the entire cast and crew. "Alex Shaffer was so excited just to be part of this that it reminded me of how thrilling and fun movie-making can be," says Paul Giamatti.
Adds Jeffrey Tambor, "Alex Shaffer is a really interesting kid. Because he's a real wrestler he translates that to the character and there's something very seductive about his personality. He wins you over."
Alex Shaffer, whose only prior acting experience was a role in a 6th grade production of The Pirates of Penzance, says he tried out mostly on a whim. "I've been interested in acting, except that I love wrestling ten times more than acting," he admits. "But this turned out to be a lot of fun."
A big part of the fun was working with a group of extraordinary actors with deft comic skills. "With Jeffrey Tambor, it was embarrassing because everything that came out of his mouth made me laugh hysterically," he says. "Bobby Cannavale, I just loved and we got along really well and with Paul Giamatti I developed a really close bond."
As for Kyle, Alex Shaffer says, "We're absolutely nothing alike, whatsoever. Kyle is quiet and very self-contained but on the inside, he's an angry kid. I prepared for playing him by listening to a lot of Eminem, mostly because there's so much anger in his songs, and that really got me in the zone."Already an accomplished athlete and a big fan of the sport, it was a major priority to Alex Shaffer to make the wrestling scenes as true to life as possible. Still, he notes that his personal style on the mat, which has taken him to wins at State, Regional and District Championships, is completely different from what he developed for Kyle on screen.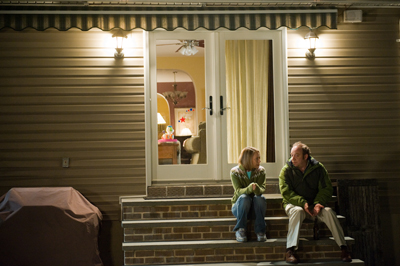 "Kyle is very hard core," he comments. "He goes right after his opponents. He's really rough and aggressive whereas I'm usually much more calm and more of a defensive wrestler. Kyle is just very angry - both while he's wrestling and in the rest of his life - but he's got good reasons to be and because of that, playing him made me more appreciative of my life."
For the filmmakers, casting Alex Shaffer was a gamble that paid dividends. "It was a total leap into the unknown because no one knew what was going to happen when Alex Shaffer stepped on the set," comments Michael London. "But he just kept getting more and more confident and you could see him starting to think of himself as an actor. At the same, he made the wrestling scenes visceral and exciting because it was the real thing."
Some of Kyle's most emotional scenes come with the grandfather he never knew and is now partially lost to dementia. This is Leo, played by Oscar®-nominated screen veteran Burt Young, whose film roles have ranged from the classic Chinatown to playing Sylvester Stallone's irascible brother-in-law in all six of the Rocky films. Paul Giamatti says of Burt Young, "Burt Young is a fantastic, classic, old school actor - there's not too many guys like that still around."
Burt Young was drawn instantly to the story. "I thought it was intelligently sharp," he says. "It's a rare piece of work because it's about a decent, honest man trying to save his family and his business. Usually, this kind of story is about trying to get ahead, but what I like is that this story is the opposite. It's about a man who decides that he doesn't have to be a winner because it's not about that; it's about how you conduct yourself that makes you or doesn't make you."
Of course, in the process of getting to that point, Mike Flaherty wrongs Leo, by putting him in a facility - albeit an excellent, specialised Alzheimer's facility - when all he wants is to be in his own home. Despite the challenges of playing a man who has clearly made a lot of mistakes in the past that he now can't even remember, Young found a way in to making Leo palpably human. "What's interesting about Leo is the affinity he develops with Kyle," says Burt Young. "It's something that's not really verbal, yet you feel that they want to be protective of each other."
Just as Kyle begins to build a relationship with Leo, and become part of the Flaherty family, his confidence gets knocked back by the appearance of the mother he ran away from, Cindy, played by Melanie Lynskey, whose recent films include The Informat!, Up In The Air and Leaves of Grass. Melanie Lynskey plays Cindy as a woman who might not be the world's greatest mother, who might not even be able to clean up the mess of her life, but who knows two basic things: that she loves her son and that she's somehow getting shafted by Mike Flaherty.
"I liked Cindy and I felt like I really understood her," Melanie Lynskey says. "She's not your typical deadbeat mom sort of character. As messed-up as she is, she's really trying to make a go of it and put things back to right."
Melanie Lynskey was also intrigued by the complex reaction Cindy has to the new family Kyle seems to have accidentally joined. "It's very confusing to her because a part of her sees that Kyle has maybe found something better for himself with the Flaherty family," she explains. "She's torn in half because she's truly happy that he's in a safe place but she also wants so badly to have the faith in herself to say that she can provide that for him without their help."
Says Tom McCarthy of Melanie Lynskey, "I thought she was a really exciting choice for the role. After hearing so much about this drug-addicted, terrible mother, Melanie Lynskey walks in and she looks like this cute girl from high school who went wrong. She plays Cindy beautifully."
To The Mat
"What if we all get pinned like last year?"
-Stemler
If there's one thing that unites the disparate characters of Win Win it's wrestling - and Tom McCarthy was determined to make every sweaty grapple, bruising takedown and sudden escape as visceral as they are humorous. Even before he began writing the screenplay with Joe Tiboni, Tom McCarthy dove back into the wrestling world he'd left behind as a teen.
"We went to practices and matches and hung out at high-school gyms just trying to re-familiarise ourselves with that world," he says. "We discovered that it's changed a lot, that the kids are now much more athletic and sophisticated."
Long a centerpiece of the Olympic Games and of school athletics, wrestling is a basic gladiatorial battle: two opponents step onto a mat and the object is for one to pin the other to the floor until he can't get up. The fact that it requires smarts, strength, discipline and intense training has made it a popular character-builder for many. But that it can trap athletes in strange and compromising positions also makes it awkward and humorous.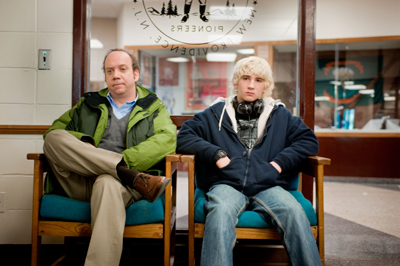 The more he watched 21st century kids wrestling, the more Tom McCarthy was convinced that he needed his movie to be populated with real-world athletes, which led to the decision to cast a group of local high school wrestlers to fill out the Pioneer team and the teams of their opponents. This in turn resulted in extensive auditions. "We were mainly looking for kids who felt real," he says. "It was a lot of fun to pull in these kids who aren't actors and watch them do their thing. The best part was that they very quickly started acting like a team. You had the clowns, you had the serious guys, you had the talented and the not-so-talented guys. It was like our own little ant-farm."
Tom McCarthy also recruited real-life wrestling coach Anthony Cialino of the Rocky Point Wrestling Team on Long Island, who brought his entire team to participate in the meet sequence and also makes a cameo as a referee. Anthony Cialino was thrilled to see wrestling getting its movie close-up.
"It's about time that this sport got a little more public attention," he says. "These kids work so hard and put their heart and soul into it. It takes 24-hour dedication to be a wrestler. Wrestlers have to watch what they eat, run at night and kill themselves at practice. So, let me tell you, when you get to the level of state championships, that is a special thing. And you know what a really special kid is? A special kid is the one who loses all the time and still comes to practice every day. I shake that kid's hand."
That description comes to define Stemler, Kyle's new friend, despite the fact that they are polar opposites as wrestlers - Stemler being as clueless on the mat as Kyle is outstanding. Played by David Thompson, Stemler gets his one big moment when he decides he will finally compete in what becomes a centerpiece comedic moment, one that sees him facing off with a wrestler who resembles Darth Vader in both looks and ferocity.
"Stemler's big personal victory, which is in fact a big loss, was incredibly fun to shoot, as we all watched David wrestle so tenaciously for his life," says Tom McCarthy. "I really fell in love with what David Thompson brought to the film in terms of his vulnerability and directness. He's very funny but you feel like you know him."
Jersey Burbs: The Production
"I can deal with the mistakes, Mike, but not the secrets. Secrets suck."
- Jackie
Although Tom McCarthy set Win Win very specifically in the New Jersey suburbs, the film ultimately shot a short distance away, in New York. They shot much of the film on a quiet street in Rockville Centre, Long Island, which stood in for the Flaherty family's middle-class neighborhood.
Tom McCarthy reunited with much of the same artistic crew he collaborated with on his first two films, including cinematographer Oliver Bokelberg and production designer John Paino, who together contrasted a quaint suburban ambiance with Mike Flaherty's financial angst and Kyle's agro wrestling skills.
Adding to the local feel, Tom McCarthy asked the town's residents to join in as extras and bit players. "The neighborhood we shot in was incredibly hospitable," says the director. "One day, an old woman was watching us shoot and she looked like someone who would be Mike's client, so I asked her if she wanted to be in the movie as Betty. We gave her one line and she just nailed it. We really wanted the feeling that wherever Mike goes, walking down the street or going to get donuts, he's always running into his clients, and we were able to capture that."
Finding the Flaherty family home was another challenge. "We were looking for just the right place that had enough room to accommodate shooting but that wasn't palatial, that was something Mike could afford - if just barely - and it went right down to the wire," recalls Mary Jane Skalski. "After looking at 100 houses, we were literally at the last moment when we found the perfect one that instantly became home to the Flahertys."
In every aspect of the production, from the locations to the everyday costumes designed by Melissa Toth to an original song from The National and even in the naturalistic comic performances, McCarthy aimed at an atmosphere so true to everyday life, the audience is put right inside the Flaherty family's dilemma over how to fix one wrong move that changed everything, yet might ultimately bring them closer.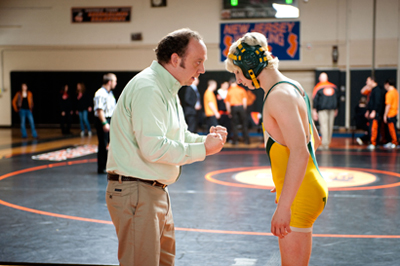 "We never wanted to be outrageous or sensationalise, even in the details, the lives of these people," Tom McCarthy sums up. "At its core, the story of Win Win is about basic, ordinary stuff - it's about taking care of your own and knowing when something's right and when it's not. If we all did that a little more often, we might find ourselves in a lot less trouble . . ."