Devil
Cast
: Chris Messina, Logan Marshall-Green, Jenny O'Hara, Bojana Novakovic, Bokeem Woodbine, Geoffrey Arend
Director
: John Erick Dowdle
Genre
: Thriller, Horror, Mystery
Rated
: M
Running Time
: 80 minutes
Synopsis
: Five strangers in Philadelphia begin their day with the most commonplace of routines. They walk into an office tower and enter an elevator. As they convene into this single place, they are forced to share a confined space with strangers. Nobody acknowledges anybody else. They'll only be together for a few moments. But what appears to be a random occurrence is anything but coincidental when the car becomes stuck. Fate has come calling. Today these strangers will have their secrets revealed, and face a reckoning for their transgressions.
Slowly, methodically, their situation turns from one of mere annoyance to sheer helplessness and abject terror. Terrible things begin to happen to each of them, one by one, and suspicion shifts as to who among the five is making it all happen…until they learn the unspeakable truth: one of them is the Devil himself.
As those on the outside try in vain to free them, the remaining passengers realise that the only way to survive is to confront the very wickedness that has led them to today.
Release Date
: 2nd of December, 2010
About the Production
Chapter One: The Night Chronicles Begin
"Everybody believes in him a little bit.
Even guys like you who pretend they don't."
-Ramirez
Over the years, blockbuster filmmaker M. Night Shyamalan has written down many ideas for stories he imagined to one day turn into movies. As the pages of his notebooks filled, he knew that he couldn't transform all these treatments into screenplays and direct the feature-length films by himself. He says: "You can put your love into all of them and know that you can't direct them all yourself. I decided to take some of these ideas and make them as a series of films by up-and-coming filmmakers and actors."
M. Night Shyamalan partnered with longtime producer Sam Mercer and Media Rights Capital (MRC) to produce The Night Chronicles, a series of films based on his original ideas. In its agreement, MRC agreed to produce several of M. Night Shyamalan's original ideas, and Devil is the first of three films to be made under the banner. M. Night Shyamalan explains: "Devil was the straight up, right-down-the-middle super-scary movie. It was the one that was most on my mind at the time when we decided to create The Night Chronicles."
When asked the inspiration in having fellow artists bring to life his ideas, M. Night Shyamalan laughs: "It could be a benevolent thing, but it's really not. I want to be inspired and pushed and connected to the audience, and it's nice to have younger people who are connected to the heartbeat of what is being felt today. It's great to be in the game, taking risks and having people constantly challenging me; it's a way to stay excited."
M. Night Shyamalan's concept for the film was to explore what would happen if the Devil manipulated and trapped a group of people into the same location and punished them for their wrongdoings. M. Night Shyamalan wanted to explore how the Devil hides among us and brings people with a common thread of wickedness into a situation...and how he systematically tests them before revealing himself.
The filmmaker used the setting of a common office elevator as the location where the cursed five would meet. He explains his rationale: "Normally when you're in an elevator, you don't look at anybody and then the door opens and you leave. But if you get stuck in that confined space, you have to look at everybody and ask, 'Who am I in here with?' Then when the first bad thing happens, all those faces become threatening."
Fellow producer Sam Mercer was drawn to collaborate on Devil because he felt it explores "a story that is familiar to the audience, one with the everyman factor. We all could walk into that elevator, and we could be trapped with six people in it for six hours and have a very emotional experience.
"One of the worst nightmares is being trapped somewhere," he continues. "Think about what you don't want to be trapped in, and that's in an elevator stuck between the 21st and 22nd floors. When the lights go out, the Muzak won't shut off and there's chaos-and then people start dying-that's terrifying. That's what this film is all about: preying upon your fears."
M. Night Shyamalan shares that his interest in creating this series is based on a prolific role model of his own. "Agatha Christie is someone whose stories I aspire to emulate," he says. "I want the audience to see many stories from me that say something about a time in my life or something I believe in. The Night Chronicles has given me that chance."
The Spotlight of Suspicion: Devil Is Developed
For M. Night Shyamalan, the process of choosing the writers and directors for The Night Chronicles became an expanded and comprehensive education in film. As he began his search, he uncovered a trove of talent. He notes: "I was able to watch every cool, scary thriller and horror movie that hasn't come out yet and get to talk to these filmmakers and figure out how they think."
Once the series was established, M. Night Shyamalan searched for a writer to execute the treatment he created: five strangers who are connected by a common thread become stuck in an office-building elevator in Philadelphia. Unfortunately for four of them, one is the Devil himself. Given such a simple, yet chilling, premise, M. Night Shyamalan wanted a screenwriter with the precise sensibility to flesh out his idea and run with it.
He found that voice in Brian Nelson, whose script for director David Slade's provocative Hard Candy helped launch the career of a young actress named Ellen Page. "I loved Brian Nelson's Hard Candy," he commends. "It was brilliantly written, so I hired him as the writer for Devil. He turned my 14-page treatment into a fully developed, exciting screenplay."
Now that the script was written, it was time for M. Night Shyamalan and Sam Mercer to decide on the director for Devil. When word went out that The Night Chronicles was looking for talented new filmmakers to balance human stories with drama and thrills, the company was inundated with submissions.
M. Night Shyamalan recalls the process of selecting brothers John Erick and Drew Dowdle for the project: "I was sent a really disturbing movie called The Poughkeepsie Tapes to watch, and this movie was the first I saw in my new house. It was a terrible decision, because it just scared me so much. I loved the filmmaking in it, and I thought these guys were amazing. I heard they were making another movie, so I begged Screen Gems to show me Quarantine before it came out."
The level of fear the brothers were able to elicit with the thriller astonished him. Told from the perspective of a news crew that is embedded in a cordoned-off Los Angeles apartment in which the tenants have contracted a horrific contagion, the film became a successful new entry in the horror canon.
"I loved Quarantine and felt the combination of these two movies gave the Dowdles the perfect point of view for Devil," M. Night Shyamalan offers. "They're the nicest guys you'll ever meet, have a really good edge, a great sense of humor and they're smart." He adds: "And they're just crazy and deranged enough for the job. When the lights came on I thought, 'These are the guys!'"
Stepping out of the directorial chair he used to oversee such hits as The Sixth Sense, Unbreakable and Signs proved to be both "harder and easier" than M. Night Shyamalan expected. He admits: "I'm used to being the sole person on my movies. So it's very healthy to be able to let go. The process is a whole lot easier having complete confidence in the filmmakers I've hired, and it's been fun because I'm learning from other people's strengths."
John and Drew Dowdle collaborated at every stage of development, casting and filming. John Dowdle returns the confidence in his producer: "M. Night Shyamalan's been amazing. He's smart, enthusiastic and he's given us a long leash, which has been a treat. M. Night Shyamalan's a director first and a producer second, so he's giving us the reins a director dreams of. He let us be creative and freaky and encouraged us to have fun. What made it all even better was that we thought the story was perfect for us; like our previous films, it had a lot of reality-style elements."
Drew Dowdle loved the challenge this story presented to continually shift "the spotlight of suspicion" on all of the passengers in the elevator. The audience isn't sure who the Devil is until the final reveal. He reflects: "It's a very rare situation to have your boss challenging you to be more artistic and raise the IQ of the film. He forces us to bring the best we have with every detail and affords us the luxury of a larger-scale production than we've had."
It was crucial to both producers that the Dowdle brothers knew they were coming onto a project in which they wouldn't be micromanaged. Offers M. Night Shyamalan: "Genuinely, I think of them as peers, and we would just talk it out. If there was a difference of opinion, I would articulate mine, and they theirs. It's been an equal playing field. I wanted that equality and stimulation of ideas. I didn't want to dictate. I wanted to learn as much as anybody in this process."
M. Night Shyamalan sums his experience with the duo: "It has been an inspiring experience working with the Dowdles. I have been continually impressed with their vision and creativity throughout the development and casting process. Together, we have found a talented group of actors who we believe will be stars of tomorrow."
The Devil's Meeting: Casting the Supernatural Thriller
The core cast in Devil consists of five characters trapped in an office tower elevator and the anguished Philadelphia police officer and two security guards who are trying to extricate them, only hours after a suicide has paved the way for the Devil's arrival.
For the Dowdle brothers, it was important to find just the right actors, regardless of their professional cache at the time of preproduction. John Dowdle notes: "We cast a wide net and found the best actors for the roles. In the elevator, we had to cast it as a group; it was important to find five very different types of people to bring unique energy and their differences. We realised that each one of these five actors has very different acting styles, and a very different sense of their craft."
Casting these characters was no small task. The roles are closely integrated, and the filmmakers approached each one as part of an ensemble. Fresh faces were desired so that audiences wouldn't have expectations skewed by past signature roles. Hundreds auditioned, and eventually only eight headshots remained.
M. Night Shyamalan sums up the importance of casting: "Devil is the quintessential ensemble cast because the plot of the film is centered around finding out who of the five in the elevator is the title character, so there have to be five people who could all be the lead of the movie…or be killed at any moment. In addition, the three characters on the ground have to be equally compelling. The eight actors we hired all have a parity with each other in terms of acting skill and presence on screen, and they could all be stars of tomorrow."
The core characters trapped in the elevator include:
The salesman (Geoffrey Arend): Confident and cocky in his ability to sell anything to anyone, he is quick with his sarcasm. Unfortunately for him, he is hiding some very wicked secrets of his own.
Old woman (Jenny O'Hara): Tired from watching out for an untrustworthy world, she has a shocking capacity to shamelessly voice her racism. But beneath her petty and fretful exterior, she also has a surprisingly iron will.
The mechanic (Logan Marshall-Green): Physically strong, he works hard but has a chip on his shoulder. He doesn't understand why the world keeps screwing him over every time he tries to put his life together. But as long as he thinks he has a shot at redemption, he'll keep pushing.
The young woman (Bojana Novakovic): A young, slender trophy wife, she is bitter that her biting wit, intelligence and looks haven't gotten her farther than a marriage to a rich CEO who doesn't respect her. But she doesn't let anyone mess with her and is determined to find out who, or what, has bitten her.
The security guard (Bokeem Woodbine): Trim, yet underneath his uniform, it's all muscle. Divorced and with kids, he works in security because it feels like the one place he can command some authority.
The three principal characters trying to get the elevator safely down (and its occupants out) include:
Bowden the homicide detective (Chris Messina): Steady and reliable, Bowden is a consummate professional. His past demons and his need to feel responsible for every death on his watch resulted in heavy drinking. Though six months sober, Bowden is still haunted by the brutal death of his family five years ago.
Ramirez the security guard (Jacob Vargas): A devout Catholic, recent immigrant Ramirez is superstitious and the first to realise the demonic aspects of what is happening in his building. He's trying to convince the others that the images on the security camera are not of this world.
Lustig the security guard (Matt Craven): Bearish and a seasoned ex-Navy man, Lustig finds that working in building security is no challenge. Ramirez's partner, he's hoping to skate through the rest of his working years to retirement.
Director Dowdle discusses the five actors cast to play the characters in the elevator: "Bokeem Woodbine was such a shining star; he has such a unique character to him. He's so singular, and we loved him for the character of the guard. For the mechanic, we had so many people read the scenes aggressively and angrily. Logan Marshall-Green came in, and he was almost whispering; it was such a reversal of anything we had seen that we immediately knew he was the guy for the role. For Geoffrey's character, we wanted to bring some humor to the movie. As you can see in Super Troopers, Geoffrey is hysterical. He adds a wonderful dose of humor and pathos to this film."
To portray the two women trapped alongside the mechanic, salesman and security guard, the team found young Australian actress Bojana Novakovic-a standout in her role in Drag Me to Hell-and veteran character actor Jenny O'Hara. John Dowdle describes the choice of these performers: "Bojana Novakovic is wonderful to look at. She's such a great, intense actor, and she brings so much emotion. Her eyes say so much, and she's such an intense presence, even though in a lot of the film she's quiet. And Jenny O'Hara is always such a delight; she is so fun to work with. Jenny O'Hara has quite a lot of theater background, and she's just a wonderful actor."
Chris Messina was selected to portray the role of Detective Bowden, the Philadelphia cop who is brought in to manage the crisis. Much of the film is seen from his perspective in the security office. We follow along with him as he watches the events unfold from cameras in the elevator. While Bowden can see the five passengers, he cannot hear what they are saying; the reverse is true for the trapped occupants: they are only able to hear Bowden.
The up-and-coming actor has already worked with filmmakers from Woody Allen to Nora Ephron. Of his casting, M. Night Shyamalan recalls: "Chris Messina came in and did a fantastic audition, and everyone thought, 'This guy is amazing!' I had seen him in Vicky Cristina Barcelona and in Julie & Julia, and when I sat with him, I thought, 'This is a leading man.'"
Alongside Chris Messina were security officers Ramirez and Lustig, played by Jacob Vargas and Matt Craven. Director John Dowdle commends: "Chris Messina, Jacob Vargas and Matt Craven were so great together. The three of them had such a natural chemistry that a lot of what I had to do in the security office was just stay out of their way. The three of them were such different types and had such a stronghold on their characters."
Tight Spaces and Reflective Surfaces: Design of Devil
In the fall of 2009 as Devil began production, Stage 4 at Pinewood Toronto Studios provided the ideal location. It afforded the filmmakers the opportunity to build the sets to the exact specifications of the script. John Dowdle offers of the challenges: "We have five characters in an elevator, and one of the rules of filmmaking is the smaller the set, the harder it is."
An M. Night Shyamalan movie not shot in Philadelphia? It must be acknowledged, and here's what he has to say on the subject: "Toronto is a special city for me because it was the first city that I showed my first movie. When I was 21 years old, I made a movie for no money in India. I had just finished it and submitted it to the Toronto International Film Festival, and they said yes and screened it in their festival. I remember flying to Toronto when I was 21 and feeling like this is the greatest city ever. To come back and make the first Night Chronicles here is poetic."
Creating the elevator for Devil was tricky, as much of the supernatural thriller takes place in this small, contained space. The set needed to lend itself to reality, but also offer the audience an area in which they could project their worst fears. The Dowdle brothers credit Cloverfield production designer Martin Whist and his team with achieving just the right balance. It was also important for the filmmakers to give each character a signature scene in the elevator in which the story of Devil would be told from his or her perspective.
Director John Dowdle notes: "The elevator was a completely malleable set. As we shot, we'd pull off the left walls and then pull off the right walls. We could get through the ceiling; we could raise the roof. The mirrors moved so we could angle ourselves out of the shot or angle someone into the shot. It was a giant erector set."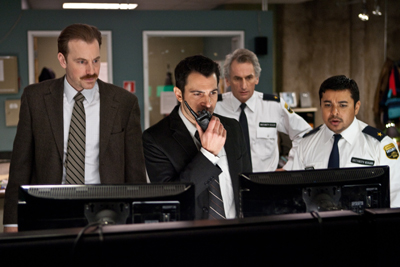 Drew Dowdle explains their creation of a space that would evoke panic among the characters: "It's critical that there's an increasing feeling of claustrophobia in the elevator as the story progresses, so we wanted the smallest elevator we could possibly have that still was within the realm of reality-the dimensions were built to match the characters. For example, the mechanic reaches up and moves the ceiling panel at one critical point in the movie. We built the elevator to his reach height, so he could perfectly reach up and do that. Similarly, when the salesman lays on the floor, it was important that he touch the wall at both ends."
Another interesting production design element was the decision to build the elevator deep, instead of wide like most elevators. The desired effect was reached, and the farther away the five trapped people (and the audience) get from the door, the more buried alive everyone feels. John Dowdle confirms: "Believe me, it does feel awful when you're in that back corner."
As there were few sets on the movie, the ones created had to be impeccable, especially the elevator and the control room. Producer Sam Mercer says: "These sets were deceivingly hard to create. We had to make the elevator familiar-dark enough that when it needed to be scary, it would be. At the same time, we didn't want to over- or under-design the elevator so that it was annoying or distracting. Then you have the world looking in through the eyes of Chris Messina's character in the control room.
"Figuring out how to create that staging-where to put the camera and where to have common angles-was very challenging," Sam Mercer continues. "You want to show the audience the possibility of being trapped and frightened and not come up with a lot of different angles that would make the experience too slick."
Fortunately for the filmmakers, their cast was almost as malleable as the elevator set that was created. Before shooting, the Dowdle brothers asked the actors to stand in front of the elevator to substantiate the wardrobe, hair and makeup decisions that were made by costume designer Erin Benach, key hairstylist Karola Dirnberger and key makeup artist Christine Hart. Offers Drew Dowdle: "It was important to see all the elements together to make sure it felt like a cohesive unit. We wanted nothing that blended in too much with the walls and nothing to stand out too much."
To ensure that the feeling of claustrophobia and terror mounted, every time a setup was designed for the elevator, all five of the actors were asked to be present-even if it was just one actor's solo shot-so that they could continuously feel each other's presence. Though at times taxing, each of the five castmembers trapped in the elevator was game to work in close quarters at long length, and it paid off in their performances.
Even Chris Messina, who is never actually in the elevator during the film, was on set for all elevator shooting. He explains the necessity: "Since the elevator people can hear me from the security office, the Dowdles and I thought it would add realism for me to actually be there to read my lines. Then, when it was time for us to do our on-camera work-mostly from the security office-we're actually responding to the footage from the elevator. It felt very immediate and real."
Drew Dowdle continues: "As people die, there obviously becomes less floor space, so you get the feeling that the walls are closing in even more. The space starts very small but it only gets smaller, as if a waterline is coming up and drowning you."
Legendary cinematographer Tak Fujimoto-in his fourth collaboration with M. Night Shyamalan -went so far as to ask the camera department to wear white lab coats to keep the light reflecting. It was an odd image to see on set, but John Dowdle explains: "If our crew wore their usual black on set, the elevator's mirrored walls would suck up the light. The white lab coats kept the hard light alive by functioning as a bounce card that lit the actors that much better, not distracting them and affecting the mood."
Drew Dowdle echoes his brother's excitement at working with director of photography Fujimoto: "He's amazing. It's a dream come true to work with such an iconic cinematographer who's shot legendary films and who made this film look better than I could have ever hoped."
Audiences watching Devil should expect a roller-coaster ride that also offers a compelling story about taking responsibility for our lives-a message not lost on cast and crew. They tried their best to keep the story a secret during filming; many in fact chose not to read the end of the script until the last possible moment. Of course, there was the odd glimmer of things to come when one caught a glimpse of certain actors' perfectly replicated bodies passing by Almost Human's Robert Hall, who handled the film's makeup effects. Needless to say, most avoided elevators on these days…just to be on the safe side.