IT'S A PIECE OF CAKE FOR POTTER'S RICKMAN.
EXCLUSIVE Interview by Paul Fischer.
Alan Rickman is a British actor who can segue effortlessly as Professor Skape in the Harry Potter franchise, to a collection of diverse characters in the likes of the original Die Hard, Love Actually, Truly, Madly, Deeply, Sense and Sensibility and the unforgettable Galaxy Quest. Rickman is in New York for the premiere of his latest film, Snow Cake, in which he re-teams with Sigourney Weaver in a slice-of-life drama in which he plays a traumatized car accident victim. Rickman took time out of s hectic schedule to talk to Paul Fischer.
Paul Fischer
: Is it a refreshing pace for you to go from a Harry Potter to a Snow Cake?
Alan Rickman
: Variety is definitely one of life's spices.
Paul Fischer
: What's your best take on Alex Hughes, your character in Snow Cake?
Alan Rickman
: There was a screening of Snow Cake during which at one point Niv Fichman the producer said of Alex 'he's just doing his best isn't he'.
Paul Fischer
: This is a very intense character, someone filled with such trauma. What difficulties did you have getting into him?
Alan Rickman
: My first scene on the film was helped by being soaking wet, through the night, outside, in the cold.
Paul Fischer
: Was this a character you found easy or difficult to identify with? How?
Alan Rickman
: Not just for me no. It has already been proved to connect very strongly with an audience.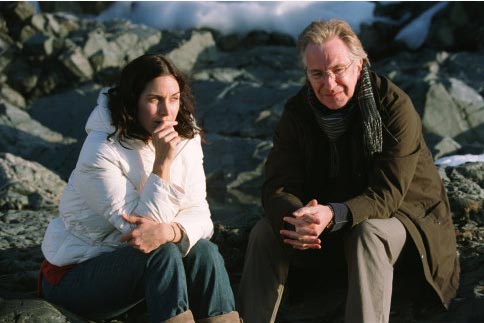 Paul Fischer
: These emotionally complex dramas aren't an easy sell. You clearly choose something such as this purely for yourself, yes?
Alan Rickman
: Acting is largely instinctive and reactive. Alex knows nothing and learns everything, which in a way is the metaphorical answer for this question.
.
Paul Fischer
: Now when you first signed on for the first Potter film, did you have any expectations?
Alan Rickman
: I think Harry Potter should remain the secret domain of children of all ages of course) for as long as possible.
Paul Fischer
: Talk about Sweeney Todd. Who do you play and how exciting is it for you to be part of this dark musical?
Alan Rickman
: I play Judge Turpin. It's been great to do. Stephen Sondheim is a genius and Tim Burton is no slouch either.
Paul Fischer
: Will we see you strut your musical talents?
Alan Rickman
: You will certainly have to put up with my singing.
Paul Fischer
: Are you still attached to The Villa Golitsyn? What is that?
Alan Rickman
: Yes, it's a great script. Peter Medak will direct, we hope.
Paul Fischer
: What's next?
Alan Rickman
: Nobel Son is still to come out and I hope to be doing a new film from its director Randall Miller this summer.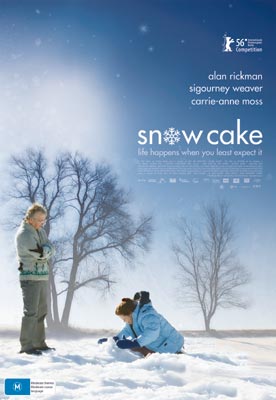 Snow Cake
Starring
: Alan Rickman, Sigourney Weaver, Carrie-Anne Moss, Emily Hampshire, James Allodi
Director
: Marc Evans
Official Selection - Berlin International Film Festival 2006
Sigourney Weaver, Carrie-Anne Moss and Alan Rickman star in the comedy drama Snow Cake, a story of love and friendship and the unorthodox relationship between a man escaping his past, an autistic mother coping with the loss of her daughter and a passionate woman who keeps love at arms length.
From director Marc Evans and first time screenwriter Angela Pell, Snow Cake is a wonderfully written tale to warm the heart.
Synopsis:
Tight-lipped Englishman Alex Hughes is traveling through Ontario on his way to meet the mother of his son with whom he has had a distant relationship. He begrudgingly decides to pick up Vivienne, a young and feisty hitchhiker. When the car is suddenly hit by a truck, Vivienne dies instantly, and Alex finds himself grieving for someone he never knew. Now, shocked and stranded on the outskirts of Wawa, Vivienne's hometown, Alex decides to track down her mother, Linda Freeman, to talk to her in person about the fate of her daughter.
When Alex comes face to face with Linda, he discovers that she is autistic. While she understands what has happened, she shows little emotion. He slowly becomes increasingly involved in Linda's life and the community to which she feels complete indifference, in part because of her condition. Linda in turn becomes attached--to the degree that she is emotionally capable--to Alex, and to what he can do for her. In the meantime, Alex also forms a relationship with Linda's sexy, independent neighbor, Maggie, and becomes the object of scrutiny by the ineffectual local law enforcement officer Clyde, who, besides being jealous of Alex's new relationship with Maggie, believes he's discovered a dark secret in Alex's past. As Vivienne's funeral approaches, and with the help of Maggie''s understanding and Linda''s unique window into the world, Alex confronts his past and both the sadness and anger that have built up within him.
In Cinemas nationally on 2nd August
http://www.dendyfilms.com.au/snowcake.html