EVERYONE'S MAD ABOUT MAD MAN HAMM.
Jon Hamm, The Day the Earth Stood Still Interview by Paul Fischer.
Two years ago Jon Hamm was another struggling actor finding his way through the treacherous waters of Hollywood. Then along comes a little known TV series aired on a US cable network about a bunch of often philandering, chain-smoking ad executives in the 60s called Mad Men, and life for Jon Hamm changed as he knew it. Now, as he greets the press prior to the opening of his first major Hollywood movie, the remake of Robert Wise's The Day the Earth Stood Still, the actor is circumspect about he got here. "The last couple of years have been bizarre to say the least," Jon Hamm says, offering a slight smile in the process. "It's still kind of a weird thing to wake up and come to this and talk about things like this, so it's new, weird terrifying and all of that stuff, but still very exciting and as an opportunity to do something that I wanted to do since I was a little kid. To get to do something like this and work with not just Jennifer, Keanu and Scott but I think David Tattersall, the director of photography who shot Star Wars. is cool and pretty nice. So it's fun which is I think the overriding feeling of what this career should be at the end of the day, is an opportunity to have fun and do cool stuff and this is pretty cool."
Born and raised in St. Louis, Missouri, Jon Hamm attended John Burroughs School in Ladue, Missouri and the University of Missouri on a scholarship to study acting. During this period he worked as a day care teacher and went on to teach high school at John Burroughs before moving to Hollywood. Jon Hamm made his professional acting debut in 2000 with an appearance on The Hughleys and that same year played a small role in Space Cowboys, followed by Kissing Jessica Stein (2001) and We Were Soldiers. He had recurring roles on television in Providence, The Division, What About Brian, and The Unit prior to his starring role in Mad Men. Jon Hamm also appeared in the film The Boy in the Box, scheduled for release in 2008. He will also star in the 2009 horror film Heart, but in the meantime will be seen as a scientist in Day the Earth Stood Still, a film on which he signed after wrapping the first season of his critically acclaimed show, Mad Men. "I came on relatively late to the project. It was already going and I came into the scene where I basically explain what's about to happen, sort of a three-page-long monologue about astronomy and trajectories and things that I basically got off a plane, got fitted, and thrown onto the set, which was a little bit nerve-wracking." The modest actor seems genuinely surprised that his career has taken off the way it has. "Just the opportunity to be involved in something like this is amazing for me. I'm still relatively new to all of this."
Yet through it all, it was Mad Men that has become part of American popular culture, which Jon Hamm says is more than just a show about chain smoking ad men. "I think one of the big themes of the show is change and that's been kind of a significant watch word in recent culture as well. I think that when you're looking at a time where there's a huge kind of paradigm shift in the social vibe that was the 1960s, we explored kind of the beginning of that, we're now moving through the rest of that, and there are a lot of parallels for right now. So it's not lost on some of the themes of this film too. It's sort of like look, take a look at where we are and what we're doing. Maybe there's a better way to figure it out so I think those things resonate in the culture. Yeah, it's a small cable show that nobody really watches but yet it resonates larger than what it is and I think that's why the show has struck a chord."
As to what we can expect in season 3, Hamm has no idea and is itching to get back to work, once current negotiations are sorted out. Yet it seems life for Jon Hamm will never quite be the same again.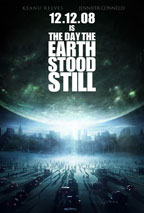 The Day the Earth Stood Still
Cast: Keanu Reeves | Jennifer Connelly | Kathy Bates | John Cleese | Jaden Smith | Jon Hamm
Director: Scott Derrickson
Rated: M
Running Time: 1 hr 32 mins
Klaatu Barada Nikto! In this remake of the 1951 sci-fi classic, Keanu Reeves stars as the alien who comes to earth. THE DAY THE EARTH STOOD STILL also stars Oscar winners Jennifer Connelly and Kathy Bates, as well as Golden Globe winner Jon Hamm (MAD MEN) and Jaden Smith (THE PURSUIT OF HAPPYNESS).