JON TURTELTAUB - (Director/Producer)
As one of the most talented directors in Hollywood, JON TURTELTAUB (Director/Producer) has been able to capture audiences' attention with his warm, funny, and emotional films.
Jon Turteltaub returns as director on "National Treasure: Book of Secrets" upon the success of the first film which grossed an unexpected $350 million in boxoffice receipts worldwide. "National Treasure: Book of Secrets," continues the fantastical tale of treasure-hunter Benjamin Franklin Gates (Nicolas Cage) who re-teams with a beautiful archivist (Diane Kruger) to uncover the truth behind the assassination of Abraham Lincoln, which they believe lies within the 18 pages missing from assassin John Wilkes Booth's diary.
Always with an eye towards story, character and humor, Jon Turteltaub has directed all eight of his studio feature films for The Walt Disney Company, including the 2000 hit "The Kid" starring Bruce Willis. Written by Audrey Wells, "The Kid" is the story of an egocentric man who is visited by himself as an 8-year-old. The movie also starred Emily Mortimer, Jean Smart and Lily Tomlin.
In 1999, Jon Turteltaub directed the Touchstone Pictures' release, "Instinct," starring Anthony Hopkins, Cuba Gooding, Jr., Donald Sutherland and Maura Tierney.
Prior to that, Jon Turteltaub directed John Travolta, Robert Duvall, Forest Whitaker and Kyra Sedgwick in the blockbuster hit, "Phenomenon," which ranked as one of the highest grossing films of 1996.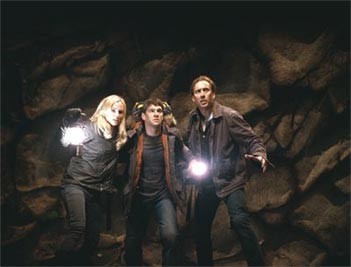 In 1993, he directed the surprise hit comedy, "Cool Runnings," which was Disney's highest grossing live-action film for the year. Two years later he directed "While You Were Sleeping", the break-out romantic comedy that helped launch Sandra Bullock to stardom. His first film for Disney was 1992's "3 Ninjas" which, shockingly, was the studio's most profitable film of the year.
Based on these credits, it's clear that "surprise hit" is the trademark of Jon Turteltaub's career. Jon's dream is that one day his successes won't be considered a surprise.
On the small screen, Jon Turteltaub made his television series producing and directing debut with the highly acclaimed CBS drama "Jericho," which stars Skeet Ulrich. The primetime show centers around a nuclear explosion that plunges the residents of a small, peaceful Kansas town into chaos, leaving them completely isolated and wondering if they are the only Americans left alive. "Jericho" will return for a second season in 2008.
Recently, Jon Turteltaub and his production company, Junction Entertainment, entered into a multiyear overall arrangement with CBS Paramount Network TV to create, develop and produce drama, comedy and reality series for the studio.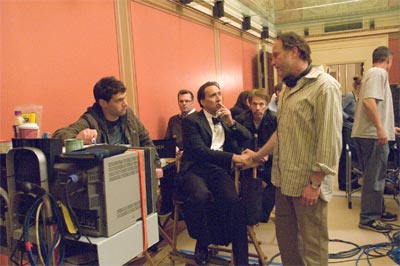 In 1998, Jon Turteltaub made an essential contribution to one of the most significant and critically acclaimed television mini-series in history, "From the Earth to the Moon." The 10-part HBO dramatic series featured different stories surrounding the American expeditions to the moon. Jon Turteltaub directed the seventh episode of the mini-series, entitled "That's All There Is," which portrayed the camaraderie of the crew of Apollo 12. Jon Turteltaub was nominated by the DGA for Outstanding Directorial Achievement in Movies for Television for his efforts, and the series received 10 Emmy Awards and the Golden Globe Award for Best Mini-Series or Motion Picture Made for Television.
Born in New York City and raised in Beverly Hills, Jon Turteltaub got his BA at Wesleyan University in Connecticut and received his Masters degree at the USC Film School. His father, Saul Turteltaub, is an iconic television producer with credits on such memorable shows as "Sanford & Son," "What's Happening," "That Girl" and "Love American Style."
Jon Turteltaub currently resides in Los Angeles with his wife and newborn son.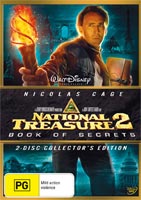 National Treasure 2: Book of Secrets DVD
Starring
: Nicolas Cage, Justin Bartha, Diane Kruger, Jon Voight, Helen Mirren, Ed Harris, Harvey Keitel, Bruce Greenwood
Director
: Jon Turteltaub
Producer
: Jerry Bruckheimer
Genre
: Action
Rated
: PG
Running Time
: 119 mins.
Filled with hours of revealing bonus features, this two-disc Collector's Edition DVD exposes a wealth of secrets behind the most spectacular treasure hunt ever. Join Nicolas Cage on a heart-pounding adventure that will have you on the edge of your seat in a race to find the Lost City of Gold.
Grounded in history, imbued with myth and mystery, Disney's National Treasure: Book Of Secrets takes you on a globe-trotting quest full of adrenaline-pumping twists and turns - all leading to the final clue in a mysterious and highly guarded book containing centuries of secrets.
But there's only one way to find it - Ben Gates must kidnap the President. Packed with fast-paced action and crackling humour, this Collector's Edition has even more to rediscover again and again.
Review
: The National Treasure series is not on fantastic action & intrige, but it really makes you sit up and think about history as you know it. The National Treasure webbed tale is great entertainment and definitely a dvd that's worth keeping and rewatching. The more you watch the more you get out of it. With a steller cast & sensational performances, Justin Bartha's cheeky yet natural humour is a real standout in this film.
Order Now from Chaos
Order Now from Sanity