John Travolta stars in the new comedy WILD HOGS along with William H Macy, Tim Allen, Martin Lawrence and Ray Liotta. They play weekend warriors - taking a thrilling bike-trip across America, but they are not expecting the dangers that lie ahead, in the form of a tough, threatening biker gang. Already a number one box office hit in the States, the film is fresh, exciting and very funny.
JOHN TRAVOLTA AND HIS THREE CO-STARS DON BLACK LEATHER BIKER GEAR, STRADDLE THEIR HARLEY-DAVIDSONS AND TAKE TO THE ROAD ON AN ADVENTUROUS AND HILARIOUS MOTORCYCLE TRIP.
JOHN TRAVOLTA
The comedy WILD HOGS was pure joy for John Travolta and the rest of the stellar cast - William H Macy, Tim Allen and Martin Lawrence, and it is easy to understand why they enjoyed making the movie so much. They were all living out the fantasy of nearly every man (and plenty of women too): leaving being behind the stresses of regular life and heading for the wide-open road, on a cross-country bike trip. They put on their leather biker gear, straddle their Harley-Davidsons and rev up for action; setting out from Cincinnati for the California coast, on a 2000-mile trek, for some male bonding. And you can sense the excitement and sheer exhilaration of these weekend warriors. The four friends hit the road, little expecting the dangers that lie ahead. When they find themselves embroiled in a conflict in the heart of New Mexico, with the tough Del Fuego biker gang, led by the darkly aggressive Jack (Ray Liotta) they are forced to prove their mettle. The Del Fuegos are full time bikers who view the Wild Hogs as too tame for their tastes. Wildly funny with plenty of physical comedy and action, set to a powerful rock soundtrack, the film is directed with pace and vigor by Walt Becker (NATIONAL LAMPOON'S VAN WILDER).
Martin Lawrence plays a plumber who hates his job, Tim Allen plays a dentist who wishes he was a doctor, William H. Macy is a computer nerd who can't get a date, while John Travolta is the coolest of the bunch - he stars as Woody, a high flying executive with a stunning wife. But things are not going well for the attractive and affluent businessman. At the start of the movie his career is crumbling and his marriage is in tatters. It his idea to gather his biker pals and set out for an escapist taste of carefree adventure, on the road trip of a lifetime.
John Travolta is one of Hollywood's biggest stars. Born in New Jersey, the youngest of six children, he left home at 16 and landed his first TV role in WECLOME BACK KOTTER. Two years later he became a worldwide phenomenon as Tony Manero in SATURDAY NIGHT FEVER and was nominated for an Oscar for the role. GREASE and URBAN COWBOY followed and consolidated his status as star. He was nominated for an Oscar again, in director Quentin Tarantino's PULP FICTION. His other numerous hits include LOOK WHO'S TALKING, GET SHORTY, FACE OFF, A CIVIL ACTION, LADDER 49 and PRIMARY COLORS. His next projects are DALLAS and HAIRSPRAY. Travolta is married to actress Kelly Preston and they have two children. Chatting about WILD HOGS, he looks fit and handsome, dressed in a black shirt, black jeans and black suede shoes. He's still amazingly charismatic with the trademark cleft chin and gravelly voice. He is also friendly and open.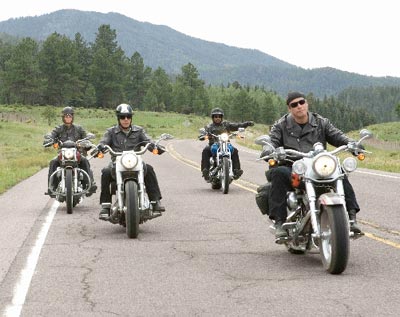 THE INTERVIEW
Q: Could you talk about the premise of Woody, your character who does not reveal to his friends what is really happening in his life?
John Travolta
: "Well I think that a lot of men are similar to Woody. Even to his friends he wants to present a picture of an ideal life and he does not want to admit there is any kind of trouble or concern; he does not tell them the truth of what's going on. You know I think that when women get together, they are much more honest about themselves. Within the first five minutes, a woman would be telling you everything that my character is going through, yet it takes Woody two weeks to reveal to his friends that he has problems in his life."
Q: What is going in his life?
John Travolta
: "The character is very funny and I loved playing him. He appears to be the successful businessman with the coolest house and prettiest wife, but things are going very wrong and his life has become very complicated. The motivation for the road trip is that my character has a couple of secrets. He's lost his money and he's lost his wife and he wants to run away, but he doesn't tell his friends that his life has actually become a true disaster. He just tells them 'we need a break from the doldrums and the boredom of life'. They just think we are doing the trip for a little change in our lives and I inspire them to go on the trip. So I tell them one story, which is 'let's just get out of town to have a good time, before it's too late,' but the truth is an entirely different story."
Q: So was it fun being out on the road?
John Travolta
: "Of course, I thought - what a way to get paid to go to work. It was great fun."
Q: Did you enjoy working with an ensemble cast?
John Travolta
: "I prefer it, I really think the energy of other wonderful talents is contagious and you do better with better people around you, really good actors. I find that very interesting and challenging. I prefer a very talented and sometimes all star cast, because my game goes up and I do my best work."
Q: Was it challenging at times - all that testosterone and macho bravado?
John Travolta
: "We were really like siblings, like brothers, it was as though we had sibling rivalry. We were antagonizing each other; we skipped friendship and went right to brotherhood. Tim came on the set and was joking and fighting and it was as though we had known each other for years. I thought maybe this was just how he was behaving on the first day so I pushed my sleeves up and I thought 'ok, well I come from a big family I know how to fight with a brother'. I thought 'I can do this' but it was hilarious. There were days when we just couldn't stop laughing, because we were relentlessly antagonizing each other just like boys can do. Girls wouldn't dream of antagonizing at this level.
Q: It must have been hilarious at times?
John Travolta
: "It was because Martin and Tim started out their careers as stand-up comics then Bill Macy and I had done both comedy and drama, so there was a natural competition to get the laughs and non-stop banter all day long. It was kind of like having two jobs, the on screen filming and then the one off screen in between takes, doing the stand-up comedy."
Q: What was the underlying appeal of the film?
John Travolta
: "It was original, it was entertaining. It was a movie that I would go and see even if I were not in it. And that's always a good indicator of whether you should do something. Would you go to this movie even if you were not offered a role in it? I actually couldn't believe that no one had done this story before, because motorcycles are so popular. The guys in Wild Hogs are having some fun; we decide to get away from our normal lives for a while. We go away on a road trip on our Harleys to escape and find ourselves. It's really a movie about friendship. We are all having different problems and help each other."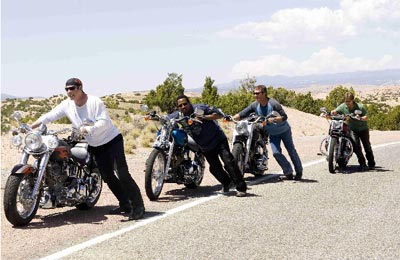 Q: Is that something you can relate to yourself?
John Travolta
: "I think the only thing close to that for me was when I turned 50, I said to myself: 'how many Christmases do I have left? How many summers do I have left? Will I be around when my kids get older?' I want to be there for them. And until that point, I had never thought about ageing at all. I don't know if you'd call that a crisis, rather than just reflection. I don't feel any different than I did at 25. I feel better really. I don't know why I feel better - I just do. And I remember my father saying when he was 80; he felt like he was 25. And he said it was only when he looked in the mirror that he saw that he was old. It's interesting."
Q: How realistic was the rivalry between The Wild Hogs and the Del Fuegos do you think?
John Travolta
: "Well this is a comedy but I do think there is tension between real full-time bikers and people like the characters we play, who are viewed as 'posers' which is silly really because anyone who rides a bike is a biker. But I liked the idea of this film because I had never heard of a movie like this before, it seemed fresh."
Q: These guys go on bikes to get away from it all what do you do to escape?
John Travolta
: "I do so many things to balance the stresses in my life, like flying. But there is a saying which applies to me: 'too blessed to be stressed' and I feel that way, I feel like it would be terrible to complain about anything in my life."
Q: It must have been fun riding Harleys for this film?
John Travolta
: "It was great fun. I have always loved motorcycles. I am very comfortable on a bike, by default. I've had bikes over the years, I like all machines, I like boats and planes, motorcycles and I like cars. When I moved to Hollywood I needed inexpensive transportation and that meant a motorcycle and I grew to love it. And California is made for motorcycles, it's much easier than driving cars, so for many years I drove them. And I still love the open road, the air on your face. "
Q: What is your favorite bike?
John Travolta
: "When I was a kid I started on Hondas, big Hondas, then as I got more experienced, and I moved to Florida, I went to the Daytona Bike Week, a big biker event, which is mostly Harley oriented, bikers like the del Fuego types go there, but it also includes bikers like the guys we portray, the mid western American average bikers, the professional weekend warriors. I would often borrow a Harley and go there and so I became familiar with Harleys and enjoyed riding them. Then when I was proposed this movie I completely understood what it was all about. At Daytona those crowds are mixed up, just like we did in the movie and that's why I was so familiar with the vibe and atmosphere of this film."
Q: But everyone knows you're a pilot, do you prefer flying to biking?
John Travolta
: "I am really a jet jockey. I love flying. I feel connected and free. I am a very safe pilot, I am not into aerobatics. I just get you there, to your destination, fast and comfortable. The pleasure I get from airplanes is immeasurable. It's my relief from stress. I'm passionate about flying and acting, I couldn't live without either, acting is my heartbeat and flying my respite, it's a great balance and I'm lucky to have that."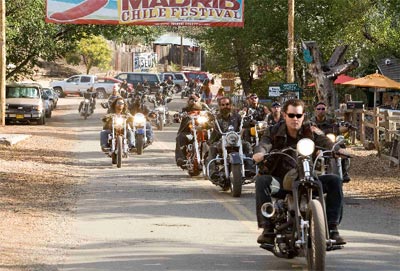 Q: Was it a huge amount of fun or hard work too, making this film on location in New Mexico?
John Travolta
: "It was difficult to work because of the altitude, the elevation of New Mexico - you can't breathe easily there, sometimes you really did feel the altitude, you're like a fish out of water and there is one scene where we were filming at a pond, which was at 10 thousand feet. So needless to say there were moments of discomfort it's like thin air, but apart from that, I had a blast."
Q: There seem to be several Travoltas on the credits of this film?
John Travolta
: "My sister Margaret is the dental assistant and then my brother Sam is the guy that gets beaten up by the Del Fuegos and my nephew Jonathon is one of the cowboys in the bar. It is great to have family members in the film."
Q: You've been nominated twice for Oscars, what was that experience like?
John Travolta
: "When I started out I was always a very serious actor, I take the job very seriously even though I try to inject it with the sprit of play and when I was acknowledged at a very early age for SATURDAY NIGHT FEVER and then 17 years later again for my work in PULP FICTION I was very proud. It was the foundation for credibility that allows a whole career to happen. That's why Meryl Streep can do THE DEVIL WEARS PRADA and SOPHIE'S CHOICE and that's why I can do PULP FICTION and WILD HOGS, it gives you a broad spectrum of possibilities."
Q: You are so charismatic; do you think that is a gift you were born with?
John Travolta
: "First of all, thank you. I don't know, it's difficult to say. I think someone else would have to explain that. When I see a charismatic person, all I see is a very big spirit, a positive energy in that person that is appealing to be with, perhaps you want to be near them and there's usually more positive than there is negative in their personalities. I think that if charisma had to be explained, if there is such a thing, it is probably more positive than negative because it makes you feel good to be around."
Q: Can you achieve charisma?
John Travolta
: "I believe that you can probably achieve it by arranging your life in a certain way and being optimistic or doing things that are uplifting. I will tell you a story that I think is relevant though I don't know if this makes sense at all. I took my children to Disneyland the other day and there was a middle-aged woman, a very nice looking woman but she had a certain charisma about her. We got talking and she said that she had chosen Disneyland to work at purposely, because she had suffered breast cancer and she said the only way she could survive it was to be in a job that was positive. Before her illness, she had been in a job that had been very negative. I believe that doing a job she enjoyed probably made her a little more positive and a little more charismatic. So can you create charisma? I think it's got to be there somehow in the first place, but I think you probably can enhance that charisma."
Q: Does your talent and positive energy come from childhood?
John Travolta
: "Well a lot of it comes from being a spiritual person, because my spiritual approach is what keeps me here today. I don't know that I would've made it without my spiritual approach. I think that has grounded me. My family was also very important, it was a very beautiful family and my mother was an artist, she was an actress, a director and a schoolteacher and she was very encouraging and wonderful. Her level of positive energy was amazing and she saw the good in me and my siblings. She helped us to become the best people we could be. So growing up in that kind of atmosphere had to be good. We had a cool home. And my father was the same way, I could walk on stage in a school play and even if I had a tiny part with no lines, just walking on, after the show he would say: ' you know you walked on stage and everyone just looked at you, you were amazing'."
Q: He was probably telling the truth though!
John Travolta
: "I didn't know that, I didn't say anything I just walked onto the stage so whether that was true or not, I cannot say, but he was always praising me."
Q: Are you as positive with your own children?
John Travolta
: "Oh my God yes, I know that works so I have to do that. I mean everything they do is just the best and the most glorious and I celebrate all their achievements, like most parents. Ella painted a picture for us the other day and I said: 'Oh my God look at this - look at this! It is fantastic.' There's artwork all over the house. They love performing and when they sing or dance I make a big fuss of them. You know I love being a father. I would've had kids at 14 - really, I was ready to be a father then. I waited a long time, till I was 38 to have Jett, so I was so excited and love every minute of my time with them."
DVD Review:
www.femail.com.au/wild-hogs-dvd.htm
Order Now from Chaos
Order Now from Sanity